Alrighty, dear readers! It's time for an AccuWebhosting Review. Probably you haven't heard of them, but they are actually quite interesting for hosting WordPress.
At first glance, they look like a dime in a dozen host, including a way too overcrowded website. But in my experience, their offering is actually pretty great! In this review, I will explain why.
By the way, I will write this AccuWebHosting Review from the perspective of using WordPress. Since this site is all about WordPress, so that's the lens through which I test things. But who is AccuWebhosting?
AccuWebHosting is a shared hosting provider, offering many different hosting products and hosting optimized for WordPress. They use LiteSpeed as the underlying technology and that results in a good performance. Try them out here.
This review is part of a larger series of hosting reviews. You can compare WordPress hosting here or find the definitive guide to the best WordPress hosting here.
TL;DR;
If you are too lazy to read, here's the catch:
AccuWebHosting is offering incredible loading performance and a good amount of features (including email and domain registration) for what you pay. Their support is also doing a proper job. However, I had a worse experience with using their control panel and their billing. In addition, for the cheapest plans, you have to commit at least for half a year.
While their shared offering is great, their Enterprise and Scale plans are on the expensive side.
A compare hosting provider is DreamHost, which is easier to use but offers much worse website loading performance.
Technical or more advanced users are better off with Managed WordPress hosting providers or WordPress control panels.
The AccuWebHosting review process
Alright, I must admit this process is not unique to this AccuWebhosting review only. For every hosting company I review, I consider the following aspects:
By rating them on these aspects, I try to get an objective look at how well WordPress hosting providers really do. So that you can find the best possible WordPress hosting company.
In this review, I tested the WordPress Personal and WordPress Business package.
But for whom is AccuWebhosting?
Besides their WordPress packages, AccuWebHosting is offering a lot of products (from Windows Hosting to dedicated big servers). Their shared WordPress package that is reviewed here is in my opinion mostly aimed at starters.
However, they offer bigger packages which may be attractive to larger businesses and also have some good features for professional developers.
The features: Good
AccuWebhosting is offering a good amount of features, including a WordPress Toolkit which is very useful and support for domain registration and email addresses.
AccuWebHosting Core Features
Let's briefly dive into the features! AccuWebHosting offers the following:
Performant hosting based on LiteSpeed
Managing your website using cPanel (including a user manager)
Unlimited WordPress installations for each plan, combined with a certain amount of storage and bandwidth (explained later in pricing).
No limits on certain WordPress plugins
A 30-day moneyback guarantee
Daily backups of your website
DDoS Protection might your site get flooded
Free email addresses (up to 150 for the personal plan)
Some basic visitors statistics
Integrated security with firewalls at multiple levels
Free integration with CloudFlare, a CDN, which can make your website faster and more secure.
And obviously, free SSL, which is automatically set-up when you add a website.
Easily install and manage WordPress using the WordPress Toolkit or Softacalous.
And what I really do like: they are offering data-centres in Denver, London, Singapore, Johannesburg (South-Africa), Mumbai and Sydney. Wherever your visitors are coming from, AccuWebHosting got you covered.
Some goodness for WordPress Professionals
While in my opinion the WordPress packages from AcuWebHosting mainly caters starters, there are some useful features for professional WordPress developers.
The first notable ones are the possibility to connect to a GIT repository and to connect to your server over SSH.
In addition, AccuWebHosting includes the WordPress toolkit from cPanel, which makes it a lot easier to manage WordPress and install new WordPress installations.
At last, AccuWebhosting supports PHP7+ and MySQL5.6+.
Email and domain registration included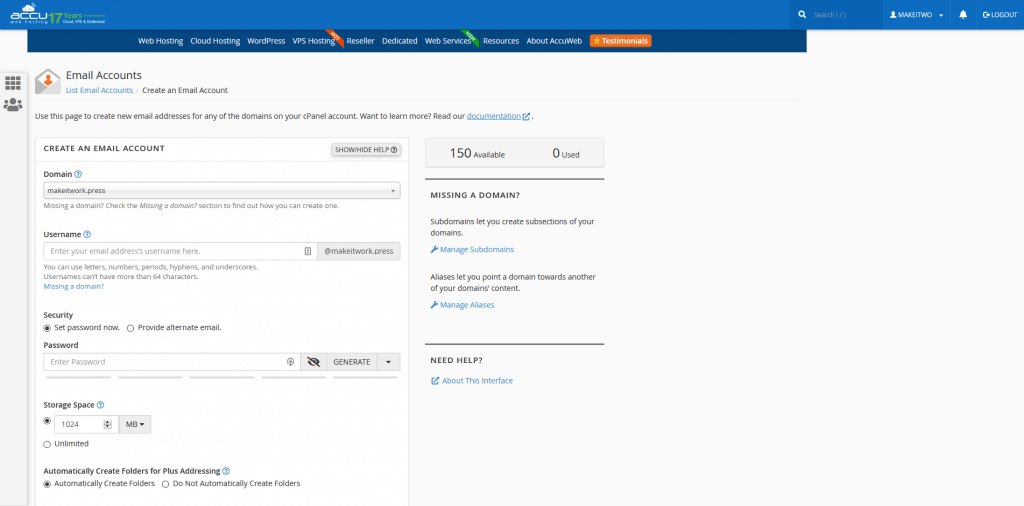 One of the aspects that makes AccuWebHosting great if you are just starting out, is the fact that they offer email addresses and domain registration inside their packages. And it's all manageable through their panel.
Now you may think that is something obvious, but many hosting companies specifically aimed at hosting WordPress don't offer domain registration or email addresses.
But be noticed, registering a domain at AccuWebHosting will add a small fee, and their domain prices are somewhat high.
Overall, in this AccuWebHosting review I can conclude for features they are doing a pretty good job.
The performance: Great
Since I am a technical guy, I always like the performance part. And for what you pay, AccuWebHosting is doing really well. On AccuWebHosting, your website can load fast and may be able to handle a lot of users.
That is if you have caching turned on. However, with caching turned off, performance sucks.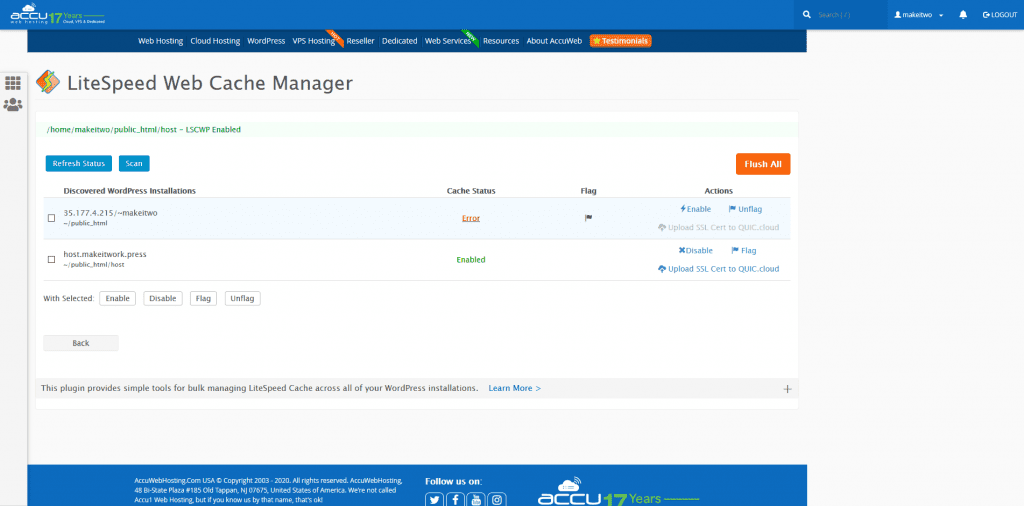 The greatest thing, however? You will get this performance with the switch of a button. It will automatically set-up LiteSpeed Cache and install the plugin on your WordPress website, as you can see below.
How do I do Performance Testing?
Every hosting provider I test gets the same test: I load up the exact same WordPress theme, install Woocommerce and import the exact same demo.
This acts like a typical WordPress websites, and on this website I do a couple of tests:
The maximum amount of simultaneous users it can handle before it becomes slow (>2 seconds), using loader.io.
The loading speed using Pingdom, GTMetrix and WebPageTest.
The time to first byte (the initial response from the server) using the Sucuri Performance Test.
And finally the uptime (using Statuscake) and WordPress Performance (using the WordPress Performance Tester plugin)
Simultaneous users: 1200 cached, 2 uncached
This test is a fun one! I simulate a large number of users, each firing a request each second. I do this with caching turned on and caching turned off (caching is a technique to drastically speed up a website).
With caching on: 1200/second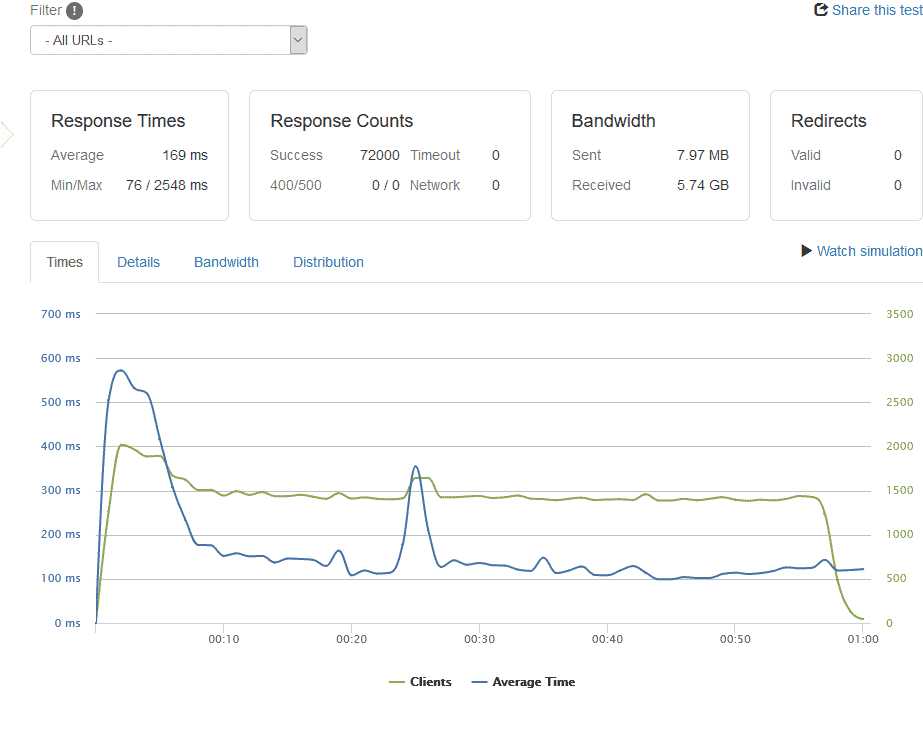 With caching turned on, the site could handle 1200 simultaneous users with an average response time of 169 milliseconds. In one minute, the website got 72000 hits and could handle this pretty well.
With caching off: 2/second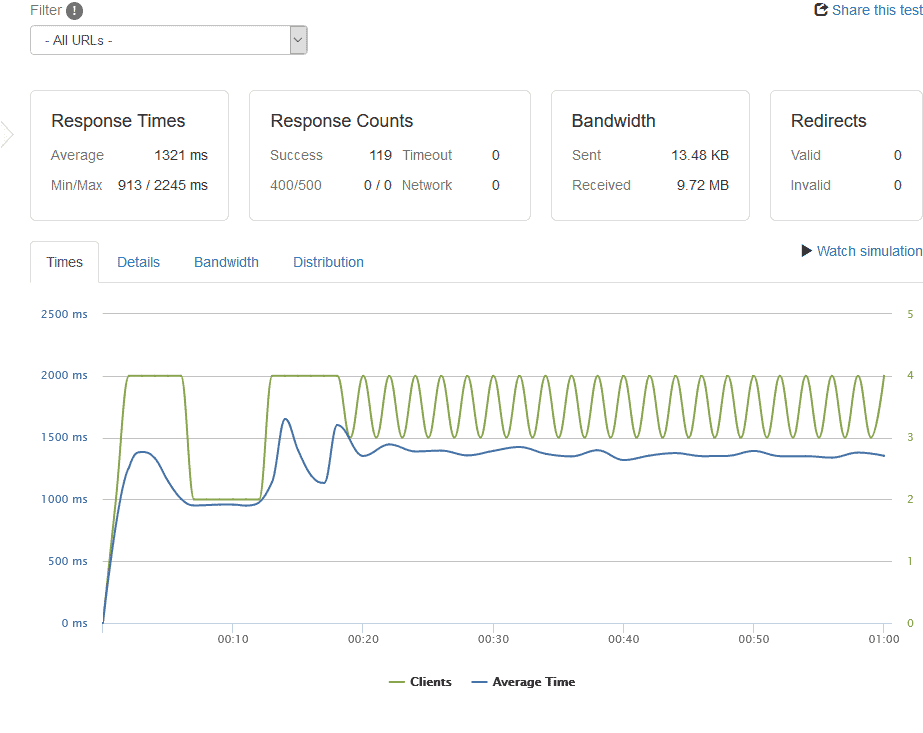 With Caching off, the result is a different story. The website could only handle 2 concurrent users a second, with an average responsime time of 1,3 seconds finishing just 119 requests in one minute.
And here you can see how well AccuWebHosting does caching, and how good LiteSpeed's cache is. And how worse it is with caching turned off.
The Caching off test is important, because reflects situations where users need to log in, such as a webshop.
Pingdom Loadtime: 0.38 seconds (cached), 1.26 seconds (uncached)
On average, from the closest location to the server, the website loaded in 0.38 seconds using Pingdom. This is an excellent score, and the fastest to date.
With caching turned of, this number dramatically increased to 1.26 seconds.
GTMetrix: 3.25 seconds on average
Using the GTMetrix benchmarks, the site loads in 3.25 seconds on average. Now this may seem off compared to Pingdom, but GTMetrix tests from a different location and in a different way. It's actually a great score.
WebPageTest: 3.93 seconds on average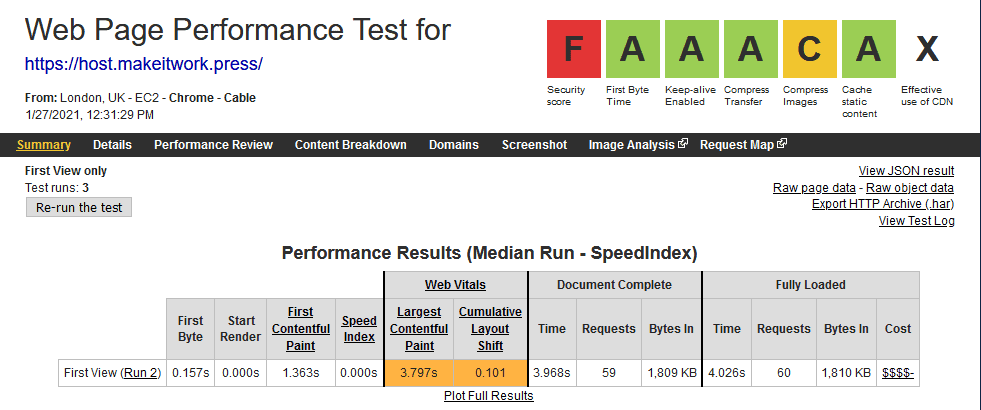 Another test is the WebPageTest, which loaded the website in 3.93 seconds on average. This is a mediocre score.
Time to the first byte: 29ms, 364ms globally
The time to the first byte is an important metric on how fast a server is responding (and thus says a lot about how good hosting actually is).
The first response from the server from the closest location was 29ms. Globally, the average first response was 364ms. This is an excellent score.
WordPress Performance: 1443 queries/second
The WordPress Performance test is a test that is executed by a WordPress plugin and displays how much common tasks take and how many queries per second the website could handle.
In this case, the website could handle 1443 queries per second, with an execution time of 0.693 seconds and a server score of 9.24. The first two are excellent scores (the second best at time of writing), while the latter is pretty worse.
Uptime: 100%
In the time of testing, I did not encounter any downtime. Good!
Compare Performance
With the dropdown menu below, you can select a value and compare AccuWebHosting to its direct competitors. It will show a nice chart :).
If you want to compare AccuWebHosting to all hosting companies I tested, check out the comparing WordPress hosting page.
I also tested one other WordPress Plan of AccuWebHosting, but the performance difference was not significant.
The usability: Meh
AccuWebHosting is using cPanel as a way to manage your website. And that is, especially if you're new to it, confusing to use. Also, my personal onboarding with AccuWebHosting was not that smooth. They don't seem to focus on design, and thereby user experience, yet.
They also offer so much that their website can be a bit overwhelming.
cPanel: hate it or love it
AccuWebHosting is offering cPanel as their way of managing your websites and email.
But before you get into cPanel, you have to login to your account. In your account, you can already adapt some settings.
Subsequently, you'll have to open cPanel which will open in a separate panel. And from there you can start managing your websites and domains. And this is already taking a couple of clicks.
And if you are new to cPanel, it can be overwhelming at best and confusing at worst.
Adding Websites and Domains
For example, before you can add a WordPress website, you have to either register a (sub)domain or add it under domains. You do this by going to the domains feature in cPanel, and by adding the specific domain. Subsequently, you have to go pack to either Softacalous or the WordPress Toolkit to install WordPress at this domain.
A much more logical way would be to have one big icon stating 'websites', where you can add a website, specify if it should use WordPress and then add or link the domain.
Not really an experience suited for beginners
Once you get used to it, it's manageable. But I'm still surprised that so many entry-level hosting providers offer cPanel, which is an overwhelming experience for beginners.
In my opinion, people just starting out with WordPress should have the easiest possible onboarding and easiest possible way to create a new website. It should be all clear in one panel, including your subscription and account details.
As a designer, I did find the user experience a bit cumbersome here. And did you know? Usually, a good experience (and design) will save you a lot of support requests too.
The WordPress Toolkit and Softacalous
AccuWebHosting offers two ways to easily add a WordPress website: the WordPress Toolkit and Softacalous (you can also install other apps with Softacalous).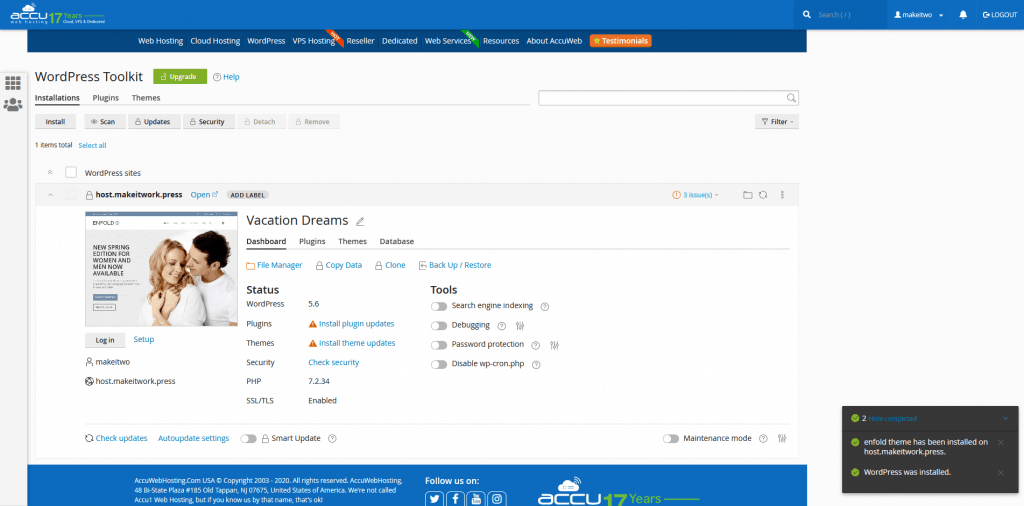 I think the WordPress Toolkit is the best thing that they offer in cPanel. It's a tool through which you can add WordPress, but also manage things such as plugins and themes installed and view important details of your WordPress installation.
The odd thing is, however, that a couple of features of the WordPress toolkit are not available, such as securing your website. You'll get a cPanel license notice which is very odd to have as a customer of AccuWebHosting, since they need to manage these licenses.
The other odd thing is that if you add a website through the WordPress Toolkit, it won't show up in Softacalous. However, if you add a website in Softacalous, it does show up in the WordPress Toolkit.
Staging, cloning, backups and other tools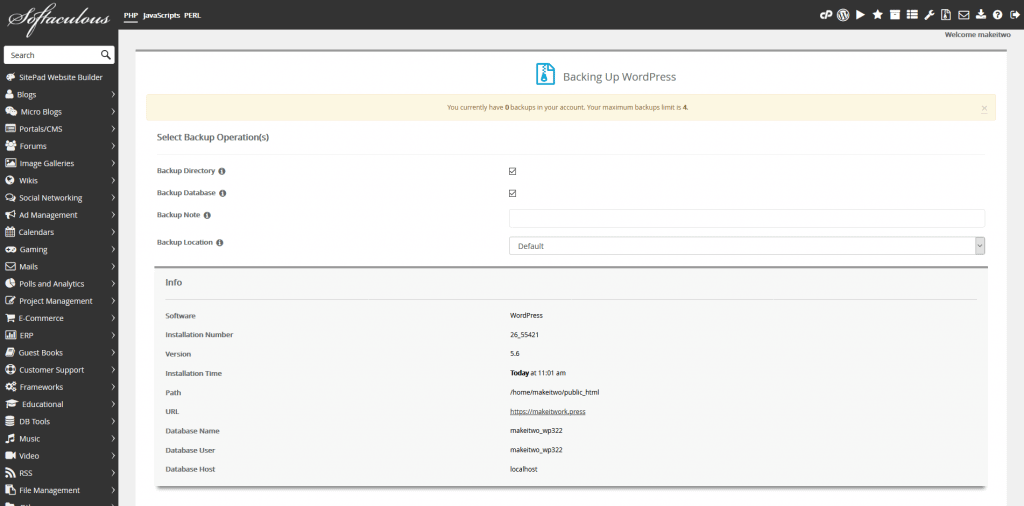 With the cPanel offered by AccuWebHosting, it is possible to backup WordPress, clone the installation or have a staging environment. The latter is a copy of your existing site, which you can modify for development and testing purposes, and then copy back.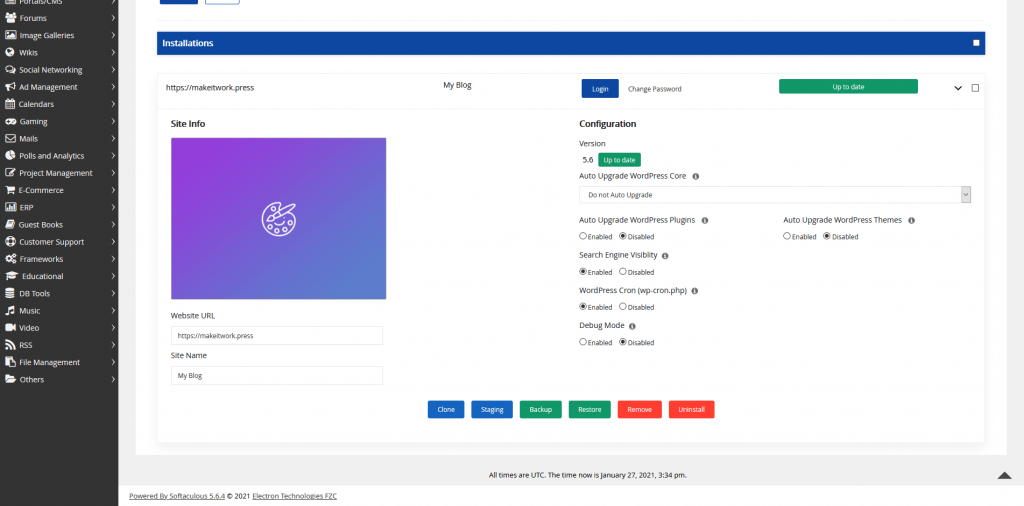 And yet another odd thing is that you can only do these actions if you have added the website through Softacalous. It will not be possible within the WordPress toolkit.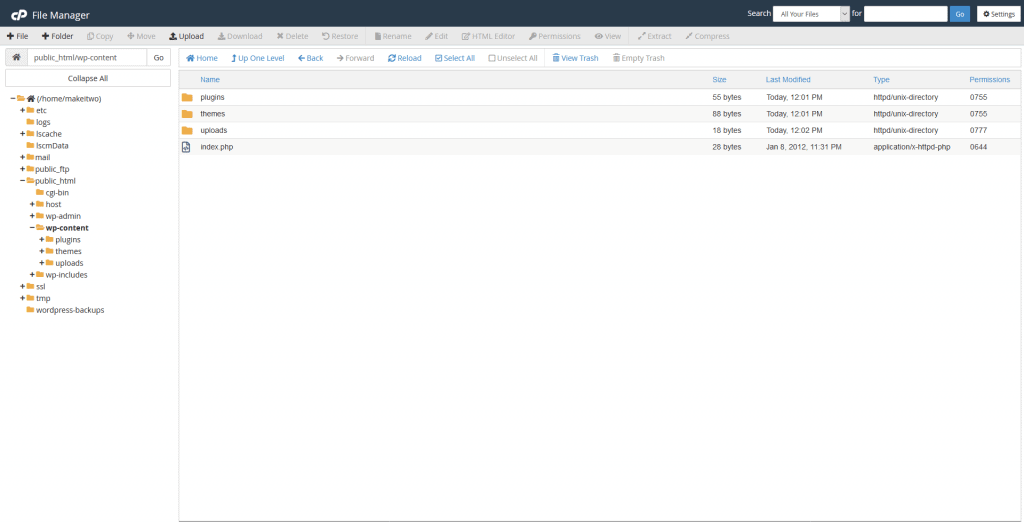 At last, you can also add other users and give them access to specific inboxes and email accounts and use a file manager in cPanel to easily browse through your files and edit them.
My onboarding experience
Initially, I was contacted by a marketing executive of AccuWebHosting to promote their services, upon which I offered to do a review. Many of the companies I test do offer some way of having a test account, but this was not possible with AccuWebHosting. They stated it was not needed to promote their services, but how can I know if it's any good if I don't test them?
Nevertheless, I just opened an account and paid for a subscription so I could really test them. And just for opening a website, I had to contact support.
For example, I had to be in contact with support a couple of times, because somehow my billing status was stuck at pending (while funds where subtracted from my account). It was confusing because I could still pay my invoice again while I already paid.
The caveat? Somewhere on the website, there was still a button at which I had to confirm my phone number. This was very unclear though.
In my opinion, this is a process that should be as smooth as possible. Especially if you want to onboard new customers.
The support: Good
AccuWebHosting is offering okay support. In my opinion, responses sometimes take some time but overall, t
However, in my experience the first-line support encountered on live-chat is technically not really knowledgeable. AccuWebHosting solves this by redirecting the difficult questions to tickets, which were answered within 24 minutes.
Support: Ticket, Chat and Phone
Support is 24-7 available over phone, email and live-chat. On my first request, they answered within 4 minutes which is proper but a bit on the long side for live chat.
Support is friendly and listens well to your questions.
A note on my support experience
Now, each hosting company I review will get a similar set of questions, somewhat geared toward their offering.
Support was able to handle the easy questions. They had difficulty in answering some technical questions such as does the website support GZIP, for which I had to explain what it was.
At last, I also put an error in a WordPress theme (which is an encoded message) and see if they can spot the error and crack the message. For this issue, they redirected my question to a ticket and within 24 minutes they pointed me at the error.
They did not crack the message however, which would be very obvious and easy to do for a professional developer.
Documentation and knowledge base
Next to support, documentation is important to sort things out yourself.
AccuWebHosting has very elaborate documentation. They even have over 90 different tutorials on how to do common things in WordPress, including videos.
From within cPanel (the place where you can manage your websites), there are also a lot of references to the documentation.
In my opinion, they are doing a good job here.
The pricing: Amazing
For what you pay (starting at $5.49 monthly) for the starter packages, you get great value. This is a great price for unlimited WordPress installations, email addresses, a good amount of bandwidth, and good performance.
The only downside is that you have to commit for at least three months (if you're buying the Enterprise package).
Pricing Packages
These are the pricing packages offered by AccuWebHosting:
| | | | |
| --- | --- | --- | --- |
| WordPress Personal ( | WordPress Small Business | WordPress Enterprise | WordPress Scale |
| Unlimited sites | Unlimited sites | Unlimited sites | Unlimited sites |
| ~75000 monthly visitors | ~200000 monthly visitors | ~1M monthly visitors | ~3M monthly visitors |
| 1GB RAM | 1.5GB RAM | 8GB RAM | 32GB RAM |
| 20GB SSD | 50GB SSD | 100GB SSD | 200GB SSD |
| 1 TB Bandwidth | 1 TB Bandwidth | 2.5 TB Bandwidth | 3.5 TB Bandwidth |
| 150 email accounts | 500 email accounts | Unlimited email accounts | Unlimited email accounts |
| | | Includes Jetpack Security | Includes Jetpack Security |
| $5.49 monthly | $12.66 monthly | $221 monthly | $571 monthly |
As you can see, there are also some powerful Enterprise and Scale packages available (which include a VPS). They are much more powerfull, but in my opinion the pricing is off.
The great thing is that they don't do discounts. The pricing you pay here is the pricing you'll probably will be when renewing. And that is, in my opinion, a honest way of doing pricing. Thumbs up, AccuWebHosting!
A note to pricing is that they limit the CPU usage and the amount of files you can have on your server (indicated with inodes). Now this number is pretty high, but if you have many WordPress websites with many plugins and files, it ramps up quickly.
So, unlimited is not really unlimited. But unlimited to a fair degree.
Top 5 AccuWebHosting Alternatives
Next to AccuWebHosting, I reviewed a couple of other shared hosting companies. You can find the best 5 alternatives in the list below.
This list will be updated once more reviews are added.
AccuWebHosting Review Conclusion
So, it's time to conclude this AccuWebHosting review. What can I say?
I think AccuWebHosting is having a great offering with solid performance, features and support. The downside is that they use cPanel, which I think is not the most user-friendly. Personally, I also had a kind of cumbersome on-boarding experience.
So, if you're looking for an inexpensive host for a couple of WordPress websites, that has data-centres in 5 continents and offers email and don't mind using cPanel, AccuWebHosting is the way to go!