Dreamhost is a well-known America based hosting company. They offer various hosting products, such as shared hosting, Managed WordPress hosting and VPS hosting.
Their Managed WordPress hosting product is called DreamPress. But, is their DreamPress offering any good? There are a lot of Dreamhost reviews, but in this review, I will specifically discuss the DreamPress package and the shared package for WordPress.
Just a short introduction: if you did not know, hosting is renting space on the internet. It allows you to have your own website and domain (which is the address such as makeitwork.press).
Did you know I started these reviews as my own quest for the best WordPress hosting? Many of the reviews I found were just some walk-throughs and affiliate links, but I missed in-depth information. I hope you'll like this review and it will help you out making an informed decision!
TLDR;
If you are USA-based and want the securities of a real Managed WordPress hosting party, their DreamPress package is great. It is a pretty cost-friendly entry into managed WordPress hosting. Surely recommended for beginners with a little more budget!
The shared packages are not so good in terms of usability and performance, and I wouldn't recommend them.
If you're hosting multiple websites, need your websites to be hosted outside the USA or need some more advanced tools, Cloudways (1+ websites), Rocket.net, or Kinsta (20+ websites) is a better alternative.
Other Dreamhost Reviews online are generally strongly or average positive about Dreamhost, an indicator they are doing well.
The DreamPress Review Procedure
For each WordPress hosting review, I follow the same procedure. I evaluate the hosting company in the following five aspects. These are the five aspects that are important in selecting a good WordPress host.
Features: What features does DreamPress have?
Performance: Is the performance of DreamPress any good?
Usability: How easy is it to use Dreamhost's hosting panels?
Support: Is the support staff any good?
Pricing: Is the price in balance with what is given?
If you want to see an overview of other providers, I also set-up a page to compare WordPress hosting reviews.
Plans offered by Dreamhost
| | | |
| --- | --- | --- |
| DreamPress Basic | DreamPress Plus | DreamPress Pro |
| $16.95/month | $24.95/month | $71.95/month |
| 100k Visitors | 300K Visitors | 1M+ Visitors |
| 30GB Diskspace | 60GB Diskspace | 120GB Diskspace |
| One installation | One installation | One installation |
For whom is DreamPress?
DreamPress is mainly aimed at WordPress Beginners and WordPress Professionals based in the US.
DreamPress includes JetPack Professional and has an easy to use interface. Moreover, it doesn't have that many settings. And that is great for beginners.
Under the hood, WP-CLI and Git are installed. Moreover, DreamPress supports staging environments which are useful for development.
DreamPress is hosted on US Datacenters, and therefore most suitable for an audience in the US.
If you like to discover more WordPress hosting parties, check them out in my Best of WordPress hosting reviews database.
But now, let's go on with this DreamPress review and talk about the actual features!
Decent Features
DreamPress has some good features such as back-ups and staging. However, it feels like it is missing some finer control that parties such as Kinsta and Cloudways offer.
The shared package misses a couple of essential features such as staging and backup restore.
General Features
We tested all DreamPress plans and the unlimited shared package. For this section, we focus on the features offered by DreamPress.
Free site migrations
Daily and manual backups
Clear dashboard for site and domain management
Expert support
US Datacenters
Domain registration
Support for mailboxes
Jetpack Professional
WordPress Wizard
Account privileges (other users can have access to certain parts of your account, which basically is a team manager)
Their WordPress wizard is a step-based wizard which helps you to set-up a WordPress website after it has been installed, such as selecting a good template. It's neat if you don't know what you want.
Features for Professionals
Some features which cater to the needs of WordPress professionals are:
Staging environment
WP_CLI and GIT installed on servers
Access and error logs available on servers
Temporary domains, useful for developing
SSH access to servers
phpMyAdmin installed on servers
Cron job manager
Dreamhost API
Unfortunately, DreamHost lacks some more advanced analytics, application monitoring, the possibility to easily clone environments, as well as the possibility to connect to external notification channels such as slack.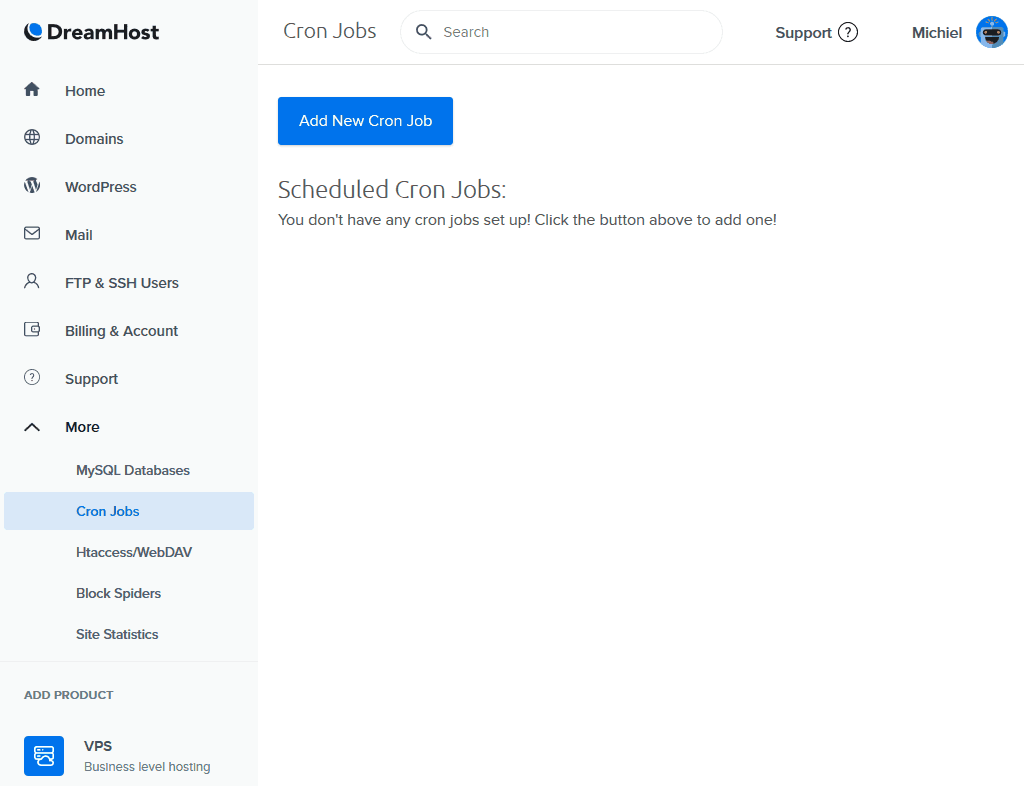 In addition, they also did not offer a CDN (content delivery network), which is essential if you are running international websites. And it just feels that you have a little less control on your server using their interface.
Other Features
There are a couple of features which I find worth mentioning in the Managed WordPress Hosting landscape. Three features really stand out:
Transactional email support. These are the emails send by WordPress, such as form entries. Not every managed WordPress host supports these.
Email hosting. This is a major advantage of DreamPress, as very few Managed WordPress Companies support this. Saves you a couple of dollars a month.
Domain registration. At Dreamhost, you can also register domains. It can be very convenient to have everything in one place.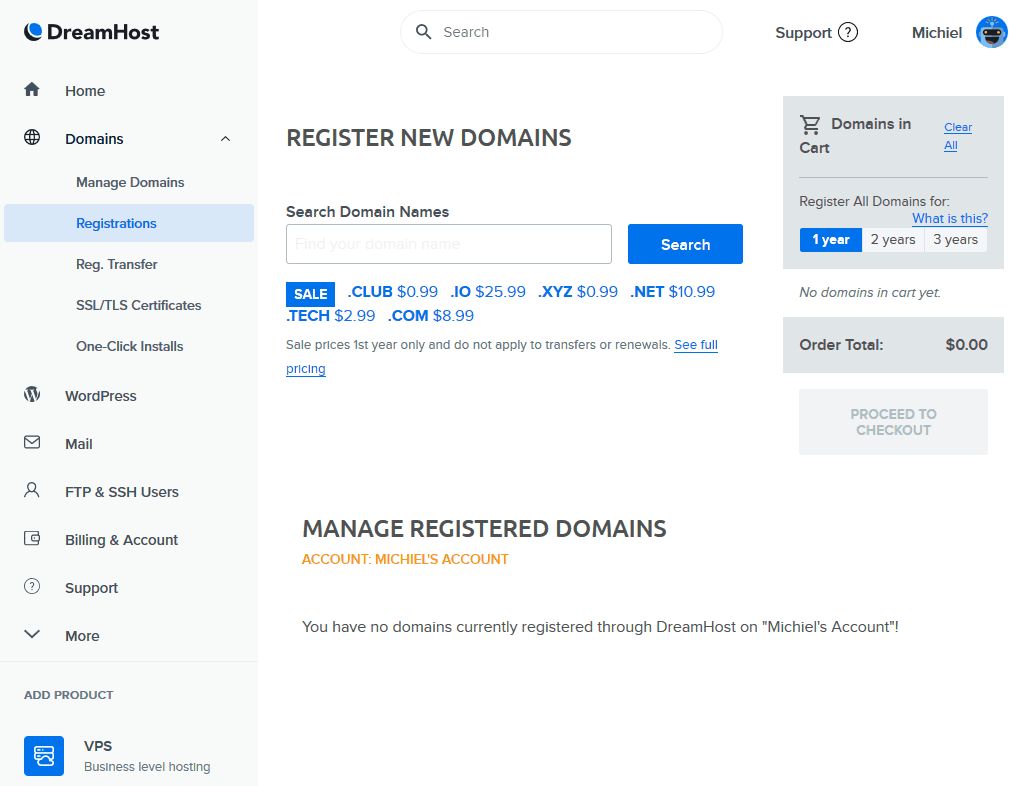 What I miss in their WordPress related offerings is how they deal with safety. But I bet that is taking care off.
Okay Performance
DreamPress offers okay performance with very stable results. However, the shared offering by Dreamhost offers very poor performance and is slow.
Test set-up
During the performance test, I load a bloated WordPress theme. This is tested to various performance metrics such as:
Maximum simultaneous visitors (both cached and uncached).
Loading time with Pingdom, GT Metrix, Webpagetest and TTFB.
Uptime monitoring using StatusCake.
And some server benchmarks using WordPress Performance Test.
Just a detail, but DreamPress uses Varnish to cache pages.
Performance Results
The below table indicates the maximum amount of concurrent visitors.
Maximum Simultaneous Visitors
| | | |
| --- | --- | --- |
| | Cached Visitors | Uncached Visitors |
| Shared Package | 7 | 4 |
| DreamPress Basic | 300 | 10 |
| DreamPress Plus | 300 | 14 |
| DreamPress Pro | 600 | 22 |
The caching for the shared package did not function out of the box, resulting in a very low number of visitors that are supported.
The DreamPress packages did reasonably well, especially because their average response times were very low (20ms). For example, the DreamPress Pro package handled 36000 requests in a minute without breaking a sweat.
Their number of supported concurrent visitors may be lower compared to some other providers, but that is possible because artificial limits were met.
For example, the uncached test revealed that the performance of DreamPress Pro was almost equal to a large Cloudways (8GB/4C) server. And that is a sign of excellent performance.
In this test, the limits set by Apache (the webserver) were possibly hit. That means that the results are hitting an artificial ceiling. In theory, DreamPress could handle much more visitors. Unfortunately, we could not test that.
Loading Times
The loading times below are the average loading times as tested with Pingdom, from the closest server. This gives a good indication of how fast the website would actually load.
| | | |
| --- | --- | --- |
| | Loading time (s) | Time to First Byte* |
| Shared | 1.56 | 104 |
| DreamPress Basic | 0.561 | 87 |
| DreamPress Plus | 0.501 | 87 |
| DreamPress Pro | 0.521 | 87 |
*The time to the first byte measures the time it takes for the first server response. It is an indicator of performance.
Server Benchmarks
The WordPress Performance test is an artificial benchmark. The results are below:
| | | |
| --- | --- | --- |
| | Execution Time | Queries / Second |
| Shared | 17.308 | 58 |
| DreamPress Basic | 2.812 | 355 |
| DreamPress Plus | 0.844 | 1184 |
| DreamPress Pro | 0.916 | 1091 |
Honestly, the performance of the Shared package really sucks. The DreamPress basic is okay, reflecting the power of a small Virtual Server. Both the plus and Pro packages are scoring very solid, almost approaching Kinsta performance.
Stability: 99.82% uptime for shared, 100% for DreamPress
Uptime reflects the percentage that a website is online. During my testing period, the Shared package was 99.82% of the time online. The DreamPress packages scored a solid 100% uptime.
Comparing Performance
But how does DreamPress compare to other Managed WordPress providers, such as Kinsta? Let's have a look:
I programmed a nifty feature for you, namely charts. You can select any performance metric in the selector above, and it will show a chart with comparable values.
What I can conclude from this data is that DreamPress is not leading the pack in terms of performance, and their DreamPress basic offering is the most interesting considering price against performance.
Good Usability
The usability of the DreamPress section is great. I found it one of the more refreshing WordPress hosting panels out there. However, the usability of the shared package and the rest of the panel felt less great.
For example, I had a hard time getting my WordPress website functioning on a simple subdomain on the shared package. Also, sometimes some settings panels felt a bit cluttered. I also did not like the one-click installer for their shared packages, it was just too extensive.
The clear navigation menu on the left works, however, because every setting that you need can be found there and is clearly categorized under a main heading.
WordPress Sites on DreamPress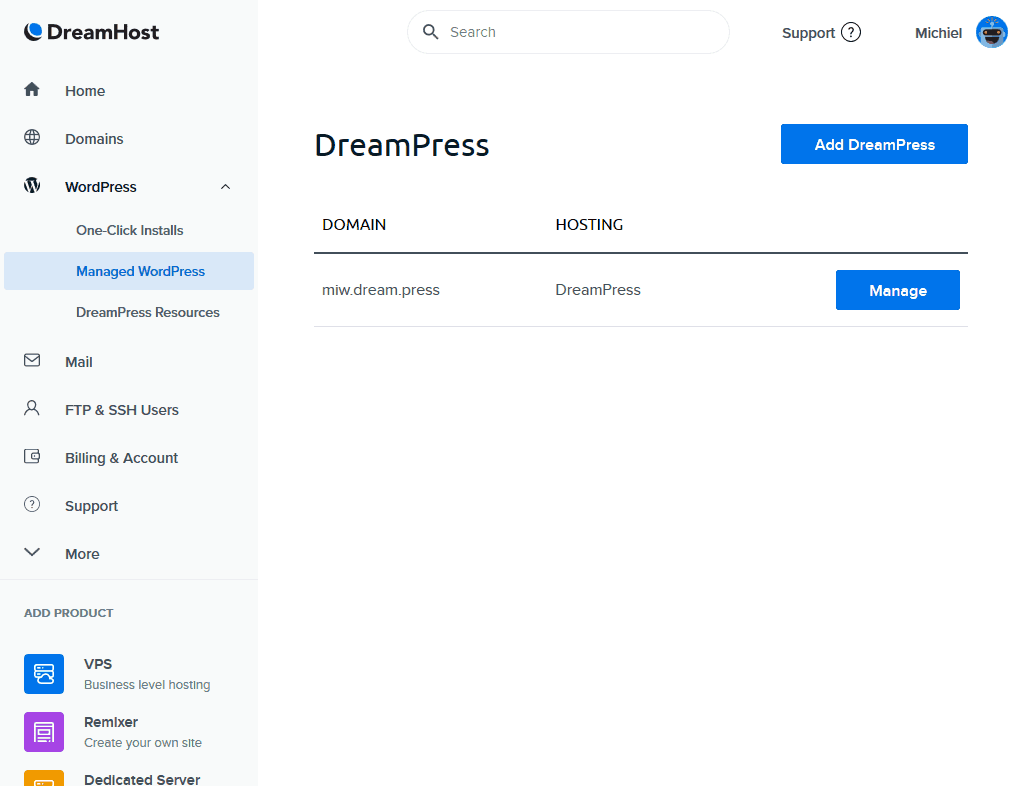 The DreamPress panel, which can be found under WordPress, gives a good overview of your current WordPress installations. Upon managing such a website, you will arrive at the following screen.
All the essential details, such as SFTP access, the domain settings, backups and staging are there. Moreover, there is a useful button to log in to WordPress from the DreamPress panel itself. That is quite convenient.
Also, the backup manager is very straightforward with a list of previous backups which can be restored in an instant.
It's in the details
Some of the panels I found a little less optimized in terms of design and usability. For example, the email address feature is great. But the screen could be more clear on what the show selected domains option does: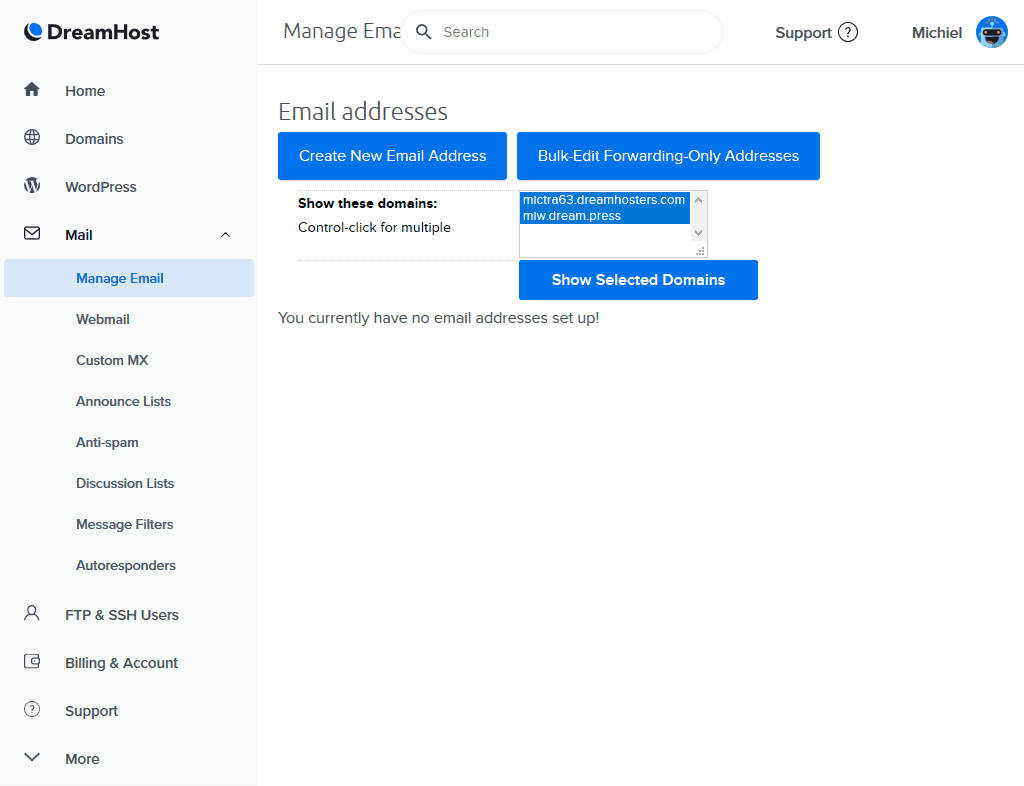 So, while the overall panel is designed well, many settings screen look a little off. For example, the possibility to grant other people access to your account is great. However, setting field labels and fields seem to be off in terms of design. It just could use somewhat more whitespace, alignment, hierarchy in text styling and clearer input fields.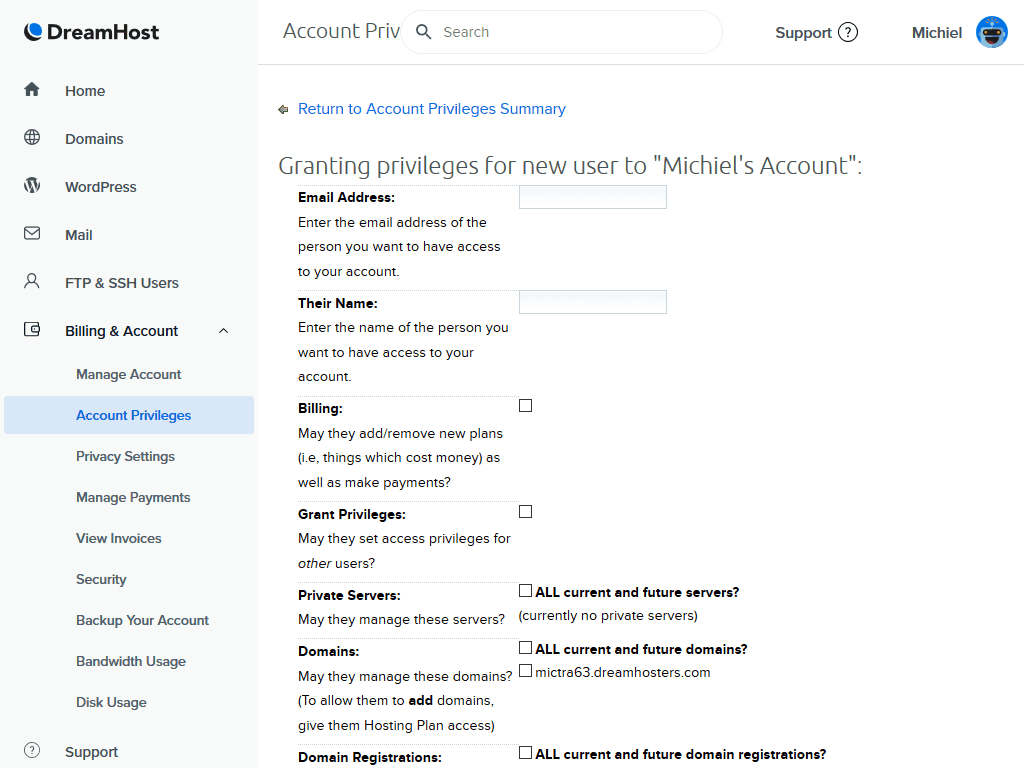 And this occurs in many settings panels. In my opinion (as a designer), these could still be improved a lot.
Great integration with Astra
Recently, DreamHost established a strategic partnership with Astra – one of the most popular WordPress themes. From the Dreamhost control panel, it is now possible to directly install the Astra theme. You can watch a video about this here.
Good Support
Support knowledge is very good, but responses are not always fast. I have been firing a lot of questions and emails and each of them has been answered to satisfaction. However, I found out that responses are not instant.
The biggest drawback, however, of support is their availability, which is established by the fact that it is a US-focused company. Live-chat and direct support is only available during US working hours (5:30 AM – 9:30 PM Pacific Time).
Support channels: Live chat and tickets
Support is available through live chat and ticketing (which basically is email support). As mentioned, live chat is only available during US hours. While they speak about 24/7 availability, this window, in reality, feels shorter.
But before you can contact support, you are guided through a pop-up which tries to answer your questions with information from their knowledgebase. I found it a bit annoying that each time I wanted to contact support, I had to hide this pop-up.
Live chat reacted within 280 seconds (almost five minutes), which is a little slow. My first ticket was answered in 19 hours, which is also a bit slow. However, a consecutive ticket was answered in 2 hours which is good.
Phone contact is possible, but only as a callback and it will cost money (it is free for the DreamPress Plus and Pro package, however). Therefore, I can't consider it as an essential part of the support provided.
Level of expertise
Now support may be a little slow sometimes, but they know what they are talking about!
One thing which really stood out was the level of expertise of the support. Now I have a set of WordPress related questions which I fire at every WordPress hosting company I test. And Dreamhost answered them all satisfactory. Good!
Documentation and more
In addition to the level of expertise, I found the knowledge base provided by Dreamhost very good. From some beginner settings to advanced topics such as adding SSH keys or using WP-CLI, it was all covered. Thumbs up Dreamhost!
Fair Pricing
If you compare Dreamhost offering to other Managed WordPress hosts, the starting offering is great. For just $16.95 you have a whopping 30gb of space and support up to 100.000 monthly visitors. Also, the Plus package is a great upgrade.
However, if you have a smaller website their Managed WordPress offering may be a step too big, in which case you can also opt for their shared packages (just $8.95 a month for unlimited WordPress websites).
The big cave-eat comes when you want to start hosting many WordPress websites (20+), as each DreamPress plan only supports one website. In these cases, Cloudways is a much more attractive alternative. And if you're a WordPress professional and don't mind owning your servers, GridPane is great.
The other big disadvantage is the lack of Datacenters outside the United States. This is a serious problem if the majority of your visitors are coming from outside the United States. It is generally advised having a server as close as the majority as visitors as possible.
DreamPress Alternatives
Since DreamPress offers Managed WordPress hosting, what are the major alternatives for DreamPress? I have set-up a list with providers in the same category, including my experiences and rating:
While Kinsta tops the leaderboard, I believe DreamPress is great for US customers and can compete especially on price level.
Conclusion: DreamPress is great for WordPress if you're in the US.
So, we're at the end of this fairly extensive DreamPress review. We also looked to the shared hosting offering of Dreamhost. What is the conclusion?
I think Dreamhost's shared offering has a lot of features out of the box, but I found it to be not really performing well in terms of usability and performance.
Their managed WordPress offering, called DreamPress, is great, and a cost-effective solution compared to other real managed hosts such as Kinsta or WP Engine. But if you just have a very small site running, the managed offering may already be too big.
The biggest downside I found is that they are in the US only. Their data centres are in the US, meaning that visitors outside the US will have higher website loading times. Moreover, their (excellent) support is mainly available during US hours.
So, DreamPress is great for medium to bigger websites having a majority of USA based visitors! So don't hesitate to try them out. What also may help in trying them is that they offer a great 97-day money-back guarantee. Don't like it within 97 days? You still can get a refund.