Unfortunately, VEPP is discontinued. This review is just here for reference, but VEPP can't be used anymore.
Have you heard about Vepp? Yup, vepp? Where do I start…
Vepp is a hosting control panel for WordPress developed by the Russian company ISPSystem.
A control panel is a piece of software that is installed on a server you own and helps you to manage your server. For example, this may be a virtual private server provided by any cloud provider.
If built well, it does all the heavy lifting of managing a server and keeping it safe so you can focus on building great WordPress websites.
And Vepp is such a control panel, or in their own words: a Website and Server Management Panel. It can be combined with any server from a cloud provider such as Digital Ocean, Upcloud, Vultr or Linode.
TL;DR
Yeah, I don't read long pieces either. Unless they're good of course. This is what you should know about Vepp:
Vepp looks amazing and it's seriously easy to host WordPress websites with your own server. It has a couple of amazing features and even includes e-mail hosting. It's also great to give clients access to their websites and provide them with a beautiful dashboard. However, support is non-existent and performance is poor. In addition, you need a separate account for each server you want to connect.
If you love Vepp, check them out with a high-speed server from Vultr.
Introduction: Vepp Review
By the way, if you don't know me yet, I'm Michiel and I am on the quest to find the best of WordPress. One part of this quest is to find the best possible hosting providers for WordPress. And that's why we're talking about Vepp here.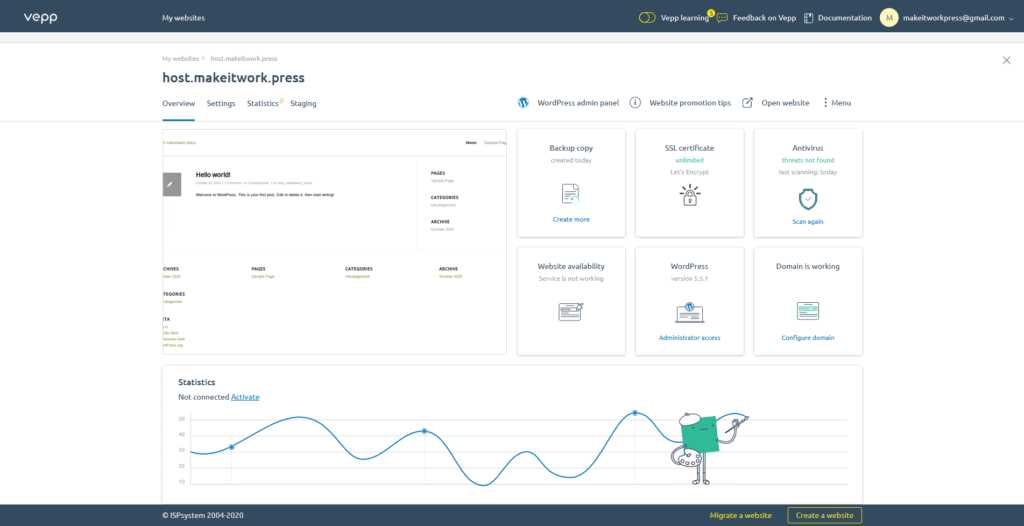 In this review, I tested VEPP on five aspects (like I do with all other WordPress hosting providers): features, performance, usability, support and price. Each of the chapters of this review will talk about these aspects.
Installing Vepp
In the video attached to this review, I go through the process of installing Vepp on your own server. For using Vepp, you need two things:
Installing VEPP is as easy as adding a server with Ubuntu 18.04 at one of the above cloud providers. The second step is to log in at Vepp and provide your server IP and password. Done!
Again, the video will show you how.
Should I use Vepp?
Or better, am I the right person for using Vepp? It depends. In my opinion, VEPP is attractive for the following types of users:
Technically-minded beginners – if you're not afraid of spinning up a server (it's not that hard). Vepp will give you everything you need for running a couple of websites for a very good price.
Professionals – since you're dealing with your own server(s), Vepp is mainly aimed at WordPress professionals.
The client/user manager of Vepp is pretty neat, Vepp may be great if you're running a hosting business.
Some good features
Vepp offers all you need for setting up and managing WordPress. A great feature is that mailboxes are included.
Advanced users may miss advanced site and server analytics, some better monitoring and notifications, website cloning, git integration and the possibility to have multiple servers.
The Essentials
Vepp has everything you need for managing WordPress. A step-by-step installer to set-up WordPress, choosing a template beforehand, a WordPress migration wizard, domain registration, user management, backups and sign-in to WordPress from the panel itself.
Similar to all control panels, the amount of disk space, bandwidth and visitors it can handle are related to the server you choose.
What about safety?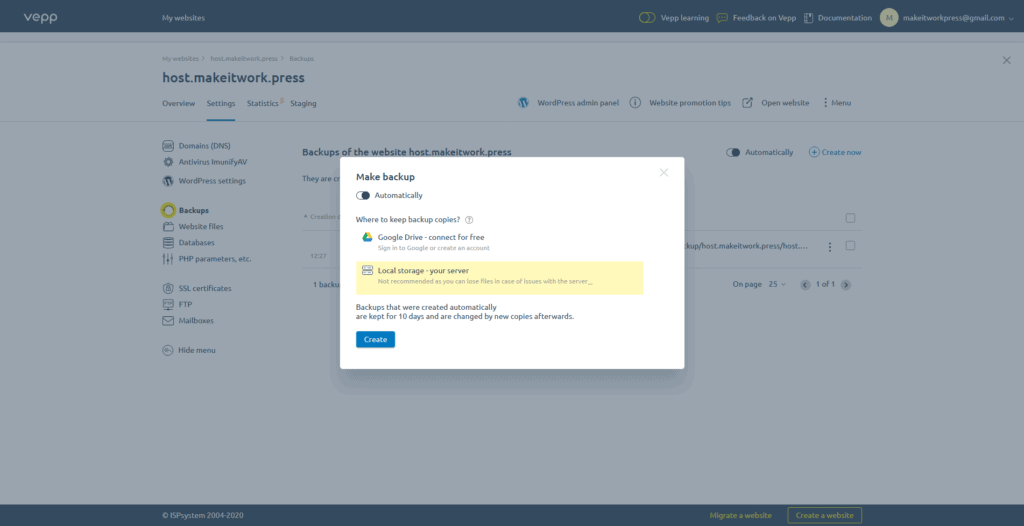 Vepp doesn't say a lot about safety, although they keep your server up to date (and I assume they isolate each website). These are a couple of other safety measures implemented by Vepp:
SSL is installed by default for each site
Local and remove backups
Daily malware scanning
And a great feature – uptime monitoring (and notifications).
I want more: advanced features
Vepp has some advanced features included, such as the possibility to adjust PHP settings, a staging functionality and setting up caching and optimizations for WordPress.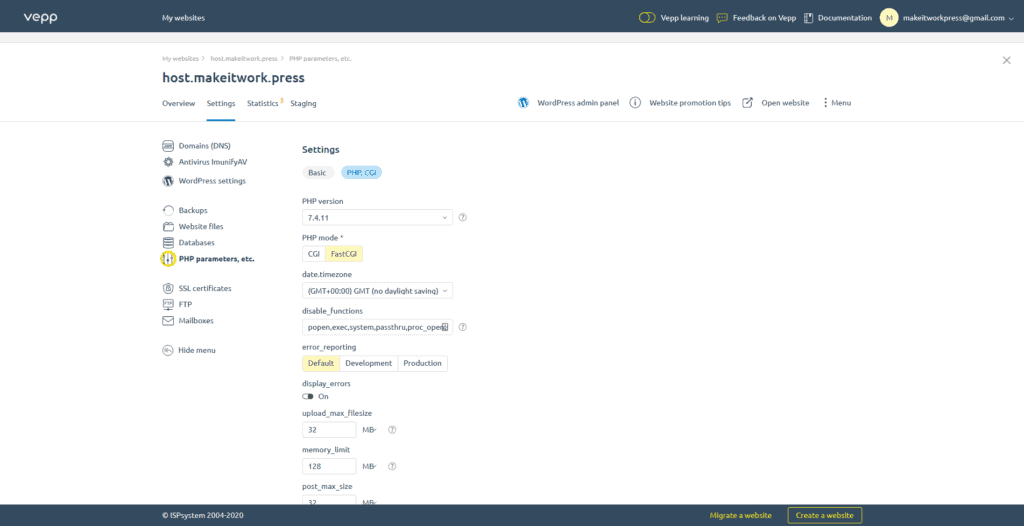 In the above screen, you can see the settings panel for changing PHP configurations.
Obviously, FTP and WP-CLI is also included in Vepp.
One thing that is particulary useful is the action log, in which you can see anything that happened inside the Vepp panel. This is also useful if you work with multiple user accounts.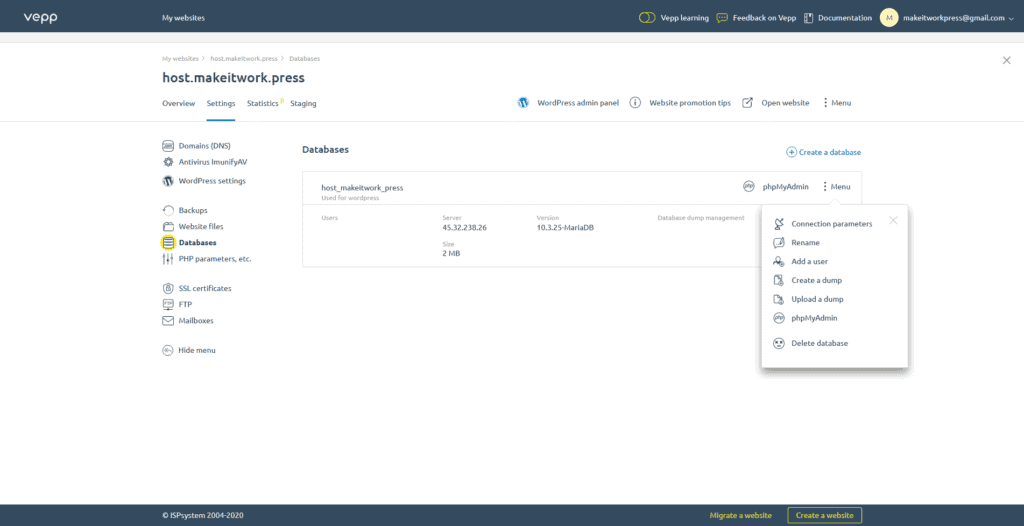 Adding and creating new databases is easy in Vepp, and phpMyAdmin is included.
In addition, a file manager is included in the panel as well.
As an advanced user, you may miss the possibility to see server and applications statistics (usage of your server and websites), as well as notifications to email if something happens.
In addition, Git integration or deployment is still absent (although it is coming soon!).
The great: mailboxes and domain registration
One thing that makes Vepp outstanding (only CyberPanel and Cloudways are offering email too) is the mailbox feature.
That's right. Vepp support email addresses and adding them is very easy, as depicted above.
In addition, you can register domains through Vepp. And if your domain is registered at Vepp, it will make sure mailboxes are properly integrated so they don't end up in spam.
Performance (speed): meh
From all the control panels I tested, Vepp is performing the worst. It's okay if you don't really require performance, but it's still bad.
Test set-up
For each provider, I do the same test so I can objectively compare them. I upload the same, and heavy, WordPress theme with WooCommerce and do the following:
Some load testing using Loader.io: how many users can Vepp handle, while response times are below 2 seconds?
Checking average loading times with Pingdom, GTMetrix, Sucuri and WebPageTest.org.
Doing WordPress benchmarks with the WP Performance Tester.
I tested Vepp with a high-frequency 1gb/1c VPS from Vultr.
Vepp's take at performance (speed)
Vepp is installing Apache+Nginx, and uses the WP-Optimize plugin for enhanced performance.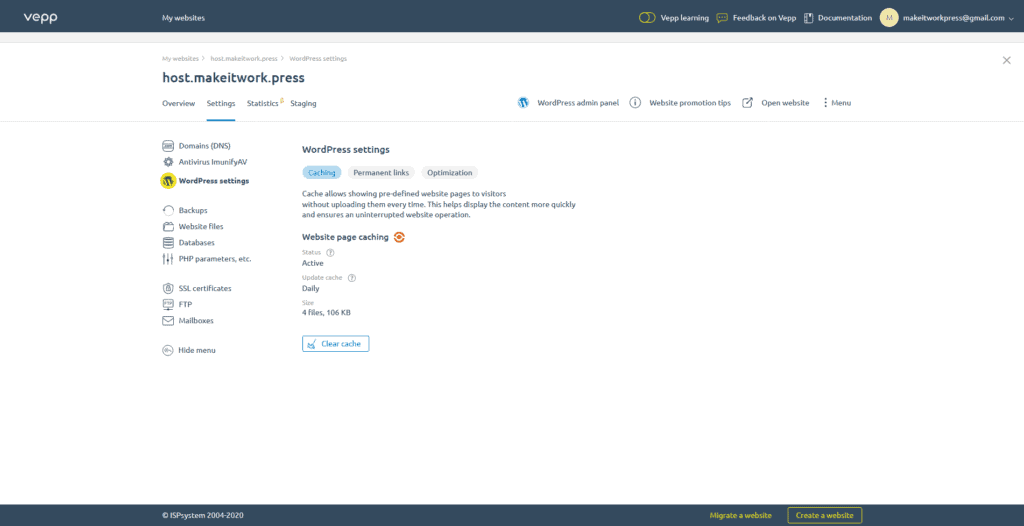 Once you have installed the plugin (you have to figure this out yourself by the way, something that's not really clear!), you can also adjust the caching settings in the panel. See the above screen.
Performance results
In my opinion, this set-up reflects the fact that the server is not optimized for WordPress performance. Let's dive into the result:
Concurrent users (cached): 125
This test displays how many simultaneous users the server could handle with caching turned on. In this case, Vepp could handle 125 users with an average response time of 173ms, completing 7486 requests in one minute.
Concurrent users (uncached): 2
An uncached user test is important. It reflects situations where users are logged in, such as a webshop.
Vepp with the given server could handle 2 users simultaneously, with an average response time of 1565ms, completing 111 requests in 1 minute.
PingDom, GTMetrix and WebPageTest:
Here we go:
Average loading time for Pingdom: 0.53 seconds
Average loading time for Pingdom (uncached): 0,97 seconds
Average loading time for GTMetrix: 5,40
Average loading time for WebPageTest.org: 6,53
These values are in many cases lower than it's direct competitors.
Uptime: 100%
The uptime depends mostly on the provider your choose, but for Vepp with Vultr it was 100%.
Time to First Byte: 763ms
The time to first-byte test had a really big struggle in delivering a consistent result. It averaged 763ms, which is abysmal and off. Don't take this value seriously.
WordPress Benchmarks
These are the results from the WordPress Performance Tester Plugin:
A server score of 8,691.
An execution time of 0.908 seconds.
And 1101 queries/second.
These scores are actually pretty good – indicating the server is strong. I guess something else goes wrong in Vepp.
How does Vepp's performance compare?
Now objectively you may find Vepp still pretty fast. Until you compare it to its competitors. It's the slowest sofar. And that's why I am a bit worried.
You can use above drop-down to select any performance metric and compare Vepp.
Vepp's usability: great!
Vepp works like a charm and looks great. Usability and design is their strongest point. There are a couple of small mistakes in the wording of English sentences and some feedback messages could be more clear.
Let's look into a couple of screens.
Managing a site with Vepp
Managing a site is easy with Vepp, including an overview of websites and an useful dashboard for your site.
The great thing is that you can also (temporarily) disable or suspend websites.
Displaying Analytics
You can connect Google Analytics to Vepp, and it will display the most relevant statistics.
Staging Function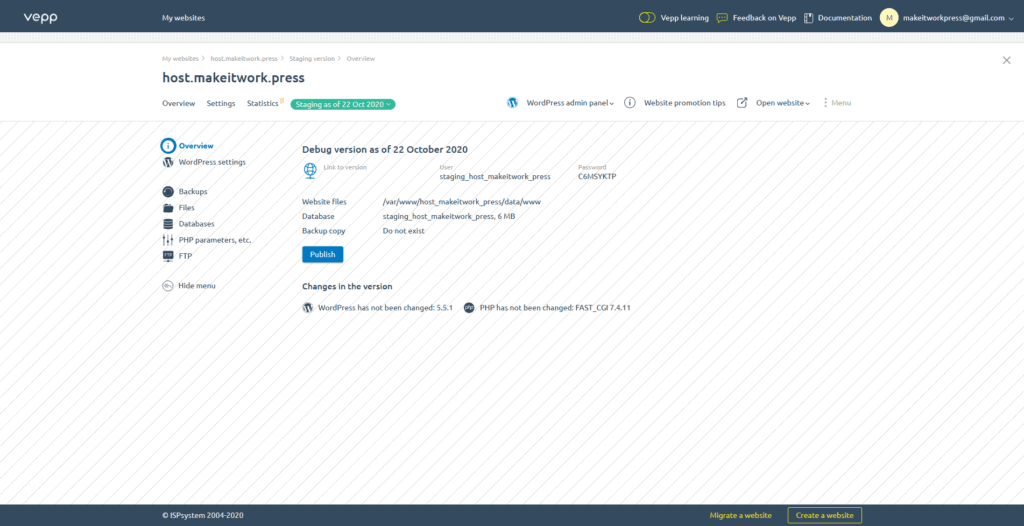 The staging function is straightforward and allows you to set-up a temporary copy of a live site, so you can develop or test out things. It works great.
The Vepp Learning Function
A really nice feature of Vepp is the walk-through function when you're new to the platform. Step by step, it will explain what everything is and does. Great for beginners!
Site Wizard
Another aspect that is designed well is the wizard for adding a new website. You'll be able to select a template and it will help you in setting up the website, though it could give more hints on how to connect domains.
Client Access to WordPress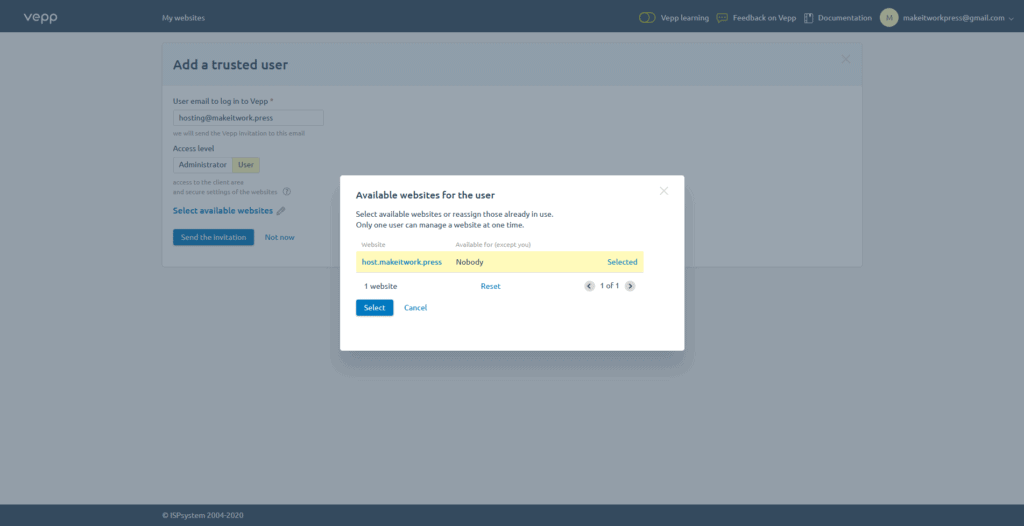 One other nifty feature is the ability to add users and give them access to specific sites. Since in my opinion the dashboard for sites looks great, this is also a great feature for client access.
Optimize your website
Another great aspect of Vepp is the ability to optimize the database of your server straight from the panel.
Don't delete or reinstall your server!
There is one major big problem with Vepp. Never ever delete your server from the cloud provider once it's connected. You won't be able to reconnect to any server at all as you will be getting stuck in a feedback loop (stating connection problems).
The only way to reconnect a server is by applying for a new account, which is cumbersome. You can also have only one server per account (the direct implication of this).
That means it's also hard to transfer or switch servers, something that is very easy with some other platforms.
In addition, since the platform is originally Russian (at least that's what I'd expect), you'll find some strange English at a couple of places.
Support: non-existent
Vepp is free and they don't offer support. Thus, I can't tell you so much in this section.
Help Yourself
There are meant as a platform where you figure out things yourself. This is actually not a really bad thing if you're a bit handy.
It's a bummer though because there are a couple of crucial bugs in the platform, such as getting stuck in the platform if you delete your server and sites that don't work.
However, they have some good introduction videos and some nice documentation.
So, I give them one point because they have some pretty nice blogs on WordPress and some proper documentation.
Pricing: incredible. It's free. Almost.
I can't say a lot about this. But since Vepp is free to use (at the time of writing), it's incredible. You only need to pay for the servers from your cloud provider.
And that's probably why they don't give any support.
Best 5 Alternatives to Vepp
When you name pricing, you need to mention the alternatives. How does Vepp compare? Obviously, all other providers are paid. These are the direct competitors of Vepp:
Vepp Review Conclusion: I'm not sure
Vepp, it was a pleasure to have met you. I think we had a pleasant date. But I'm just not sure.
Let me explain my doubts first. I would love to install you on more servers and have some better insights into how everything is running. I also find your lack of performance and actual support disturbing.
Having said that, I think you look great. You look even beautiful. I also love the way I can give my clients access to you and your beautiful panel. It's actually good if you're running a hosting business. And you can do most of the things I want, and that for free! Amazing.
If you would be performing better and include some support, you would actually be one of the greatest panels.