Did you know that hosting WordPress on a VPS can make it run really fast? Especially if you have a powerful, fast VPS?
Meet Webdock.io. Webdock.io is a VPS provider that offers not only VPSes but also a useful control panel to do the most common things on your server (what is a VPS?). The video shows all, but in this panel, you can easily run a WordPress website.
But the best part of Webdock is the performance you get for what you pay. According to their own words, there are no other providers offering more performance for a lower price.
In this article, I will be reviewing Webdock. So if you are looking for Webdock reviews, you found a good one here!
TL;DR;
Webdock is delivering outstanding performance for what you pay.
Webdock support is fast and knowledgeable.
Webdock is aimed at professionals. For advanced stuff such as caching, you need to be able to do some server administration. Out of the box, it is fast but it can be optimized further.
Webdock is a semi-managed VPS provider with a handy control panel to do some basic actions, such as adding a site, and domains, setting up SSL certificates and adding shell users.
You can try their servers for one day. (Servers will only be billed after one day).
If you, like me, think that Webdock.io is really awesome, sign-up here (and support me in writing articles like this).
Before I Review Webdock
Before I go to the body of this Webdock review, let's just briefly talk about a couple of questions that may be important.
For who is Webdock?
Webdock is aimed at developers and professionals, or people wanting to dive into servers further. If you want anything that is not standard in their control panel (such as changing the PHP version), you need to go into your server and do some nice things on the command line.
I would not advise using Webdock if you don't like these things or have very little experience with them. Their documentation is also quite technical and you need to understand those things in order to get the most out of Webdock.
How do you use Webdock for hosting WordPress?
However, using Webdock for hosting a WordPress website is still pretty straightforward.
Sign up for an account at Webdock
Provision any server you like
Connect your domain (Webdock does not provide domains) from your domain provider to the server.
Update the servers' domains from Webdock itself, so this connection is reflected.
Install WordPress using the control panel of Webdock.
How did you review Webdock?
Like other Webdock reviews, I tested the platform and installed a couple of websites on their platform. For each hosting provider I test, I consider the following criteria:
This review is part of my quest to find the best possible hosting solution for WordPress. You can find the best WordPress hosting described here, compare WordPress hosting on this page and find the best control panels in this article.
Why should I use Webdock?
If you are a developer or administrator and looking for serious performance in Europe or the States, you should consider Webdock.io. It gives a lot of performance for a small price, coupled with great support.
And… if you want green hosting.
The Features
For a VPS provider, Webdock has some great features. But compared to other control panels, it is quite limited. The most notable feature of Webdock is the free inclusion of transactional emailing, but they miss some useful features such as staging environments.
What does Webdock offer?
Webdock does offer VPS with various characteristics, starting with a $2.99 a month plan for 1 core, 1GB and 10GB of disk space up to amazingly fast AMD Ryzen powered servers. But they not only offer a VPS with root access, but they also provide a control panel with some common options to manage your VPS. So what does this do?
Incredibly priced VPSes with good support
An optimized and secure LEMP stack on the VPS that runs many applications well, such as WordPress.
Safety updates and monitoring for your server
Add (system) users to manage your server
Set the domain for your server
Manage SSL for your domains
Protect your server and set up transactional emailing
Easily run cron-jobs on your server
Manage some common server configurations, including configurations for PHP
Manage databases easily with a database manager
Manage files easily with a file manager
5 snapshots (backups) at a given interval and 3 optional snapshots, free to choose
An overview of server events and other events happening
Monitoring of server responses over email
A section to easily add scripts that need to be run on your server
A team manager to add other users to your account
A manager for installing and updating WordPress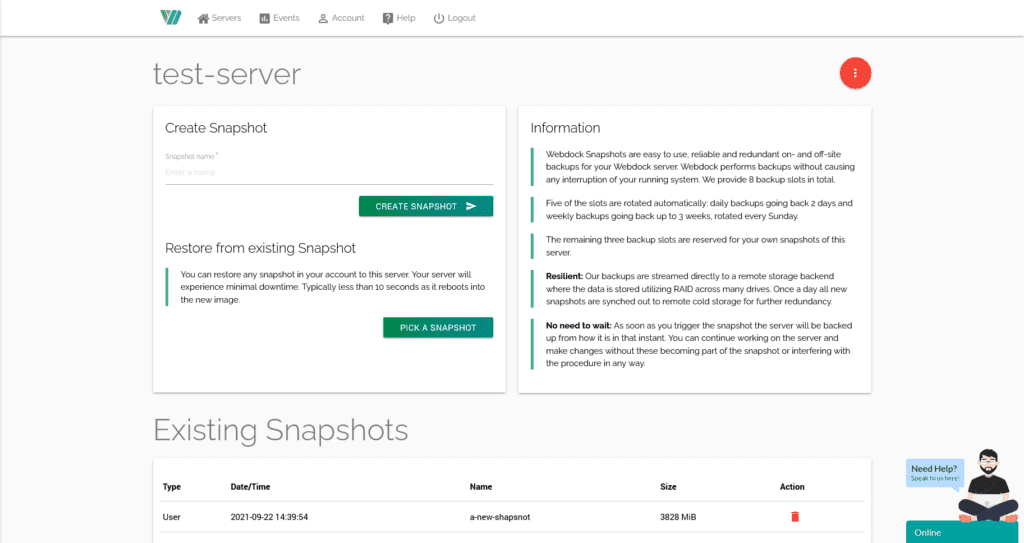 And what will make it better?
There are a couple of things missing in my opinion. This would make Webdock even more amazing:
Better (uptime) monitoring (including the option to send notifications to Slack or Discord)
An easy way to add a staging environment for WordPress on the same server, with options to push this staging to a live site (including options to only push certain database tables or certain files)
An easier way to set up SFTP users with the correct access, instead of FTP.
Caching or optimization settings for WordPress, with a possible plugin for WordPress. If you're using WooCommerce and want to cach ite, you still need to change a lot of things.
Real-time server statistics, such as in Cleavr, and better monitoring of your application code
Easy support for Node or Go applications
Webdock's uniques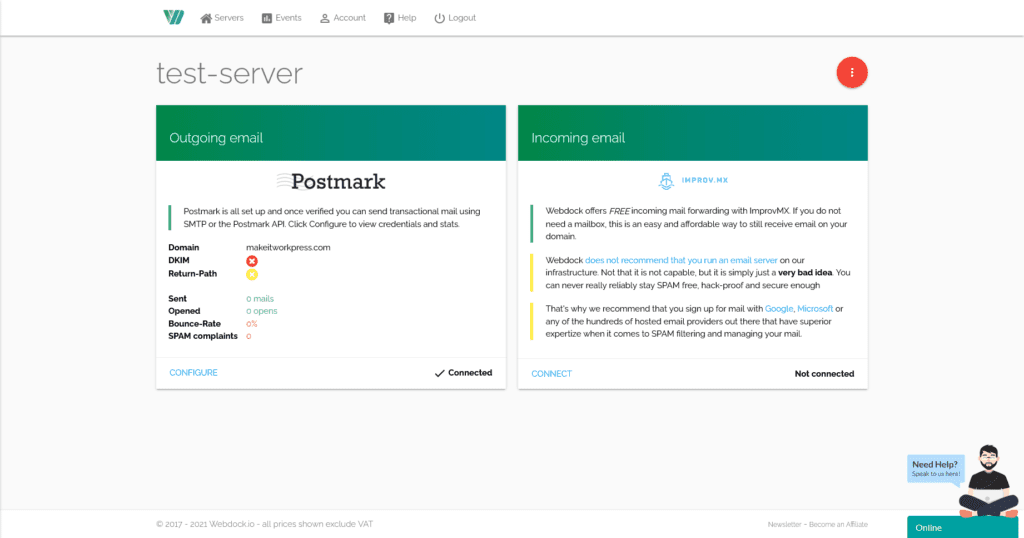 There are a couple of unique features that make Webdock a great VPS provider.
They provide a control panel for the most common actions on your VPS
Free transactional email from Postmark is included (except for the most inexpensive plan). This is a remarkable feature!
It installs Botguard to keep (harmful) bots at bay
It has a separate setting to harden WordPress security
Webdock and other control panels
Since Webdock is a VPS provider, it has also a major advantage. It can be combined with other control panels such as Runcloud, GridPane, Ploi, SpinupWP and Laraval Forge. Unfortunately, Cloudron and Serverpilot are not supported.
The consequence is that you can have the performance and support of Webdock, and still combine it with a panel that offers a lot of other features over Webdock.
The Performance
Webdock's performance is great. Even with no manual optimizations for WordPress, it can handle many users.
Testing Performance on Webdock
I tested performance with Webdock combined with W3 Total Cache for optimizing WordPress, and also combined Webdock with Runcloud (one of the best control panels out there). For every provider I test, I add the same bloated WordPress theme in combination with WooCommerce and run some benchmarks such as GTMetrix, Sucuri Load Time Tester, WebPageTest, Pingdom and Loader.io.
I tested the following plans:
Webdock SDD Bit (2.5 cores/5 threads and 2.5GB Ram)
Webdock SSD Bit More (5 cores/10threads and 5GB Ram)
Webdock Ryzen Bit More (2 cores, 5GB Ram)
Results: Concurrent Users (users per second)
The following table summarizes the maximum number of concurrent users Webdock can handle in one minute, where 99% of the requests should finish within 2 seconds. Concurrent users indicate the maximum number of simultaneous users, so it is roughly equal to the number of requests the server can handle.
| | Webdock SSD Bit | Webdock SSD Bit More |
| --- | --- | --- |
| Maximum Cached Visitors | 900 | 1000 |
| Average Response Time (Cached) | 453 | 291 |
| Maximum Uncached Visitors | 33 | 58 |
| Average Response Time (Uncached) | 794 | 594 |
The number is also tested with caching turned off, which is an important test for webshops and interactive sites, which are harder to cache (caching is a technology that greatly improves the performance of a site, as you can see).
These test scores are excellent for what you pay, especially for the uncached scores (beating expensive providers such as Kinsta).
Average Loading Times
The following table summarizes some average loading times for a couple of popular benchmarks such as Pingdom, GTMetrix and WebPageTest.
| | Webdock SSD Bit | Webdock SSD Bit More |
| --- | --- | --- |
| GT Metrix | 4.1 seconds | 4.25 seconds |
| Pingdom (cached) | 0.59 seconds | 0.59 seconds |
| Pingdom (uncached) | 0.86 seconds | 0.86 seconds |
| WebPageTest | 4.24 seconds | 4.07 seconds |
Webdock is slightly slower here than other platforms, which can be explained by the fact the test server was located in Finland and the platform is not optimized out of the box. There is also hardly any difference between the plans (but remember, the larger plan can handle more visitors).
WordPress Benchmarks
With help from the WordPress Performance test plugin, I tested some WordPress-related benchmarks. This mainly tests the number of queries a server can handle in a certain time and some other PHP-related benchmarks.
| | SSD Bit | SSD Bit More | Ryzen Bit More |
| --- | --- | --- | --- |
| Queries per second | 928 | 944 | 2865 |
| Server score | 10.399 | 10.257 | 6.003 |
It's a good indicator of how fast WordPress will run but does not say everything. The server score is a bit on the high side, but the queries per the second score are excellent. The Ryzen servers are insane, they are really fast.
Time to the First Byte
The time to the first byte (TTFB) indicates how long it takes for the first response of the server and is a good measure of how fast a server actually is. It is also strongly influenced by the location of the server and the testing location. If you test the TTFB from a location in Europe, but your server is in North America, it will be much larger.
The average TTFB was 182ms, and 637ms average globally. This is not the fastest score compared to some other providers.
Comparing Performance
The following drop-down can be used to compare performance with some other VPS providers (in this case, combined with an external control panel).
The Usability
While the control panel of Webdock makes it a lot easier to manage your server, it could be improved a lot.
Managing Servers
Managing servers is one of the core things you want to do in WebDock. Servers are visible in a useful list, where you can also see the resource usage.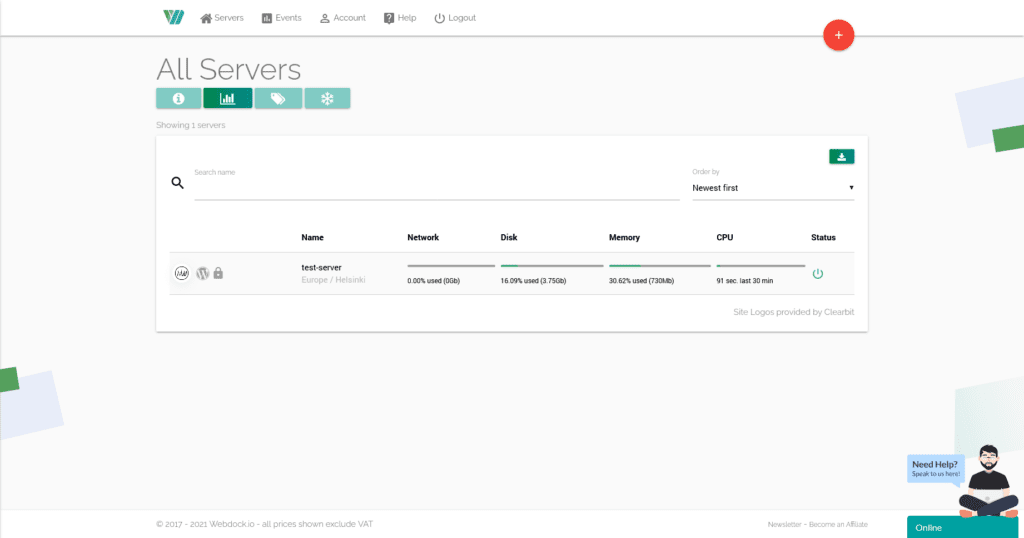 Adding and managing servers is mainly done using the red button on the right side of the screen, but this is not always straightforward and includes some extra clicking.
For example, in the screen below you need to click on the red button on the top right to do most server actions. This screen shows the overview of a server once you have selected it.
It's a bit hard to explain in words, but I find some other panels easier to use. If you are in a section for a certain section, you first need to go to the red button, and then click to another section. You need to click around quite a lot to switch from one server to another server and perform similar actions.
Managing WordPress
Webdock has a separate settings screen for adding and managing WordPress. In the Manage WordPress section, you can add a WordPress site to the main domain that is set up under Server Identity (more on that later). It will first install WP-CLI, and afterwards, you can fill in your WordPress details and WordPress will be added.
The above screen shows what it will look like once WordPress is installed. As you can see, you can also check for updates and update WordPress from this screen.
The file manager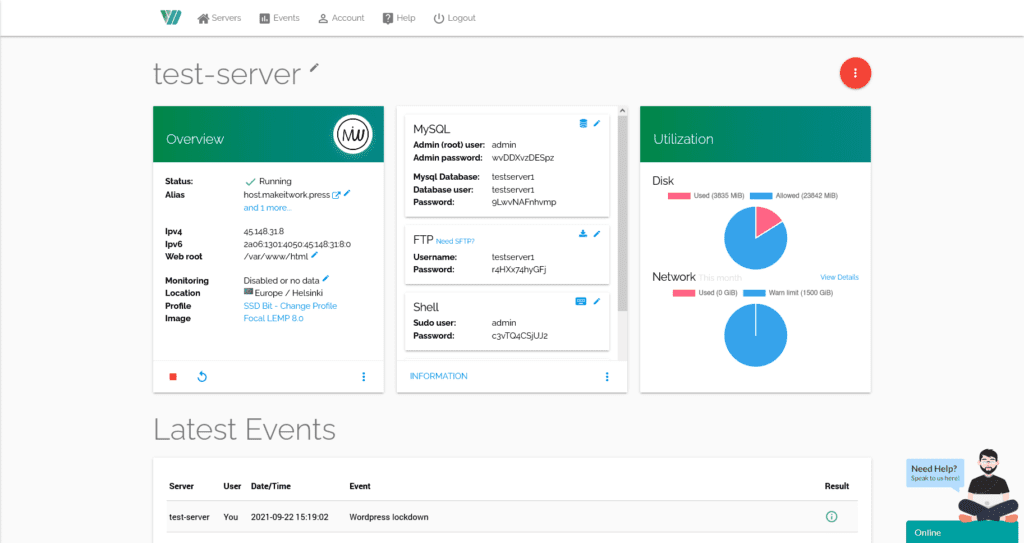 Another useful feature is the file manager, which can be used to edit files on the server on the fly. Very handy if you are not keen on using the command line.
Adding domains
Managing domains is done in the Server Identity screen.
While you can have multiple domains per server, Webdock is designed to run only one application per server. A useful feature here is that you can check domains, and only if they are pointed correctly towards the server you can add them.
Managing SSL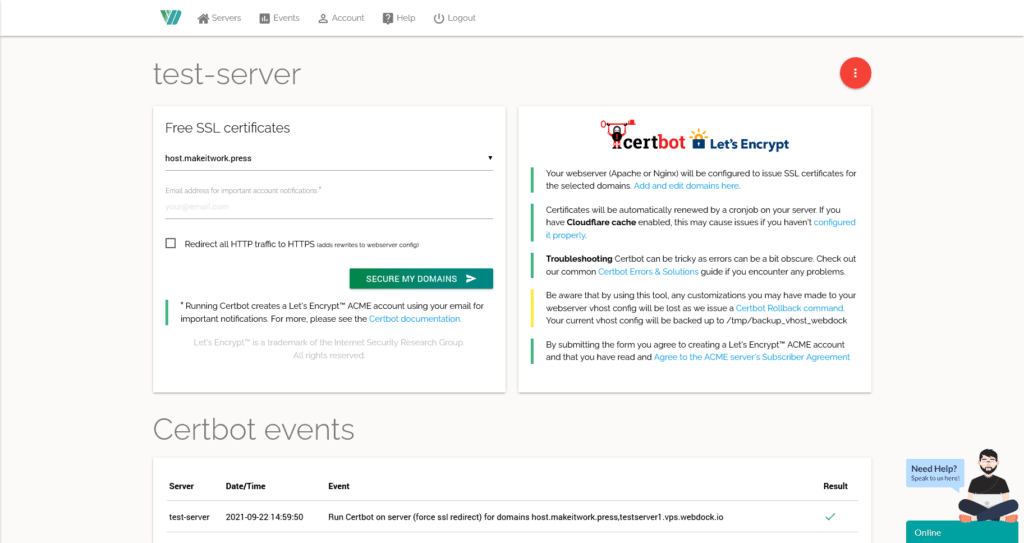 Managing SSL for your applications is straightforward, although you first need to add your domains in a different section (under server identity). What I like about the SSL functionality is that there is a log at the bottom that displays what happens, and give insight if an SSL installation fails.
Switching servers
One thing I love about Webdock is how easy it is to switch to another server (even to smaller profiles). With a click on a button, this is done, and this change is taking only seconds.
Now I've already covered a lot in this Webdock review, but there is still more. Let's see how Webdock support is doing.
The Support
Webdock support is available over email, tickets and phone and reacts very fast.
Email, ticket and phone support.
Webdock's support is available over the phone (during limited times throughout the week), you can email them and send tickets.
I prepared some nice questions and remarks for them, and I got a reaction to all my questions within 8 minutes. That basically the support staff immediately started emailing when they received my email. And that is an amazing response time!
Good amount of documentation
They have a good amount of documentation on all kinds of topics related to system administration. From securing your server to optimizing Performance. However, the amount of documentation on WordPress is a bit limited.
The Pricing
Webdock is one of the most inexpensive high-quality VPS providers. They are amazing in terms of pricing.
Webdock's plans
At the time of Writing, Webdock has the following plans:
| | | | | |
| --- | --- | --- | --- | --- |
| Plan | Storage | Threads | Memory | Price (monthly) |
| Nano4 | 25GB | 2 | 2GB | $2.99 |
| Bit | 50GB | 5 | 5GB | $5.99 |
| Bit More | 100GB | 10 | 10GB | $11.99 |
| Byte | 150GB | 15 | 15GB | $17.99 |
| Pro | 200GB | 20 | 20GB | $21.99 |
| Pro Plus | 300GB | 25 | 30GB | $34.99 |
| Premium | 400GB | 30 | 40GB | $46.99 |
Regular (Intel Xeon) servers
For what you get, this pricing is unbeatable. The cores indicated in the tables above are threads, the number of physical cores is half the number. And except for the Nano plan, you also get 1 Gbit/s bandwidth.
However, while the amount of cores you get is great and can handle a lot of visitors, they may be a bit slow for doing some WordPress things (read more about Why the CPU is important for WordPress performance).
The great thing is that they also launched a new subscription with very fast Ryzen processors, which are one of the faster servers on the market.
| | | | | |
| --- | --- | --- | --- | --- |
| Plan | Storage | Threads | Memory | Price (monthly) |
| Bit | 50GB | 1 | 2.5GB | $5.99 |
| Bit More | 100GB | 2 | 5GB | $9.99 |
| Byte | 150GB | 4 | 7.5GB | $14.99 |
| Pro | 200GB | 6 | 10GB | $19.99 |
| Pro Plus | 300GB | 7 | 15GB | $29.99 |
| Premium | 400GB | 9 | 20GB | $39.99 |
Ryzen Servers
The only drawback is that Webdock, compared to some popular other VPS providers, only has 2 data centres (in Helsinki, Finland and Montreal, Canada).
Alternatives to Webdock
There are no real alternatives to Webdock that I have reviewed so far. Webdock combines a control panel with a server in one offering; while for most control panels you need to get a server somewhere else. Digital Ocean comes close with its droplets, but feels not as semi-managed as Webdock. Cloudways also comes close but has much more options in its panel and limited server access.
Webdock Review: The Conclusion
I hope that from all Webdock Reviews you might have read, this one gave a great insight. In my opinion, Webdock is a great VPS provider that has very fast support, great pricing, and great performance albeit their control panel is still a bit limited to full-fledged panels such as Runcloud, Cleavr or Ploi.
The great thing, however, is that they offer a control panel of their own but also can be integrated with these earlier mentioned panels. And that brings some real power!
So, what do you think? Webdock.io is awesome, so why not sign-up here (and support me as well. Thank you!).
If you need serious performance either in Europe or the States, and have the technical skills, they are really worth trying. And the best news? For the first day of trying a server, you don't need to pay a fee.
So, what are your experiences with Webdock? Leave them in the comments below!