The many advantages of WordPress
WordPress is open-source software, developed and extended by thousands of people worldwide. Because of this, WordPress website development offers many possibilities:
Design, Technology & Strategy: that's what you may need for a website
Design
Design is aimed at giving your visitors a good experience on your website. An immersive experience that matches your brand and what you stand for.
Technology
Technology makes your website function and allows new features. Good technology makes your website sustainable, fast and stable.
Strategy
Strategy defines the website as a channel to reach your (business) targets. The effect is that the contents of the website are aligned with the business goals.
Logically, we apply these three factors in most of our projects. Maybe we can help you too with WordPress website design and development?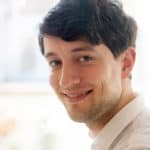 Michiel Tramper,
Founder Make it WorkPress
What is the price of a good, custom developed WordPress website?
The price for developing WordPress website is highly dependent on the requirements and wishes for a project.

As Make it WorkPress, we only create custom developed WordPress website with custom design and complex technical requirements.

Below figures are an indication:
The humour of Make it WorkPress, their positive approach and the ability to turn any unexpected problem into a new opportunity have added tremendous value to our website and the process of development.
It is nice to work with Make it WorkPress. They think along with the content and implement changes to my website quickly.
We really appreciated the involvement of Make it WorkPress. From the first meeting, when plans are still ideas, up to and including the adjustments to the operational website.
When converting our old website to a new, improved version, we received expert support from Make it WorkPress. It turned out to be not only a quick conversion, but also a process of reviewing our mission, vision and objectives.
Looking for high quality WordPress website development?
Request a project and we're going to look how we can help you.
What we can do for you (many call this our services)
The development of blogs, knowledge-databases, membersites, webshops, platforms, custom themes and just websites with WordPress.
Custom applications and plugins with WordPress, rest-api functionalities and advanced integrations with WordPress.
Branding and user experience design: a better experience for your brand and visitors for existing and new websites with WordPress.
Better performance for your existing WordPress website and ongoing development using WordPress.
We believe in WordPress.
Will you? The advantages:
We believe that WordPress is a very good way to improve the online part of your organization. So one more time, here are the advantages of WordPress website development (when it's developed by us, at least):