Have you heard about WPCloud deploy? Recently, I got an email for this amazing new product in the WordPress Space. I immediately was hooked by the different take of this product.
It's a product which is truly different than other hosting tools I reviewed.
This very cool tool is called WP Cloud Deploy. And it does things way differently. So let me introduce you to this WP Cloud Deploy Review.
WP Cloud Deploy is a WordPress plugin to manage your own WordPress hosting on a selection of cloud servers
Yes, you heard it right. WPCloud Deploy is a WordPress plugin. This plugin basically turns your WordPress into a control panel like GridPane of SpinupWP.
Ny the way, if you don't know me yet, I'm Michiel. I am in the quest to find the Het beste van WordPress, and one part of that quest is to find the beste WordPress hosting. That's why you'll find these elaborate reviews on my site.
The business of control panels
So what about control panels? It seems that these control panels for WordPress have become more popular in recent years.
Basically, a WordPress control panel allows you to run WordPress on your own server. A server from providers such as Vultr, Digitale Oceaan or AWS.
It does all the heavy lifting of administrating a server and keeping everything safe, sane and fast. If it does the job well, of course.
Control panels are particularly useful for more advanced users. However, a lot of beginners jump on the control panel trend. It's much more powerful than shared hosting but usually less expensive than managed WordPress hosting.
Back to WPCloud Deploy
And WP Cloud Deploy does this in an amazing way, which you will read more about in this review. And opposed to other control panels, you have, umm, control over this control panel as it can be installed as a WordPress plugin on your own WordPress website.
You heard it right. It uses native WordPress code (if that exists) and other things such as custom post types to create a control panel that can fire up whole servers and WordPress websites on the servers.
The only prerequisite: you need to have a running WordPress website first. Let's dive further into this interesting plugin!
WP Cloud Deploy has a twin, called FireupWp. It's a managed version of WP Cloud Deploy where you don't need to manage the plugin yourself or need a fresh WordPress installation. It looks a bit better but it is almost identical in terms of features.
TL;DR
This is my conclusion if you don't like to read whole pieces of text:
WPCloud Deploy is a WordPress plugin that can be used to fire up new WordPress websites at well-known cloud providers. It has a great feature set, good performance and fine support.
WPCloud Deploy is a great tool for rolling out your own WordPress hosting business and using white-labelling.
The idea of using a WordPress plugin for managing all your servers and sites may feel a bit weird and unsafe, but you'll get used to it quickly. Otherwise, you may want to try FireupWP.
In this review, WP Cloud Deploy did great in combination with Vultr. Get a Vultr VPS by signing up here.
Let's have a picture!
Blabla, words, words. But how does WPCloud Deploy actually look like?
WPCloud Deploy Review: a WordPress Control Panel Reinvented
I've introduced WP Cloud Deploy (which truly is reinventing the way you can approach a control panel). Now it's time to get into the elaborate review!
I tested WP Cloud Review with a Vultr High-Frequency VPS which is a server from the new line-up of Vultr. Usually, these servers perform great.
In this review, you can expect the following to be reviewed:
Moreover, I'll list a couple of the alternatives of WPCloud Deploy.
Who should be using WPCloud Deploy?
You may be wondering if WP Cloud Deploy is the right tool for the job. I think it is, but it depends on who you are.
In my opinion, WPCloudDeploy is aimed at WordPress professionals who manage many WordPress websites and/or want to set up their own hosting business.
You need to be familiar with things such as VPSes, SSH and SSH keys to integrate the platform with cloud providers.
Because it is a plugin, you have a lot of power in customizing WP Cloud Deploy and the whole surrounding WordPress installation. To do this, it helps if you're a WordPress professional :).
The latter makes it great if you want to start your own hosting business and have client logins, but manage the way things look like.
If you want to discover more WordPress hosting reviews, don't hesitate to view this great overview in my database.
WPCloud Deploy's great features
I seriously love the feature set of WP Cloud Deploy. It's one of the most comprehensive sets of features for a control panel I've seen so far, on a level with GridPane of Cloudways. Let's dive into a couple of them!
One feature that stands out here is the white-label functionality. Why? It's a WordPress plugin. It can be run on Multisite. And finally, it has some access-management features.
With that and a decent amount of WordPress experience, you can use WPCloud Deploy to set up a custom hosting panel for your clients easily. As a developer, you can even hook into it and change many things.
And that makes this plugin something like owning your own pre-configured control panel. Awesome! Let's have a deeper dive into the features.
A Sneak Peek into Good Features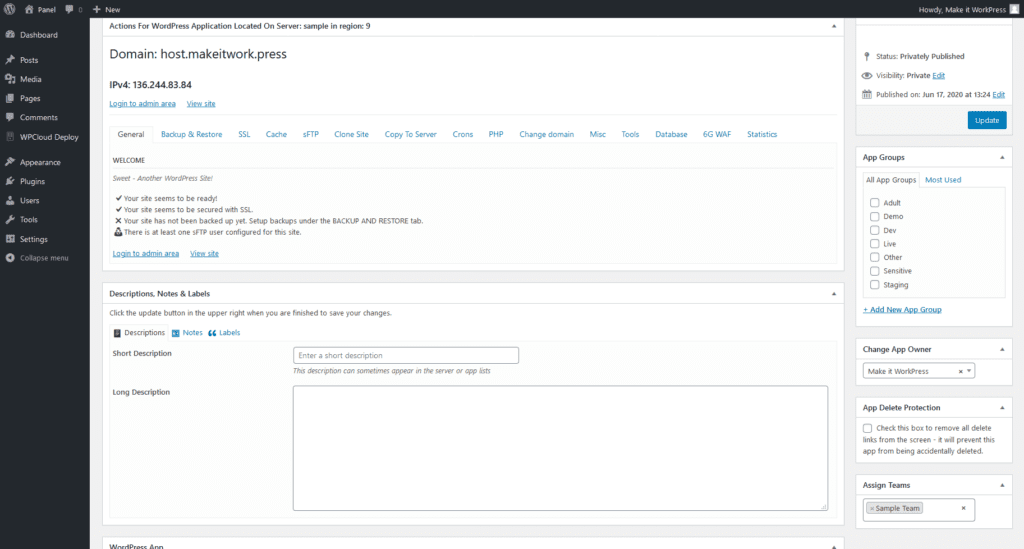 So, what does it all offer?
Automated administration of Servers
Easily adding and removing WordPress sites
White-labelling options
Deletion protection
Server (transactional) emails are supported
Unlimited servers and websites
Disable switch for websites
Adjust the layout using WordPress
Team and user manager
Group servers and applications into categories
More Goodness for Devs
WPCloud Deploy has a couple of features that make it interesting for developers.
SSH Access and a list of useful SSH Commands
Multiple cache options
Custom scripts for deployment
Synchronizing of servers for high-availability set-ups.
WP-CLI preinstalled
Support for multiple VPS providers.
Site cloning for staging and moving sites between servers
Easily change domain and replace database values
phpMyAdmin is not installed but can be installed with a single click
Cron job manager based on native Linux cronjobs
HTTP authentication possibilities
Multiple SFTP users for each website
A good amount of hooks and filters to modify the plugin with.
Command logs.
Unfortunately, there is no way to deploy scripts from a Git Repository. Also, a staging functionality (in a strict sense) is missing out.
Veiligheidseigenschappen
What also stood out positively was a couple of the safety features included:
Remote and local back-ups
SSL (do I still need to mention this?)
Firewalls on two levels: Server (UFW) and Application (6G)
Access Management
What WPCloud Deploy also offers is the possibility to add more users and group them in teams (actually it's the user's functionality of WordPress).
With this functionality, certain permissions can be granted for these teams and users and servers & sites can be assigned to them. Even custom user roles can be added.
Yes, Fast Performance!
Performance reviewing is always one of the fun parts to test! And WPCloud Deploy does very well, but slightly worse than its competitors GridPane and SpinupWP.
Technologies Used
WPCloud Deploy connects to your server and installs a powerful stack with the latest versions of Nginx, MariaDB and PHP.
In addition, it setups caches for NGINX, Memcached and Redis.
A mouthful of technologies – but it's just what you need to run a fast WordPress website.
Test Set-up
I test each hosting company (or Hosting Plugin in this case!) in a similar way. I set up the same typical bloated ThemeForest theme with WooCommerce. This represents the average WordPress website well (in my opinion).
I'll be doing some common tests you'd see on other blogs, such as GTMetrix, Pingdom and WebPageTest. But these metrics don't say a lot.
That's why I also load test the server on how many simultaneous users it can handle without crossing the 2 seconds loading barrier.
The results
This is probably what you've been waiting for! The results. Let's have a look:
Maximum simultaneous visitors: 800
WP Cloud Deploy in combination with a 1gb/1C Vultr High-Frequency Server can handle up to 800 concurrent visitors.
Providing you have caching turned on, of course.
In one minute, it handled almost 48000 requests met een gemiddelde reactietijd van 233ms (which is amazing!)
What can I say? These are pretty good values!
Maximum simultaneous visitors (uncached): 11
The server I tested can handle a maximum of 11 concurrent users with reasonable response times. This is equal to most other control panels out there.
Testing uncached users is important as this reflects situations such as webshops, where caching is not always possible.
Time to First Byte: 21ms
Using the performance tools from Sucuri, the lowest time to first byte value was 21ms. Speaking about rapid.
Pingdom Loadtime Averages: 0.573 seconds
Pingdom load times from the closest location (Frankfurt) averaged 0.573 seconds.
WP Performance Test Score: 846 queries / second
WP Cloud Deploy could perform 846 queries per second with an execution time of 1.182 seconds. Moreover, the server scored 7.064 on the performance test.
Other Metrics:
On WebPageTest, the page loaded on average in 5.55 seconds and with GTMetrix, it loaded within 6 seconds on average.
That is a big deviation from the usual figures and also doesn't reflect the other metrics well.
Performance Battle: How does WPCloud Deploy Perform?
I have gathered some nice data on performance for some of the alternative WordPress control panels which match WPCloud Deploy (if it has alternatives though…).
Nevertheless, WPCloud Deploy performs generally spoken a little worse than GridPane and SpinupWP, similar to Ploi.io and better than ServerPilot and Runcloud.
Use the selector below to pick a performance metric and see how it actually compares.
Usability: it's better than it may look like
In my opinion, WP Cloud Deploy does not look as well as the other control panels. There is a simple reason for that: WordPress enforces its layout on it. This can be, however, both strength as a weakness.
This makes a lot of sense since I think WPCloud Deploy is also aimed to customize a lot of things yourself. By the way, FireupWP is their managed service and does look better.
However, it does a great job with descriptive hints and actually works much better than it may look at first sight. Simply said: it's not as shiny as the other panels, but does the job very well.
Good Overview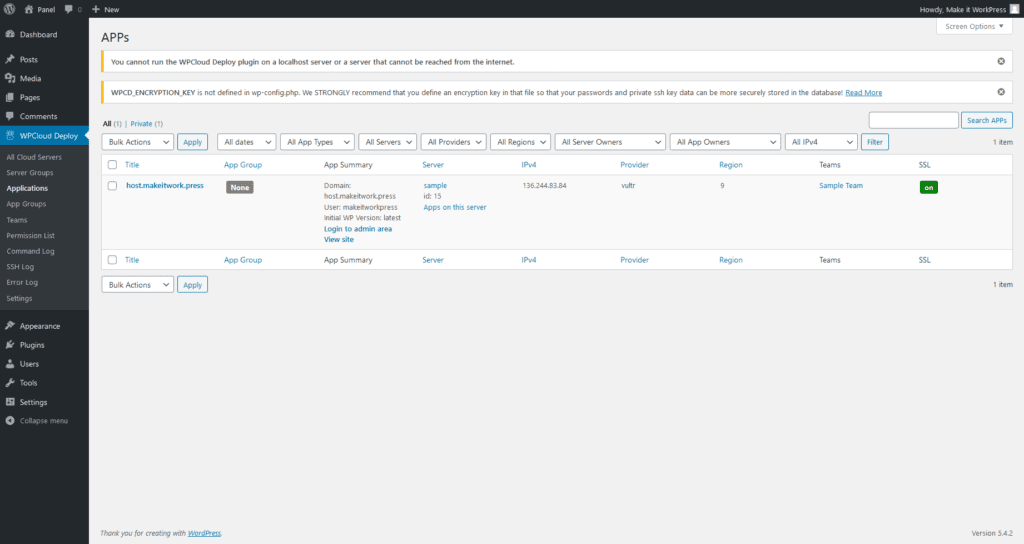 WPCloud Deploy uses the custom post type view of WordPress for displaying servers and applications.
That gives a good overview, but sometimes not all text and information is aligned very well. What I also think is that the application overview has many tabs which may be a bit overwhelming at first sight.
WPCloudDeploy has a couple of other nice tools which make management a lot easier. Think of tools such as cloning websites, adding new administrator users from the control panel, changing PHP settings from the interface and adding authentication.
Changing a Domain
Throughout the panel, a set of custom tools are appearing. One of the tools I find particularly useful is the change domain function.
Many control panels offer this functionality, but don't let you make a dry run or quick change. The explanations make it very insightful what is happening when you change a domain.
Team and User Manager
I spoke earlier about the Team Manager. Basically, this manager allows adding teams. Per team, users and their permissions can be configured.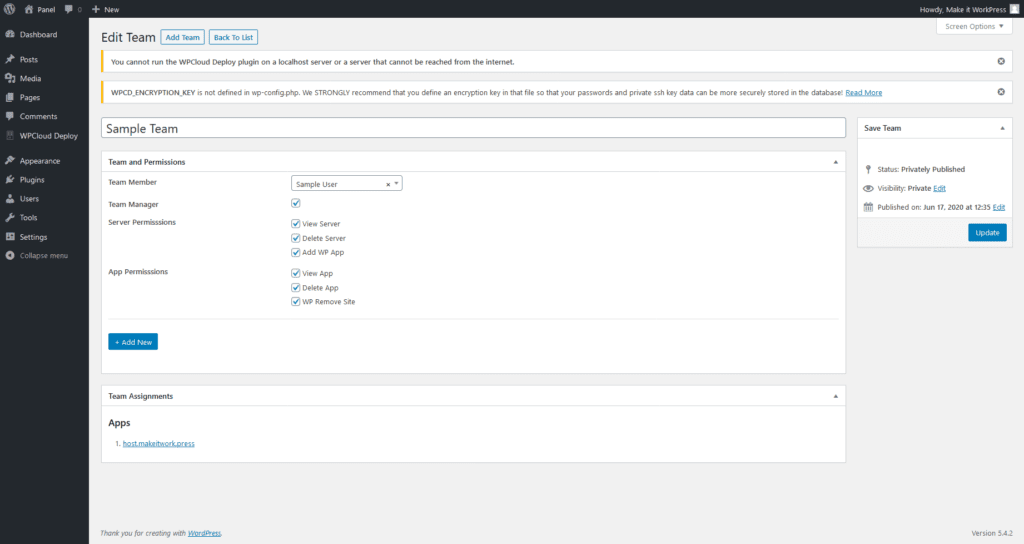 This is a very useful feature if you're collaborating
Some helpful hints
It made the interface more clumsy, but also more helpful! Yep, I'm speaking about hints. In many sections, there are hints provided by WPCloud Deploy. For example in the SSL screen:
Good logging
Another feature that enhances usability is the availability of SSH and command logs. This keeps track of what happened to a server and application and is particularly useful if you are a developer. And very useful if things go south.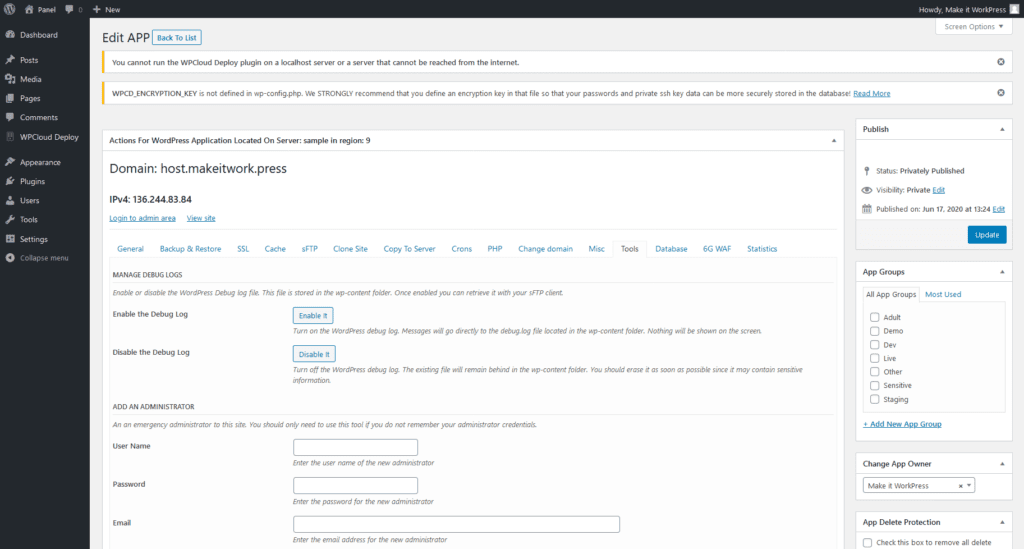 In addition, debug logs on file-level can also be enabled.
Some Quirks
There are a couple of odd things happening which I think should be improved.
The application screen has way too many tabs
Tabs and screens look crowded with a lot of information
If you want to change backup settings for all applications for a server, you have to do it at the application level. A bit weird. This is improved since version 2.9.0!
If you delete a server, it's really deleted. But you can still restore it in the interface (and that doesn't bring the server back).
What does FireupWP look like?
I talked about FireupWP a couple of times. You know, the managed version of WPCloud Deploy. But how does it look like? Here you go!
Support
I found the support of WPCloud Deploy very knowledgeable, but support is now only possible over email/tickets.
What I like about the support for FireupWP is that they specifically state the maximum amount of hours they will respond in.
Email support
As introduced, support is possible over tickets and email. I prepared some beefy questions for support and I estimated the response time.
It took 58 minutes to get the first reply, which is great for ticket-based support. All of the questions were answered with great detail and professionalism.
Documentatie
Almost any functionality of WPCloud Deploy is documented in their online documentation. At first glance, it may be a bit hard to find but you need to scroll down to the footer of their website and there it is!
They don't have a very extensive blog such as some of the major managed WordPress companies have, but in my opinion, that's fine.
A note on safety concerns
So you may have been thinking, using a WordPress plugin to manage hosting and servers, can it be safe? Aren't other control panels safer?
This was one of my tough questions and there is a surprising fact on safety. In comparison to other providers, the code base of WP Cloud Deploy is open for reviewing which may enhance safety. And obviously, their code is written using good security practices.
Again, since you're installing a plugin on WordPress, you need to make sure that your WordPress is up to date and that no other vulnerable plugins are installed as well.
Prijzen
Let's move on to pricing! After all, money is something that matters to many of us. WPDeploy has two jaarlijks pricing plans:
| | |
| --- | --- |
| $149 / year | $499 / year |
| Unlimited sites and servers | Unlimited sites and servers |
| Only Digital Ocean | Digital Ocean, Linode, Vultr, AWS EC2 & Lightsail |
| | Supports Server Synchronizing |
| | Supports multisite |
For the value of what you get, WPCloud Deploy is very reasonably priced if you're going to use Digitale Oceaan. The full package is much more expensive and is particularly useful if you're running a lot of servers and websites outside Digital Ocean.
In the latter case, $499 a year is just a steal. And it's definitely a steal if you compare this to managed hosting providers – if you dare to run WordPress on your own servers.
What about Fireup WP?
Its twin FireupWP, created by the same company, has the following pricing plans:
| | | |
| --- | --- | --- |
| Almost Free: $1.00 monthly | Pro: $29.99 monthly | Agency: $99.99 monthly |
| 25 sites, 3 servers | 99 sites, 25 servers | Unlimited sites & servers, 3 admins |
| Digital Ocean Only | Digital Ocean, Linode, Vultr | Digital Ocean, Linode, Vultr, AWS EC2 & Lightsail |
| Page Caching & Memcached | Page Caching, Memcached & Redis | Page Caching, Memcached & Redis |
| Alle basisfuncties | 2-factor authentication | Multisite-support |
There is also an enterprise plan of $999.99 which supports unlimited administrators and server syncing.
You may find FireupWP more attractive if you don't want to manage the plugin yourself, but it's also more expensive for unrestricted use.
Especially the $1 a month plan is very attractive if you're using Digital Ocean and just starting out.
In addition to the costs of WPCloud Deploy, you have to pay for 'renting' a cloud server. Obviously. Usually, these start at $5 a month.
The 5 best WPCloud Deploy Alternatives
WPCloud Deploy can't be really compared to anything out there yet. It's the first WordPress plugin being able to manage servers, sites and set up a hosting business.
That having said – it mostly relates to other Control Panels out there. Here is a list of what I think are the closest alternatives of WPCloud Deploy:
The Review Verdict: You may want to try WPCloud Deploy! It's great.
After this stream of WordPress I hope you've got a great insight into what WPCloud Deploy is like. It's time to close off the WPCloud Deploy review with the final verdict.
WPCloud Deploy is an amazing WordPress plugin that makes it very easy to install and manage WordPress on a virtual private server of Vultr, Digital Ocean, Linode or Amazon.
In my experience, WPCloud Deploy is functioning very well. It has a lot of great features, only lacking a native staging feature as an important feature. The performance is really good and also support has proven to be helpful, and fast.
The usability sides can use some improvements – parts of it being forced to use the layout and structure of WordPress. Once you get the hang of it, it works well.
The real power is that WPCloud Deploy is using WordPress, which means if you're a WordPress professional, you can easily use it to set up your own hosting business (and panel) by just using WordPress!
While WPCloud Deploy takes a lot of responsibility and effort in managing servers away, it will be still your servers that you have to manage. That's a great advantage, but also something to be aware of. Don't hesitate to try this for yourself.