It's time for another WordPress Hosting Review! This time, I will be looking into Ploi.io for hosting WordPress.
So what is Ploi.io? Ploi.io is a so-called control panel designed to run applications on your own servers (or VPS). You buy a server, connect it to Ploi and it does the rest. You can now easily install applications, such as WordPress.
Obviously, you need a server if you want to host a website. Now the advantage of using your own servers (instead of someone else managing) is cost. However, you still need to administer and update this server regulary.
A control panel such as Ploi.io will set-up the necessary software and automatic updates. This saves the headaches of administering a server of your own.
To summarize: Ploi.io is a control panel that enables you to easily add WordPress to an external server (VPS) of your preference.
And exactly this set-up can be used to host WordPress websites easily, especially if you're already working with WordPress and not afraid of servers (brrr.. servers are scary, ain't it?)
Ploi Works with many server providers, such as Vultr, Upcloud, Digital Ocean and Linode.
I discovered by coincidence that Ploi is also a very young company, started in 2017 in my beautiful country (it's a tiny country called the Netherlands). Moreover, they are even close to my own office, roughly a 20 minutes ride!
TL;DR
The summary for those sluggards (no offense) who don't like long reads:
Ploi.io is a good control panel for hosting WordPress on your own server. It excels in usability and offers most of the features you'll need. The support provided is limited and the performance is amazing!
Ploi.io is comparable to Runcloud.
Ploi.io is something to watch for! IMHO, they are one of the best control panels for PHP and WordPress professionals out there, with excellent usability. Runcloud, beware!
You can sign up for Ploi here! Moreover, Upcloud is also offering $25 of free credits if you sign up here. What are you waiting for!
The Roast: How I will Review Ploi
So as you may have guessed, I'm reviewing a lot of WordPress stuff. And among these, I'm on the quest to find the best WordPress hosting.
(Actually, I started this blog because I was frustrated by the sheer number of low-quality WordPress hosting reviews and I want to find the best – compare WordPress hosting here. But that's a story for another time).
But what criteria will I use to evaluate Ploi? Let's go!
ps. Anywhere where I use the word application in this review, you could also think of a WordPress website. A WordPress website is basically an application on the web.
At whom is Ploi.io aimed?
As mentioned Ploi.io is a control panel. You need to be able to run your own server and connect it to Ploi. So you'll still be responsible if anything goes wrong on your own server.
There are also a lot of technical features and verbiage within Ploi, so I'd say Ploi is aimed at WordPress professionals and developers. At least the ones that like the technical side.
Look at their homepage, for example. It starts with the quote: "We make deploying a piece of cake". That's technical language. For techies, it is!
It also has a lot of features that are useful for Laraval, a PHP framework (and PHP is also the language in which WordPress is written).
But, it lowers the (technical) threshold as you don't need to be a system administrator for just running WordPress on your own server.
The set of features: good
Ploi has an incredible set of features for hosting applications but lacks some features for managing WordPress. Think of features such as easily cloning applications and some advanced WordPress features such as controlled updates.
Features at a glance
What are some of the features that really stand out? Let's have a look!
Adding applications to your own servers
Easy integration with known cloud providers such as Vultr, Upcloud and Digital Ocean, Hetzner and Scaleway.
As much WordPress installations as your server can handle
One-click WordPress installer
Backup functionality for databases and files
Good monitoring features for your servers and applications
A team manager on the highest-paid plans
Important notifications in your Discord, Slack and E-mail
Easily accessible logs for anything
Servers installed by Ploi.io are able to send transactional emails.
And a beautiful interface.
Developer Goodness
As Ploi is aimed at developers, this is surely the section you want to read. Nevertheless, what treasure does Ploi.io held for developers?
Ploi setups your servers for speed, by installing the latest versions of Nginx, PHP, FastCGI caching and databases (MariaDB, MySQL or PostgreSQL)
Ability to add load-balancers, database and web servers easily. This is a killer feature because Ploi.io makes creating advanced set-ups really easy.
Ploi.io can handle any server updates for you, from security updates to other updates.
You can integrate git repositories, such as Github and Gitlab. Updates on these repositories can be pushed to the server.
Ploi.io offers a staging functionality.
Ploi.io has a cronjob manager inside its panel. No more fake WordPress cronjobs!
Major PHP settings can be changed from the panel, such as upload filesize.
Of course, multiple PHP versions are possible.
Services on your server can be managed from the panel.
And it can be integrated with CloudFlare, automatically updating your domain records is something is changed on Ploi.io!
You can save manual scripts to be run on Servers.
It's possible to edit WP-Config straight from the Ploi.io dashboard.
Ploi.io has a very beautiful API that you can use to build your own applications on top of it.
A simple database manager and the possibility to install phpMyAdmin.
You can manage redirects straight from the panel.
As you can see, this list is pretty long. An indication that Ploi is aimed at developers.
Safety is taken Serious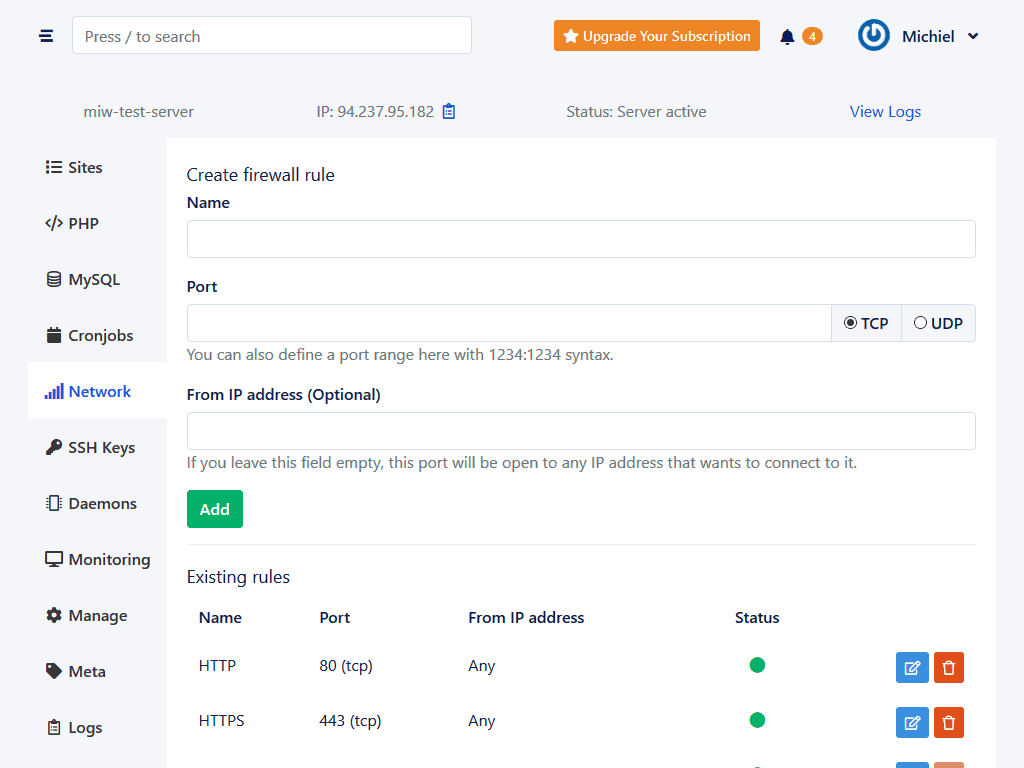 Safety is taken serious sounds like a cheap advertising slogan from a major company. However, Ploi.io does take safety serious by…:
Adding firewalls and Fail2Ban to the server
Adding a manager for adding new firewall rules
Defaulting to SSH keys to server login.
Executing safety updates by default.
Given the ability to set-up backups
Having 2-factor authentication login
Separating applications (by system user)
And providing free SSL certificates for your applications
As Ploi.io is a general-purpose control panel, it does not have WordPress related safety measures in places such as restricting plugins, malware scanning or a more advanced web application firewall.
Monitoring on Ploi, just something I love
Monitoring on Ploi is simple, but it looks beautiful. Ploi.io offers some simple monitoring for your server resource usage and for the response times of your application.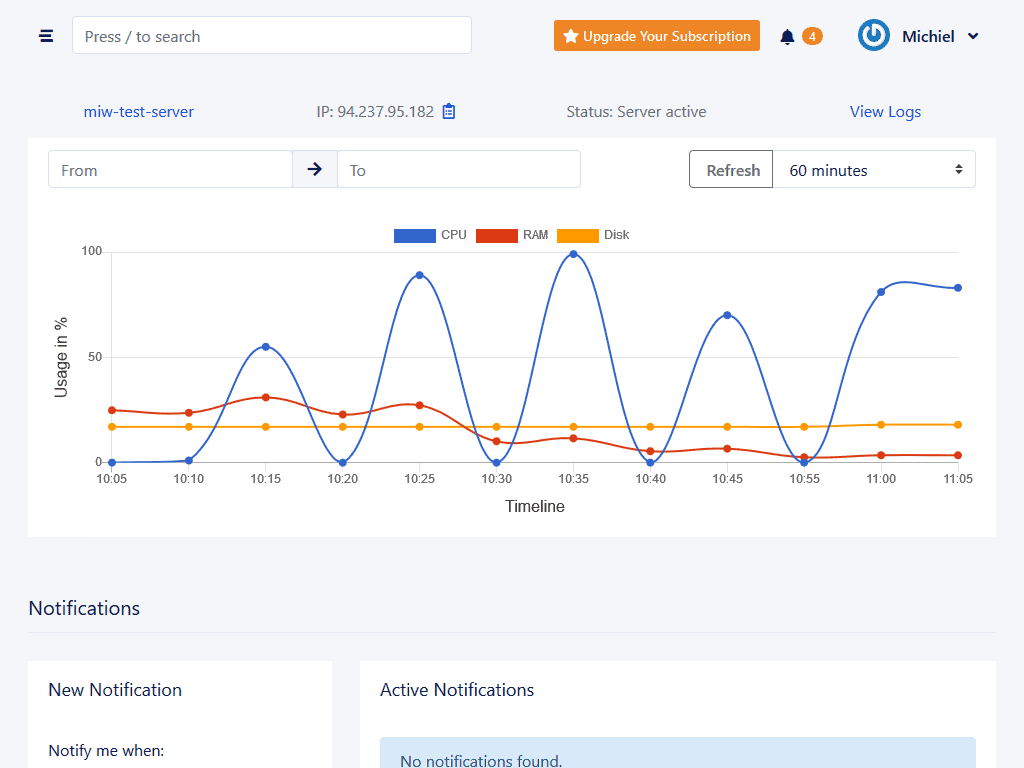 Moreover, they have a very nice log viewer right in their interface. For anything from server logs to system logs.
And what did I miss the most?
And what did I miss the most? There are a couple of features that I missed:
Currently, you have to manually restore backups. That's cumbersome.
You can't move an application to another server, let only clone a server.
It would be nice if you could see and limit the resource usage (such as disk space) per application.
It would also be nice if you could copy or sync a live application to a staging, instead of only deploying from staging to live. This is one of the most important WordPress features that is missing.
It would be nice if you could integrate transactional email providers such as Elasticmail from their panel.
As it is a control panel, don't expect it to host your email.
So Ploi, if you're reading this, you know what I missed. While they have a roadmap with the above features mentioned, not much has been happening in the last year. And that's a shame because competitors such as Runcloud are slowly moving beyond Ploi.
It's fast, but not the fastest
Ploi.io is definitely faster than most cheap shared WordPress hosting companies out there, but a couple of other control panels are slightly faster.
Just a note, you may be able to make it faster as a developer, but I'm always testing out of the box performance without any manual tweaks.
Update! They just released (at the time of writing) an update with one click FastCGI caching built-in. I tested it with the new High-Frequency Packages from Vultr and it doubles the performance! Woah!
The Test Set-up
For each performance test, I install the exact same WordPress theme (and the exact same version). This is a bloated WordPress theme from ThemeForest. I import the shop demo and install WooCommerce, so it mimicks a pretty heavy site.
Furthermore, I apply the basic caching setup as provided or recommended by the host. No manual tweaks, no change of server settings. And then I start testing! I test the website on:
For this test, I tested Ploi with a high-frequency server from Vultr and various servers from Upcloud.
Performance Test Results
So, enough talk! What are the results?
| | | |
| --- | --- | --- |
| 1GB/1Core Server | Cached | Uncached |
| Concurrent Users | 800 | 11 |
| Number of Requests | 48000 | 653 |
| Average Response Time | 235ms | 1032ms |
The tests results for one minute of load-testing
Maximum simultaneous users (cached): 800
The $6 dollar month server from Vultr can handle up to 800 simultaneous users, without any response moving above the 2 seconds threshold.
In one minute, it handled 48000 requests with an average response time of 235ms. That means it could handle almost 50000 page views in one minute. That's pretty good.
Maximum simultaneous users (uncached): 11
It is always fun to do this test, as it shows how much difference caching makes in terms of performance. (Hint: here it is up to 7000%).
Measuring uncached users is important, as it reflects situations where users interact with your websites and pages can't be cached (what is caching anyways?). The best example of this is webshops.
Anyhow, Ploi with the $6 dollar server could handle up to 11 simultaneous users, firing 653 requests with an average response time of 1,032 seconds.
Uptime: 100%
Modern server providers are so stable. And Ploi handles it really well. Not so much to comment on this.
Time to the first byte: 0.019s
Time to the first byte is the time it took for the browser to receive the first response from the server.
And honestly, at the time of writing this is the best value I've ever seen for all the providers I have tested so far. 0.019 seconds is un-believe-able fast!
WP Benchmark: 6.6
WP Benchmark is a server benchmark that can be run in WordPress. Unfortunately, Ploi does worse here than other control panels scoring a 6.6. (Even with similar servers from the same cloud providers)
Large Text Data Processing: 7.8 seconds
Binary Data Processing: 7.4 seconds
Large DB Import: 19.2 seconds
Simply Query: 5 seconds
Complex Query: 5 seconds
In essence, this means that the stack of Ploi is not optimized for WordPress, or at least, not as optimized as for example Runcloud and GridPane.
Some other performance metrics
These are some metrics you would see often at other reviews, such as Pingdom load time. While load time is an indication of how good a host may be, the real deal is how much users it can handle.
But still, here is some data:
Average loading time on Pingdom: 0.51 seconds, or 0.62 uncached
Average WebPageTest loading: 3.67 seconds
Average GTMetrix loading: 3.35 seconds.
WordPress Performance Benchmarks: A server score of 6.59 seconds, with an execution time of 0.987 seconds and 1013 queries per seconds.
Performance Comparisons
This is always a fun part! How does the performance of Ploi scale up? I tested Ploi and a Vultr High-Frequency instance (with FastCGI on) and on multiple Upcloud servers (before built-in FastCGI was there).
Are you're not familiar with VPS servers? It's like renting a small computer on the internet. They come in various plans ranging in disk space, GB of Ram and CPU cores. Basic plans usually start with 25GB of space, 1GB of ram and 1 CPU core.
Performance
Maximum Simultaneous Visitors Under 2 seconds
400

/ 80 (weighted)

- Ploi + Upcloud 1C/1GB

($5 Monthly)

600

/ 60 (weighted)

- Ploi + Upcloud 1C/2GB

($10 Monthly)

1300

/ 65 (weighted)

- Ploi + Upcloud 2C/4GB

($20 Monthly)

1300

/ 32.5 (weighted)

- Ploi + Upcloud 4C/8GB

($40 Monthly)

800

/ 133.33 (weighted)

- Ploi + Vultr HF 1GB/1C

($6 Monthly)

Maximum Simultaneous Visitors Under 2 Seconds (Uncached)
8

/ 1.6 (weighted)

- Ploi + Upcloud 1C/1GB

($5 Monthly)

14

/ 1.4 (weighted)

- Ploi + Upcloud 1C/2GB

($10 Monthly)

28

/ 1.4 (weighted)

- Ploi + Upcloud 2C/4GB

($20 Monthly)

38

/ 0.95 (weighted)

- Ploi + Upcloud 4C/8GB

($40 Monthly)

11

/ 1.83 (weighted)

- Ploi + Vultr HF 1GB/1C

($6 Monthly)

Average Response Time (ms) (lower is better)
304

- Ploi + Upcloud 1C/1GB

($5 Monthly)

563

- Ploi + Upcloud 1C/2GB

($10 Monthly)

358

- Ploi + Upcloud 2C/4GB

($20 Monthly)

248

- Ploi + Upcloud 4C/8GB

($40 Monthly)

235

- Ploi + Vultr HF 1GB/1C

($6 Monthly)

Time to First Byte (ms) (lower is better)
6

- Ploi + Upcloud 1C/1GB

($5 Monthly)

6

- Ploi + Upcloud 1C/2GB

($10 Monthly)

6

- Ploi + Upcloud 2C/4GB

($20 Monthly)

6

- Ploi + Upcloud 4C/8GB

($40 Monthly)

19

- Ploi + Vultr HF 1GB/1C

($6 Monthly)

WP Performance Test Queries per Second (higher is better)
692

- Ploi + Upcloud 1C/1GB

($5 Monthly)

968

- Ploi + Upcloud 1C/2GB

($10 Monthly)

988

- Ploi + Upcloud 2C/4GB

($20 Monthly)

775

- Ploi + Upcloud 4C/8GB

($40 Monthly)

1013

- Ploi + Vultr HF 1GB/1C

($6 Monthly)
As you can see, performance scales up nicely except for the biggest Upcloud plan. Moreover, the new built-in caching from Ploi and Vultr gives roughly double performance compared to Upcloud.
Please note that Upcloud would be performing better with the new caching setup as well (up to 80-100%). Unfortunately, it wasn't there yet at the time of testing.
How does Ploi compare to other panels?
Something I always love is comparing data using charts. Below is a selector where you can choose from important performance metrics, and see how Ploi holds up to competitors!
In short, Ploi is faster than Runcloud, ServerPilot and Cloudways, (with FastCGI enabled), but slightly slower (30-40%) than SpinupWP and GridPane.
Incredibly easy to use
I must honestly admit that I am in love with the usability and user experience of ploy. From the tiny interactions, animations and layout, it is a pleasure to use.
The only drawback is that there is some clicking back and forth switching between applications and servers.
Server Management
Server management is done from a neat panel.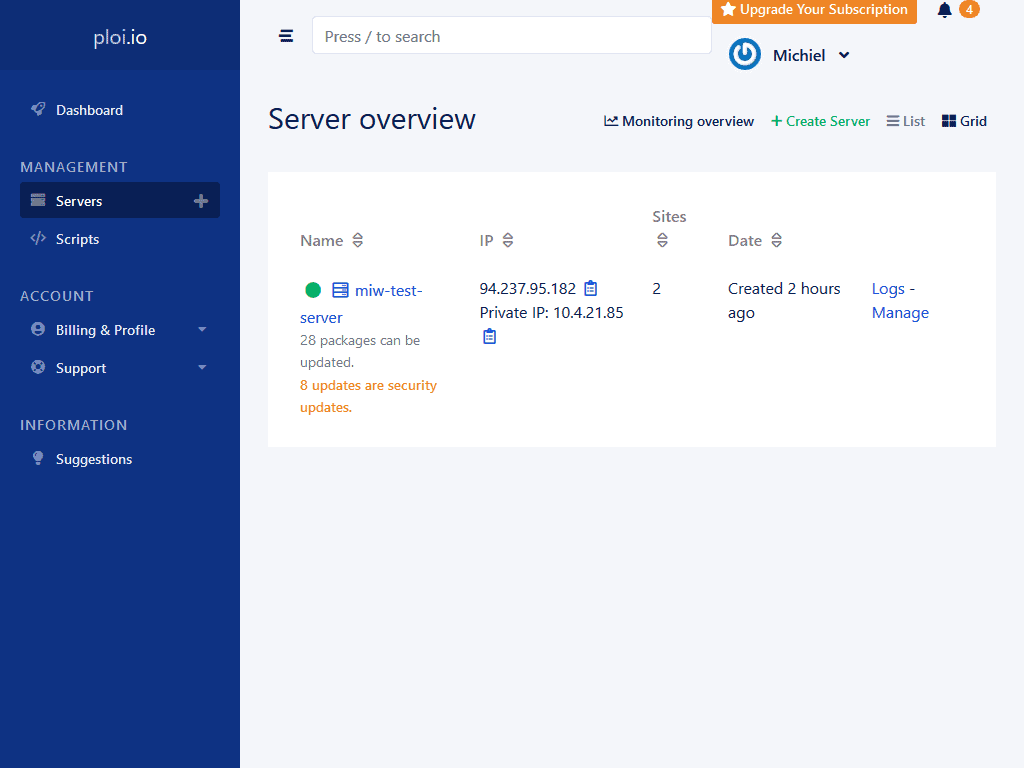 Now, if you click on a server, you will arrive at the following screen.
Since Ploi is a tool to manage servers, it's good that they have so many tabs for your server. Obviously!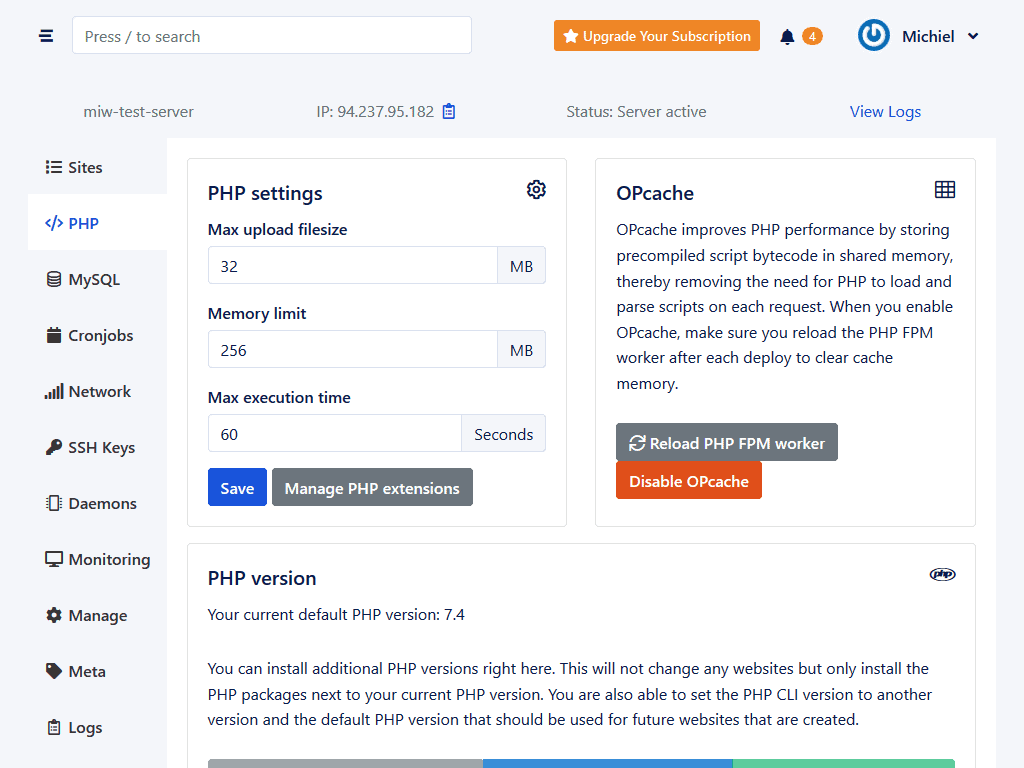 Another good thing is that Ploi doesn't make it easy to delete your servers. You still have to type the server name before deleting it.
Managing WordPress (and more)
If you click on a website within a server, you will arrive at the page for managing this site. A lot of things can be done here, such as managing staging, adding redirects, setting up SSL and so forth.
There are a couple of usability perks that make Ploi pretty nice for managing WordPress. For example, you can easily access and edit wp-config straight from the panel.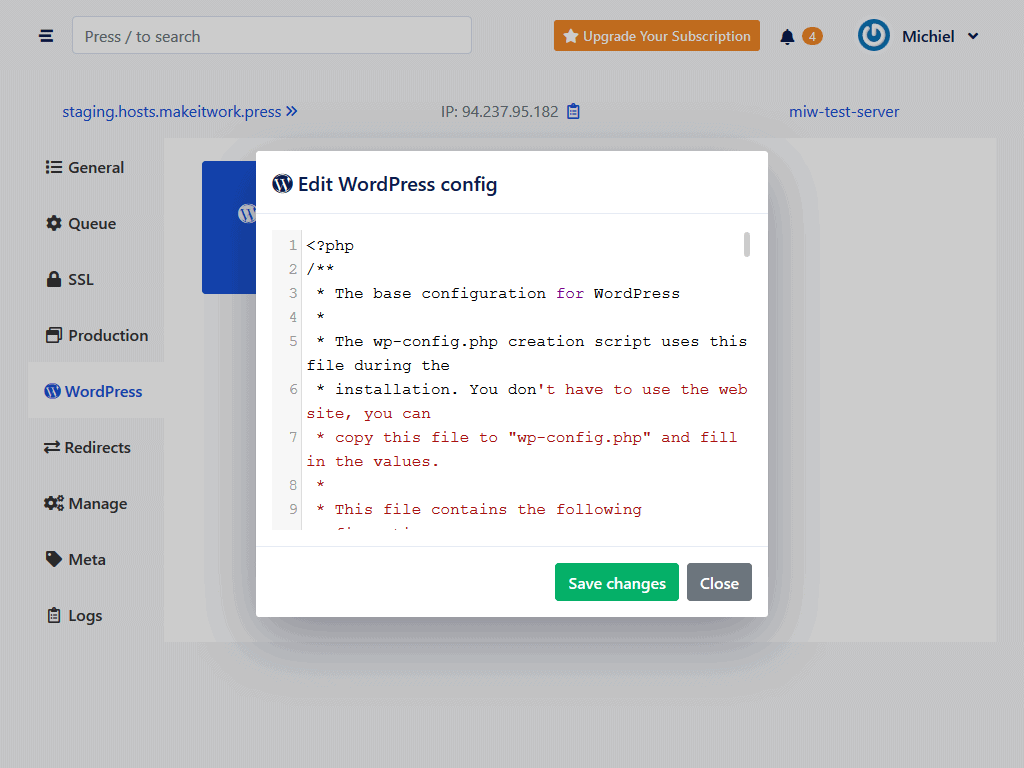 The staging environment is great. As it is now, unfortunately, it is still one way, meaning that you push from the staging to live. In Ploi, you deploy from the staging to the live (production) environment.
Ploi also features a very nice redirect manager straight from the panel.
And some nice buttons for some other tasks, with the very useful feature to clone an existing installation.
Within this panel, you can also add other domains related to this WordPress installation. This is useful if you are using multisite, or want to redirect domains to one installation.
Other noteworthy usability perks
One thing that most good WordPress hosting providers have is the possibility to have notifications on what's happening. Ploi has it too. Important notifications for your server straight to your Slack, Discord or Email.
There are three other features that are great in terms of usability. First, Ploi has a team manager through which you can add users, group them into teams and limit access to servers. This is included in the unlimited pla.
Secondly, Ploi has custom status pages for your servers. That is great because you can make clients look into the status of your servers.
At last, it allows managing DNS straight from the panel (when integrated with Cloudflare). Great! Let's move on to the next topic, support!
Knowledgeable support, but…
The support of Ploi.io is knowledgeable but limited. After all, they are not WordPress experts and provide a control panel. That means that you need to be able to figure WordPress-related things out yourself.
The extent of support
Support is available using ticketing, emails, discord and live chat (and sales chat on their site), and reply times may vary. I have a similar set of questions for each provider, varying in difficulty. And with these questions, I bombard their support.
My initial request was answered in exactly one hour, but additional replies took a lot longer. So if you're the type that requires support, don't depend too much on them.
So, I found out that support is knowledgeable, but it can take some time. In my opinion, I found Runclouds support, which is a platform similar to Ploi, somewhat more responsive.
Good Documentation, but not only for WordPress
Please note that documentation is good but focused on server management mainly. That makes perfect sense because Ploi is a control panel for managing applications on your own server.
Other providers which are WordPress focused, such as Kinsta, obviously have much more documentation on WordPress.
The pricing: <3. Love it!
Ploi has a very reasonable pricing plan, with a basic plan already covering much and a pretty affordable pro plan with great features.
Also, the balance between features offered and pricing is very good. In other words: great value!
Hosting using Ploi and a good VPS provider is a lot cheaper than most Managed WordPress hosting companies.
Pricing plans
Ploi currently has four monthly plans. So what plans do they have?
| | | | |
| --- | --- | --- | --- |
| Monthly Plan | Servers | Domains | Description |
| Free | 1 | 1 | Offers the basic functionalities for running WordPress. |
| Basic ($9) | 5 | Unlimited | Offers additional features such as staging, server updates, firewalls, webhooks, API access, domain aliases and multiple system user management. |
| Pro ($15) | 10 | Unlimited | Adds server monitoring, better deployment, backups and cloning |
| Unlimited ($33) | Unlimited | Unlimited | Adds custom status pages, file explorer, site monitoring and team management. |
You can find more details on the website of Ploi.
You can sign up for Ploi here! Moreover, Upcloud (a great server provider) is also offering $25 of free credits if you sign up here. Time to try something new :).
The five best Ploi Alternatives
There are some worthy competitors of Ploi, but in my opinion Ploi does quite well. Let's lets some of the alternatives:
A couple of these panels score higher as they are optimized for WordPress. However, I honestly think that Ploi is the best general-purpose panel, as you can also host other applications.
If they integrate features such as backup restores and improve their support, it will be a killer control panel for PHP applications.
Ploi Reviewed: One of the Better Control Panels.
Ploi is a great, and very promising control panel. It is quite similar to Runcloud, but personally, I like the usability more. It's, in my opinion, better than ServerPilot, providing more features and better pricing.
It offers most features you need but lacks some features such as an easy way to restore back-ups. In addition, Platforms such as SpinupWP and GridPane seem to be optimized better for WordPress, albeit being pricier.
Managed WordPress hosting providers have much better support and may provide ease of thought as they manage your servers and often have more safety controls. But they are much more expensive!
If you're good on the technical side and like to host multiple powerful, fast WordPress websites ( for a good price) Ploi is great!
Moreover, Ploi also supports other applications and thus may be a great development aide for any kind of applications, and especially PHP applications.
Ploi.io, I was happy to meet you! And I'm seriously considering you for my next development projects. I'm looking forward to what you will bring next.