Hello there again readers! Today I'm going to look into another example of a control panel for hosting your WordPress website on your own VPS. This panel is called ServerPilot.
The ServerPilot WordPress hosting panel is a classic in the industry of control panels, existing over five years. But what exactly is a hosting control panel?
In short, a hosting control panel allows you to run applications on your server without the hassle of managing this server. You most likely won't need as many skills as a professional systems administrator and it will save you a lot of time.
That having said, Serverpilot is able to run WordPress. And there you are a Serverpilot WordPress Hosting Panel. Most likely, you will connect Serverpilot to a server provider such as Vultr, Digital Ocean, Linode and Upcloud.
In short: ServerPilot is a control panel that allows you to run WordPress on your own server (VPS). And yes, without the technical hassle!
Let's cut the crap and go on to the review.
TL;DR
I am lazy too. So here you have it, a summary of this review. So how did I experience ServerPilot for hosting WordPress?
Serverpilot excels in ease of use and has a good performance. However, in my opinion, it is a bit pricey compared to competitors. Especially if you have many servers and applications, pricing may explode. Moreover, I missed some essential features such as backups, easily cloning applications and advanced services such as Redis.
There are some competitive WordPress control panel alternatives available.
Nevertheless, if you love Serverpilot, you can sign-up here. And get $25 of free Upcloud credits here! Upcloud is a well-known VPS (Virtual Private Server) provider with great performance and reliability. So what are you waiting for?
What's in this ServerPilot review
In this ServerPilot review, I have tested the platform in combination with various VPSes from Upcloud.
For each review, I follow a strict procedure. I don't like reviews where the only point is to get affiliate fees, so I try to be as objective as possible.
I will roast ServerPilot using the following ingredients:
By the way, I created two pages that may help you out. One page where you can filter and compare WordPress hosting, and a guide to the best WordPress hosting.
Or check some of these other nifty control panels out there. Control panels to the rescue!
Am I the right person for using ServerPilot?
Serverpilot is aimed at WordPress professionals and professional developers. You need to be able to spin up your own VPS and connect this to ServerPilot.
It's not that hard to do, but if things go south you actually need some more knowledge to sort everything out.
So, let's look into the features of ServerPilot.
Features = okay
Serverpilot offers some nifty features for hosting applications but lacks some of the features which (I think) are essential for hosting WordPress. But it might just provide what you need, so don't hesitate to read on!
General Features
Unlimited App installs per server (starting at $0.50 per application)
Server and application manager
Two-click WordPress installer 🙂
SSL Certificates
They have a new service for migrating and cloning WordPress, called DataShuttle.
Monitoring Features
Paid accounts (from the Business subscription and upwards, find more information under Serverpilot Pricing) have access to some monitoring features such as:
Server health, bandwidth disk, memory and CPU usage
Detailed application and server logs
Resource stats of applications (such as size and memory usage)
Performance stats of applications (First Class plan)
Security Features
ServerPilot really shines in terms of security features. Let's list a couple of them:
All applications and websites are isolated
File transfer over SFTP
Server level firewall
Automatic updates and security patches
2 Factor Authentication for Panel Login
Impressive Security Practices and Architecture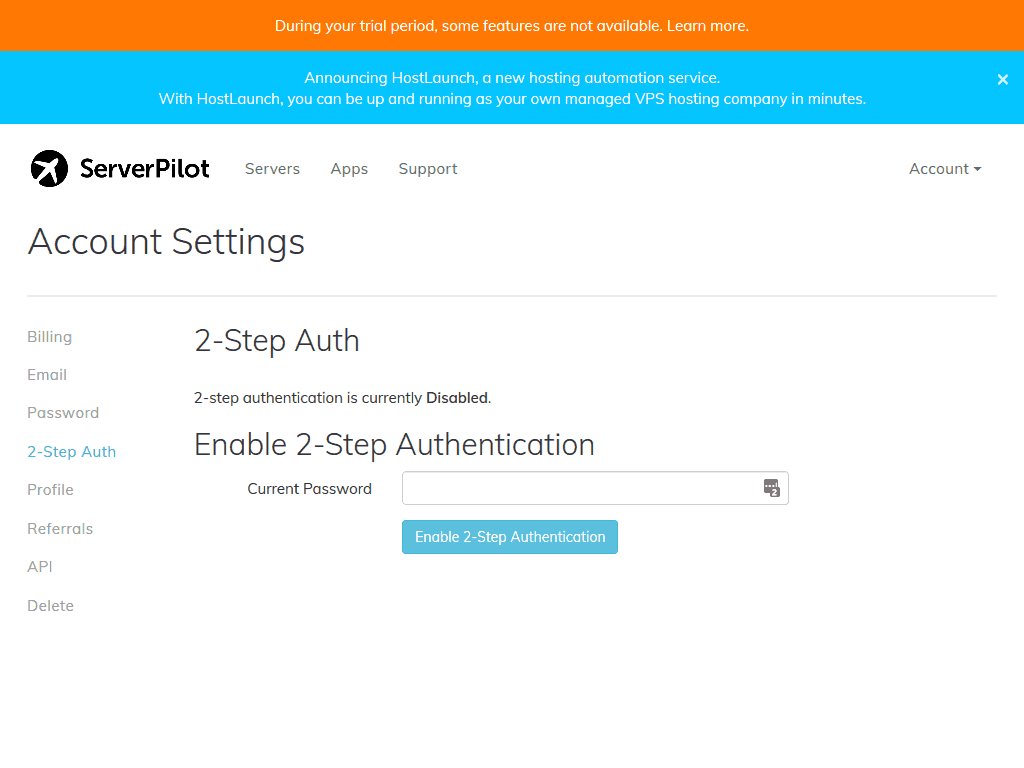 ServerPilot Developer Features
Since ServerPilot is aimed at developers (or WordPress Professionals), these are worth mentioning:
Git is installed by default.
WP-CLI is also installed.
Database manager
ServerPilot supports other applications.
ServerPilot has a rest API. You can use it to build your own applications on top of it.
What I miss for WordPress
So the basic feature set is quite amazing, but there are some shortcomings. Let's list what I missed so far:
Memcached and Redis installed. Memcached and Redis are both caching mechanisms for object and page caching. In other words, techniques to make your websites faster. Unfortunately, these are not installed by default.
Staging environments and cloning servers/applications. Yup, that's right. You can't set up any staging environments in an easy fashion or clone servers. Having said that, they do have a new external service for migration and cloning called DataShuttle.
It's not possible to connect any events happening on ServerPilot to an external notification channel, such as Slack.
There is no interface for deployment using external repositories,
And the most important: support for backups. You have to install some scripts if you want to do application backups. There is no functionality in the panel itself.
This makes me feel ServerPilot is still aimed at professionals who still know their way around the server. Because if you are, the above tasks can easily be performed. But it's still a lot of hassle.
A note about email
Like most control panels, ServerPilot does not offer email hosting. And there is a good reason for that.
However, a big advantage is that ServerPilot does support transactional emails. Those are the emails send out of your WordPress application, such as contact form submissions.
That's actually pretty neat because even some managed hosts don't have this feature.
By the way, ServerPilot is launching a new service to make it easy to run your own hosting business called Hostlaunch. Be sure to check it out! Combined with ServerPilot, this is an interesting combination.
ServerPilot has fast Performance
ServerPilot has fast performance, but not as fast as other hosting panels optimized for WordPress (blaming you, GridPane and SpinupWP).
The technology behind ServerPilot
In case you may have been wondering: ServerPilot uses Apache + NGINX, PHP-FPM with the latest version of PHP and Brotli for compressing.
And that makes it pretty fast.
Performance Test Results
For every host I test, I load up the exact same WordPress theme and WooCommerce. This is a quite bloated theme which represents the average theme well :).
Subsequently, I look at how many simultaneous users the server can handle without while staying under the 2 seconds loading barrier. And there you are, you have an amazing insight into the actual performance!
| | | |
| --- | --- | --- |
| 1GB/1C Server | Cached | Uncached |
| Concurrent Users | 600 | 9 |
| Number of Requests | 35982 | 540 |
| Average Response Time | 100ms | 949ms |
The results for one minute of load testing
Maximum simultaneous users: 600
ServerPilot can handle up to 600 concurrent users on a 1GB/1C server. That is impressive for a server that costs you $5 monthly.
During this load test, it served 35982 requests with an impressive average response time of 100ms. Yup, that is a whopping 36000 page loads in one minute.
Average loading time: 0.54 seconds
I tested the average loading time on Pingdom, and it is roughly 0.54 seconds. Not bad at all.
Maximum uncached users: 9
And this is where ServerPilot really shines. The uncached tests how many users your website could handle if the caching would be turned off. It gives a better insight into the actual performance of the server and the technologies used.
And 9 concurrent users is a good score for such a server. Moreover, it served 540 clients with an average response time of 949ms in the time period of one minute!
Some other fancy metrics
Because more data is better, some other metrics for you to consider:
WebPageTest loading time: 3.59 seconds
GT Metrix average loading time: 3.67 seconds
Pingdom uncached page loading time: 0.73
WP Performance Test Server score: 7.693
WP Performance Execution Time: 1.027
WP Performance Queries per Second: 973
ServerPilot actually does really well in the WP Performance Test, outperforming RunCloud, GridPane and SpinupWP (the main contenders) by 20-50%.
For each metric, you can also see more details based on the server level at the bottom of this review.
How well does ServerPilot Scale?
In order to see how well ServerPilot scales, I tested four different configurations of VPSes, starting with 1GB of ram and 1 core to a whopping 8GB of ram and 4 cores.
Performance
Maximum Simultaneous Visitors Under 2 seconds
600

/ 54.55 (weighted)

- Cloudways Vultr 1GB/1C

($11 Monthly)

1000

/ 43.48 (weighted)

- Cloudways Vultr 2Gb/1C

($23 Monthly)

2200

/ 50 (weighted)

- Cloudways Vultr 4Gb/2C

($44 Monthly)

3200

/ 38.1 (weighted)

- Cloudways Vultr 8Gb/4C

($84 Monthly)

600

/ 60 (weighted)

- Cloudways Digital Ocean 1GB/1C

($10 Monthly)

500

/ 41.67 (weighted)

- Cloudways Linode 1GB/1C

($12 Monthly)

500

- Cloudways Vultr HF 1GB/1C

Maximum Simultaneous Visitors Under 2 Seconds (Uncached)
5

/ 0.45 (weighted)

- Cloudways Vultr 1GB/1C

($11 Monthly)

8

/ 0.35 (weighted)

- Cloudways Vultr 2Gb/1C

($23 Monthly)

13

/ 0.3 (weighted)

- Cloudways Vultr 4Gb/2C

($44 Monthly)

26

/ 0.31 (weighted)

- Cloudways Vultr 8Gb/4C

($84 Monthly)

5

/ 0.5 (weighted)

- Cloudways Digital Ocean 1GB/1C

($10 Monthly)

4

/ 0.33 (weighted)

- Cloudways Linode 1GB/1C

($12 Monthly)

7

- Cloudways Vultr HF 1GB/1C

Average Response Time (ms) (lower is better)
242

- Cloudways Vultr 1GB/1C

($11 Monthly)

745

- Cloudways Vultr 2Gb/1C

($23 Monthly)

214

- Cloudways Vultr 4Gb/2C

($44 Monthly)

332

- Cloudways Vultr 8Gb/4C

($84 Monthly)

296

- Cloudways Digital Ocean 1GB/1C

($10 Monthly)

455

- Cloudways Linode 1GB/1C

($12 Monthly)

342

- Cloudways Vultr HF 1GB/1C

Time to First Byte (ms) (lower is better)
47.00

- Cloudways Vultr 1GB/1C

($11 Monthly)

49.80

- Cloudways Vultr 2Gb/1C

($23 Monthly)

31.57

- Cloudways Vultr 4Gb/2C

($44 Monthly)

46.20

- Cloudways Vultr 8Gb/4C

($84 Monthly)

34.17

- Cloudways Linode 1GB/1C

($12 Monthly)

28.43

- Cloudways Linode 1GB/1C

($12 Monthly)

171

- Cloudways Vultr HF 1GB/1C

WP Performance Test Queries per Second (higher is better)
448

- Cloudways Vultr 1GB/1C

($11 Monthly)

961

- Cloudways Vultr 2Gb/1C

($23 Monthly)

955

- Cloudways Vultr 4Gb/2C

($44 Monthly)

817

- Cloudways Vultr 8Gb/4C

($84 Monthly)

484

- Cloudways Digital Ocean 1GB/1C

($10 Monthly)

157

- Cloudways Linode 1GB/1C

($12 Monthly)

841

- Cloudways Vultr HF 1GB/1C
As you can see, ServerPilot scales reasonably well. More details for each metric can be found at the bottom of this review.
Comparing ServerPilot to other Control Panels
ServerPilot is a control panel for hosting WordPress on your own servers. But how does it compare to comparable alternatives?
Select a metric from the chart below, and you can see how ServerPilot compares in a beautiful chart. It took me some hours to develop, but good data is better insights.
For uncached users, it performs better than GridPane, Runcloud and Cloudways and is equal to SpinupWP. In cached mode, it outperforms Runcloud.
That is actually pretty good, meaning ServerPilot can run things such as webshops and Woocommerce pretty well.
Nevertheless, if you still love Serverpilot, you can sign up here. Combine if with a server from Upcloud, from which you can get $25 of free starting credits! Upcloud is a well-known VPS (Virtual Private Server) provider with great performance. So what are you waiting for?
ServerPilot has Amazing Usability
The interface of ServerPilot is surprisingly clean and adding servers and apps is a breeze. I personally love it. Thus, as a ServerPilot WordPress Hosting panel, it acts great.
That having said, I miss some essential usability features such as easily cloning apps, setting up staging and of course a team or project manager.
Managing Servers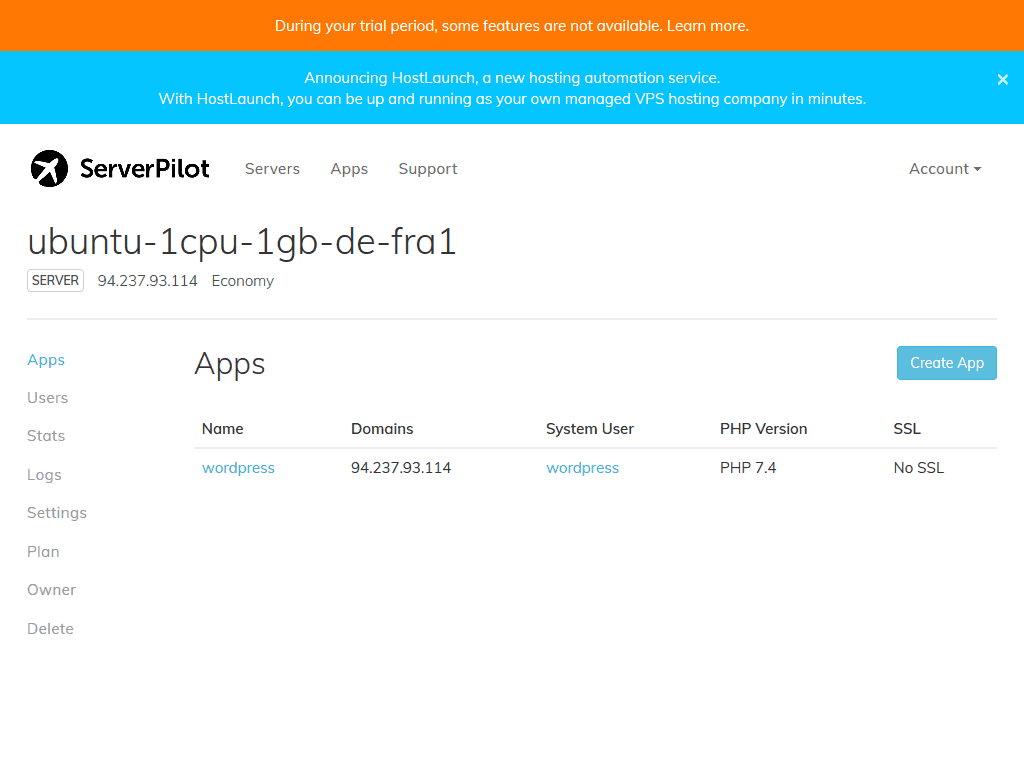 In the server tab, you can handle the basic server options such as adding apps, server settings, stats and logs (if you have the right subscription) and so on.
Managing Apps and Domains
Managing Apps is done through a similar interface, and it is a very clean interface with no clutter.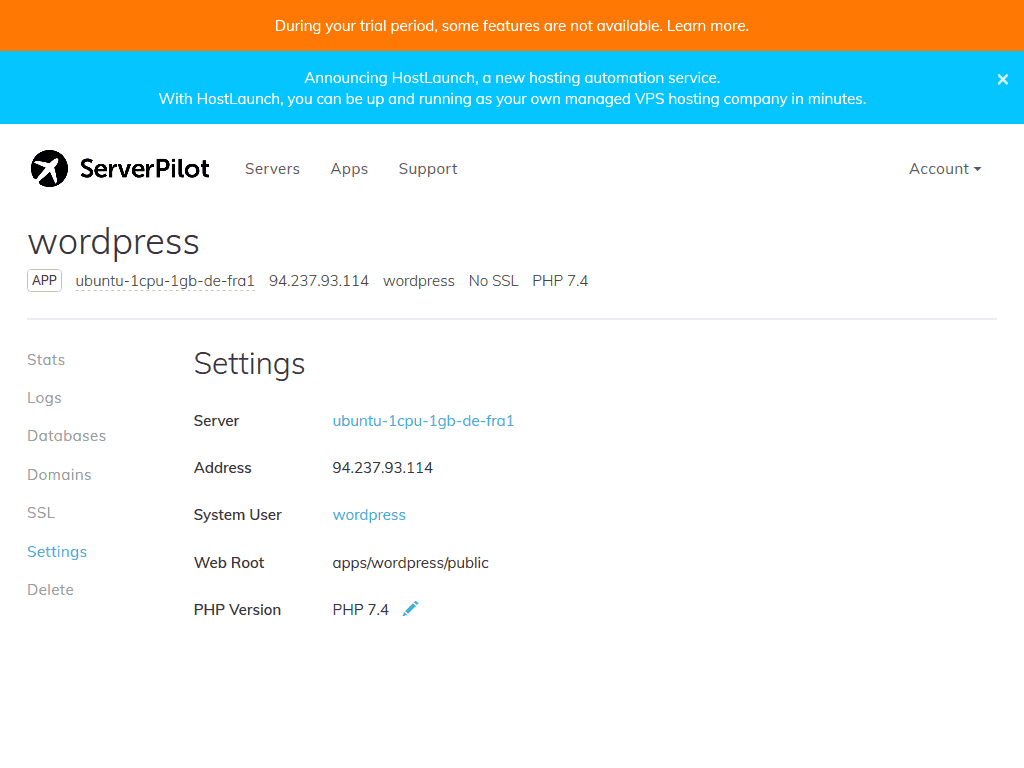 By the way, an App is not a mobile app, but just a website. In this case, a WordPress website.
It's also possible to create multiple databases and see the existing databases within Serverpilot. However, managing the content of a database itself is not possible over the interface. For that, you'll have to manually connect to the database.
Where are the staging tools?
As I said before, I miss some tools such as setting up a staging environment and cloning apps over servers. Or even (automatically) cloning whole servers.
That is something that would make the administration a lot easier.
Good support, but…
ServerPilot offers email support (tickets) and the support is very knowledgeable. Unfortunately, other support options are not available.
One thing I just love about their support is that they are proactive. For example, they emailed me asking how I did like ServerPilot, if I had any questions and they had some useful suggestions!
Knowledgeable support, over email
I had some email contact with the support and all questions were answered by satisfaction. They also responded within 45 minutes, which, I think, is quite good for email.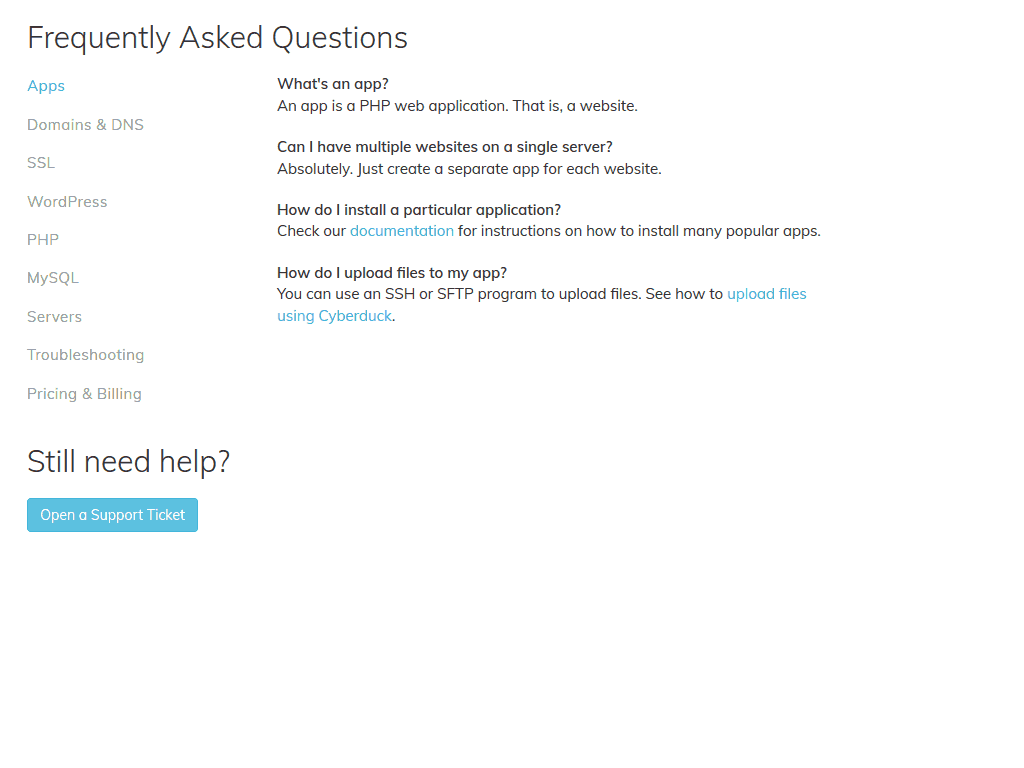 The big plus is that support, in my opinion, is very knowledgeable about WordPress. What also (positively!) surprised me is the pro-active stance of support, making sure that everything was satisfactory. Here you go, ServerPilot!
Nevertheless, having live-chat support would be a nice feature too.
Proper Documentation
Essentially everything you need to know about ServerPilot and managing your server is in their documentation.
Again, I must say I love the way they designed their documentation. It's easy to search through, it is clearly separated into several topics and the articles are well written.
Don't expect beginner level WordPress tutorials though, as the platform is clearly aimed at professionals. You'll find articles on how to set up custom packages on your server, create backups, and so forth.
And the Pricing = meh
ServerPilot is pricier than similar services unless you have a small number of servers.
That's because their pricing model, unless GridPane and Runcloud, is based upon a pricing per server and app model.
If you need some serious performance monitoring, it will cost you an additional $20 per server and $2 per app, monthly. These features are quite elaborate though.
A quick note: If you're a hosting company, you can get up to a 50% discount, which makes the pricing actually a lot better.
In the end, it is still a lot cheaper than most managed hosts out there, such as Kinsta or WPEngine. But it is also way less managed.
ServerPilots Pricing Plans
Serverpilot has three pricing plans, named after airline pricing levels :). All prices are monthly.
| | | |
| --- | --- | --- |
| Economy | Business | First Class |
| All basic features | Server and applications stats and priority support. | Application performance stats and insights in errors and requests. |
| $5/server, $0.50 per app | $10/server, $1 per app | $20/server, $2 per app |
As you can see, pricing steeply increases if you want more insights and you have many apps.
Be aware, that in addition to the Serverpilot WordPress hosting panel, you also need a VPS (which usually starts at $5 a month, Vultr is a great VPS provider). In addition, you need to have a domain registrar, such as NameCheap or Cloudflare.
The top 5 ServerPilot Alternatives
So how does ServerPilot compare to some of its major competitors? Let's have a look!
Obviously, these competitors function in a similar way. They are all control panels to host WordPress on a VPS.
In my opinion, Runcloud and GridPane top this list since they are either entirely focused on WordPress, or have some great features and support.
Conclusion: great to use, good performance, but lacking features
What can I say? I really like the usability of the ServerPilot WordPress hosting panel, their support and performance is good. But, as a WordPress professional I'm still a bit hesitant to host my WordPress websites on Serverpilot.
That's mainly because it lacks two essential features, namely backups and easily spinning up development (or staging) environments.
Also, the pricing per server and application can rack up quickly if you need any serious analytics.
After this review, what do you think about Serverpilot? If you love it, sign-up here. Combine it with a blazingly fast and reliable VPS from Upcloud, for which you can get $25 of free credits, and you're ready to go!
If you don't need these features, and also don't mind pricing per server, Serverpilot is actually a great platform for hosting WordPress. And if you're coming from a shared hosting environment, the user interface is one big breath of fresh air.