As you may know, I'm always on the eve of discovering new tools and hosting platforms. And I found a new, clever one: Cleavr.io. In this Cleavr review, I will explain what Cleavr is and how it can be used to host WordPress.
As WordPress is growing in popularity, so is hosting WordPress. A popular solution for professional developers and techies is to host WordPress on a virtual private server, which can give a great performance at a small cost.
However, managing a private server can be cumbersome and requires quite some technical skills, and on the contrary consists of mundane, repeating tasks.
That's where control panels (find the best control panels for WordPress here) come in. They make it much easier to manage servers (at any given provider). And Cleavr is exactly such a panel!
From NodeJS, to plain HTML and WordPress, Cleavr supports it all. But for such a versatile platform, will Cleavr run WordPress well? So for this Cleavr review, I will look if it's any good for hosting WordPress.
In short: Cleavr is a control panel that you can couple with your own VPS, to make server administration easy and run WordPress well.
For this review, I coupled Cleavr with a small server from Upcloud. Upcloud is a proven, reliable (get $25 of Upcloud credits by signing up here), and fast server provider.
TL;DR;
If you don't have time, just read this:
Cleavr is great to use, performant and inexpensive, but very new and a little buggy now and then.
Use Cleavr if you want to run multiple kinds of applications on your own servers
It is advised to have (some) knowledge about administrating servers or have access to someone who does.
The best cloud providers to use Cleavr with are in my opinion Upcloud (get $25 of free credits), Vultr ($100 of free credits) and Hetzner (get $20 of free credits) (the latter if you're based in Europe).
Cleavr is very similar to Ploi.io, but just somewhat easier to use and it supports more kinds of applications.
Cleavr FAQ
Before we start reviewing, you may have a couple of questions. The most important are here:
For who is Cleavr?
Cleavr is likely meant for professionals, most likely developers or administrators, who want to set-up applications (such as WordPress) on a VPS, without all the hassle. While Cleavr is really easy to use and could be used by beginners, you still need to be familiar with a couple of technical terms and in the end, you are responsible for your server.
What is a VPS?
A VPS, or virtual private server, is a virtual computer connected to the internet. It can be used to host websites with, do calculations or store data on. You can find more information in this article: What is a VPS?
What plans does Cleavr have?
Cleavr currently has two plans, a $6 a month plan that supports one server and a $15 a month plan that supports unlimited servers and more.
Will my server be secure?
Cleavr will install all necessary packages, firewalls and such and makes your server pretty secure. It will also update the necessary security updates. However, in the end, you are responsible for the security of your server and if things go awry, you probably need to solve it yourself.
Will WordPress run well with Cleavr?
In my tests, WordPress did really well on Cleavr. However, for large plugins such as WooCommerce and such, you may need to finetune some caching settings.
How do I connect Cleavr to my server?
The attached video (will be attached soon) explains the process of connecting a server. Basically, you need an account at a cloud provider such as Upcloud, Vultr, Digital Ocean, Linode or Hetzner. You can then connect these providers from within the Cleavr panel and automatically add servers from Cleavr. It's also possible to manage your domains inside Cleavr if you are using Cloudflare.
Cleavr Review: the Procedure
If you read one of my other reviews, you can skip this part. But for every review I write, I consider the following criteria (which in my opinion are important for picking up a good host).
This Cleavr review is part of a large series of reviews. You can compare WordPress hosting here, or view the best WordPress hosting in this article.
Now let's get to the body of the review and see what Cleavr is all about!
Cleavr Review: the Features
Cleavr is very complete in the set of features it offers, just missing easy tools to copy servers or applications around. Developers also may want a public API, but according to the people behind Cleavr, this functionality is in development.
The core features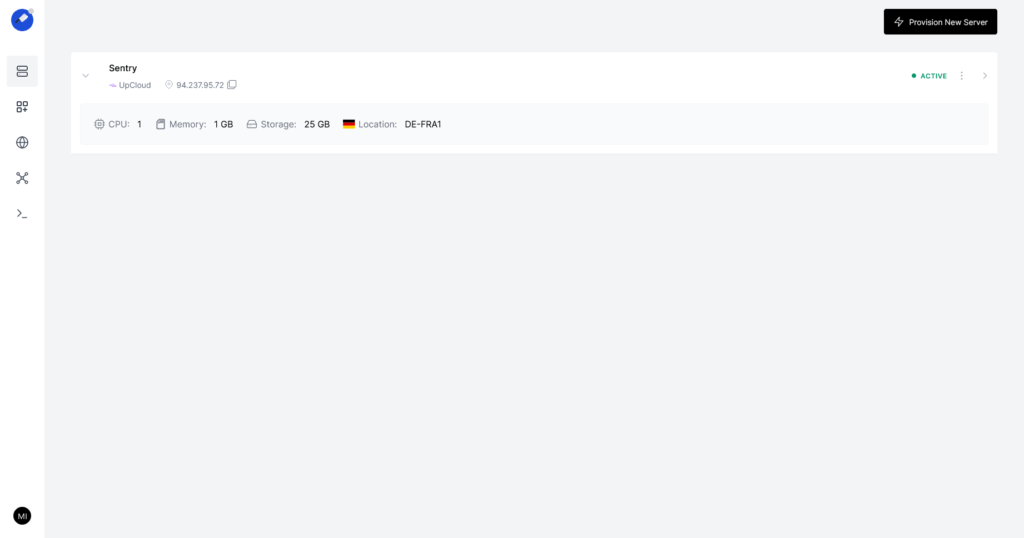 In its essence, Cleavr offers the following:
Easily manage your servers and applications through a graphical interface.
A control panel that easily integrates with server providers such as Upcloud, Vultr, Digital Ocean, Linode and Hetzner (or a provider of your own).
Integration with Cloudflare for easy domain management within the panel.
Support for many kinds of applications (such as Node, Adonis, Nuxt, WordPress, Laraval).
Secure set-up of servers with Fail2Ban and UFW.
Free SSL for all applications
Support for multiple types of database and software (Such as PHP 8.0, PHP 7.4, MardiaDB 10.4, MySQL 8, PostGreSQL 12/13).
Site isolation, making sites more secure.
Remote backups for any given interval preffered, for both files and databases. Supports providers such as DigitalOcean spaces, AWS S3, Wasabi, Backblaze or SFTP. These backups are not incremental, so could take up a lot of space.
Why it's great for developers
Cleavr has a couple of great features for developers:
Free test domains and site authentication (making your site private)
A staging functionality to test changes before pushing it to a live website.
A redirect manager from the panel, for much better redirects.
Integration with GitHub (and Github actions), Gitlab and Bitbucket and easy deployment to your applications from these platforms.
Rollback of deployments if something goes wrong, and notifications and logs of how a deployment went.
Deployment of your code to multiple servers at once.
Realtime monitoring of your server usage (this is a killer feature, and it's fun to watch the monitoring graphs change).
DNS integration with Cloudflare and DigitalOcean
And obviously, SSH access (and manual SSH keys) to your servers
Notifications of important things happening on your server and sites.
Cron jobs and process monitors for ongoing tasks and monitoring.
What I really miss is an API, and an easy way to clone sites or servers around. But next to that, the feature-set is impressive.
What's in it for WordPress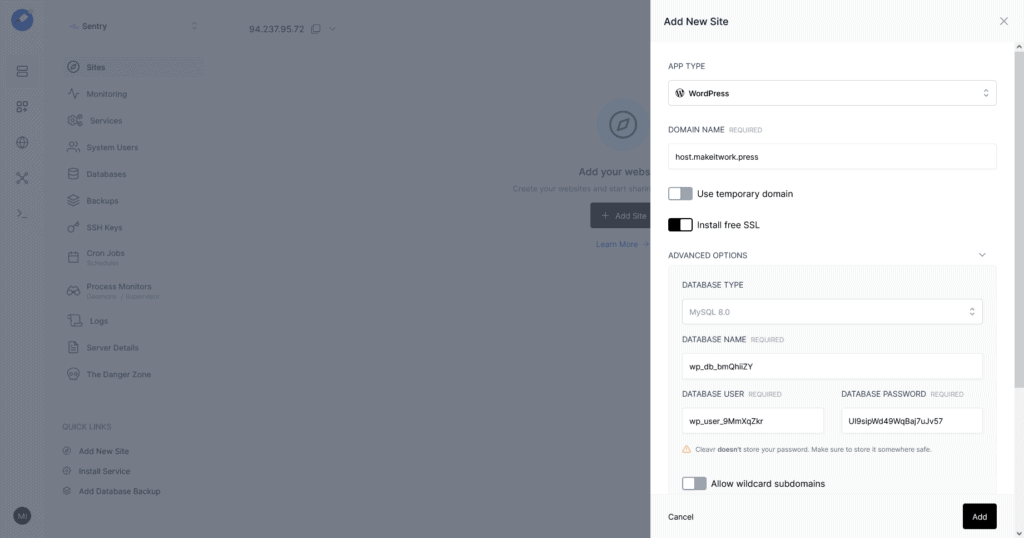 Cleavr also has a couple of features aimed at WordPress, making it very useful for hosting WordPress websites:
One-click installer for WordPress, setting up the best stack and caching settings.
Support for WordPress multisite from the installer
A caching plugin for WordPress (and an url to purge your cache)
Transactional email included, forms and password reset will work without an external transactional email provider.
What I also found out that they added a couple of configurations that work for well for WordPress, such as so-called NGINX directives that enhance the safety of a WordPress installation.
Cleavr Review: the Performance
Cleavr is very performant, even on a small server your site runs very fast. However, a couple of other panels are faster by a tiny fraction.
Performance on a VPS
Because Cleavr is a control panel on a VPS, you basically have two major factors influencing performance: how well Cleavr configures a server and how powerful the VPS is. A bigger VPS will logically have more performance, but if a control panel is using bad configurations, this can have an equal or larger influence.
At last, the type of applications, and in the case of WordPress, the kind of plugins and themes you use also can have a large influence on the performance.
In the performance test, we tested Cleavr with a 1GB/1 Core VPS from Upcloud. I uploaded a bloated WordPress theme from Themeforest, a marketplace for WordPress themes. Many themes on Themeforest are badly written for performance; so this makes an interesting use case. Moreover, I added Woocommerce and imported some products.
But remember, if you want more performance while using a VPS, you generally need a bigger (and more expensive) VPS.
In this Cleavr review, the platform was tested on various metrics that you'll discover below.
Simultaneous users: 1200 (with caching)
The simultaneous user test uses a platform called Loader.io to see how many concurrent users this website could handle with the strict requirement that response times should be under 2 seconds. That means that 1200 users are active, each firing a request a second.
| | |
| --- | --- |
| Average Response Time | 107 |
| Minimum Response Time | 88 |
| Maximum Response Time | 2586 |
| Successful Requests | 72000 |
| Maximum Clients | 1200 |
This basically means the server can handle 72000 requests a minute with caching turned on in my test setup. And that is a lot for a $5 dollar a month server.
Simultaneous users: 10 (without caching)
This test is similar to the test before, but with caching turned off.
| | |
| --- | --- |
| Average Response Time | 880 |
| Minimum Response Time | 427 |
| Maximum Response Time | 1575 |
| Successful Requests | 595 |
| Maximum Clients | 10 |
As you can see, the difference is dramatic. Response times are much bigger, and the number of requests is much lower. But Cleavr is doing very well here in comparison with other platforms. Caching just makes a lot of difference.
Loading Times: 0.54 seconds (with caching), 0.66 (without)
The loading times test indicates how fast a site loads, and can say something about the speed of the setup. However, this figure can be drastically lowered by just doing some optimizations in WordPress itself; so often it is not the best indicator of performance.
Here's a couple of figures (from multiple runs) from the major testing platforms, such as Pingdom and WebPageTest:
| | |
| --- | --- |
| Platform | Average Loading Time |
| Pingdom (cached) | 0,54 seconds |
| Pingdom (uncached) | 0,66 seconds |
| WebPageTest.org | 3,84 seconds |
| GT-Metrix | 3,4 seconds |
Cleavr is doing averagely here.
Time to the First Byte: 23ms, 579ms (globally)
The Time to the First Byte (TTFB) indicates when the first byte is sent back from the server. It's a good indicator of how well caching is set up, and how performant a server is. The global figure indicates how well the TTFB is on average for multiple locations in the world.
| | |
| --- | --- |
| Fastest TTFB | Average Global TTFB |
| 23ms | 579ms |
In this test, the TTFB was 23ms from the closest location which is excellent, and 579ms globally which is average.
WP Performance Test: 529 queries / second
The WP Performance Test is a plugin-based test that does some benchmarks from within WordPress. It's another indicator of how well WordPress can run.
| | |
| --- | --- |
| WP Performance Server Score | 0,413 |
| WP Performance Queries per Second | 529 |
In this test, Cleavr could handle 529 queries per second which are average to low compared to other control panels, but had a server score of 0.413 which is incredible.
Cleavr against the other panels
With the tool below, you can compare how Cleavr is doing against other control panels.
In general, Cleavr is among the top-performing panels; albeit with a bit low score for the WordPress performance test and average loading times.
Cleavr Review: the Usability
Except for a couple of bugs I encountered, the usability of Cleavr is one of the best for the control panels I have tested so far. It looks great and it works great.
Managing a Server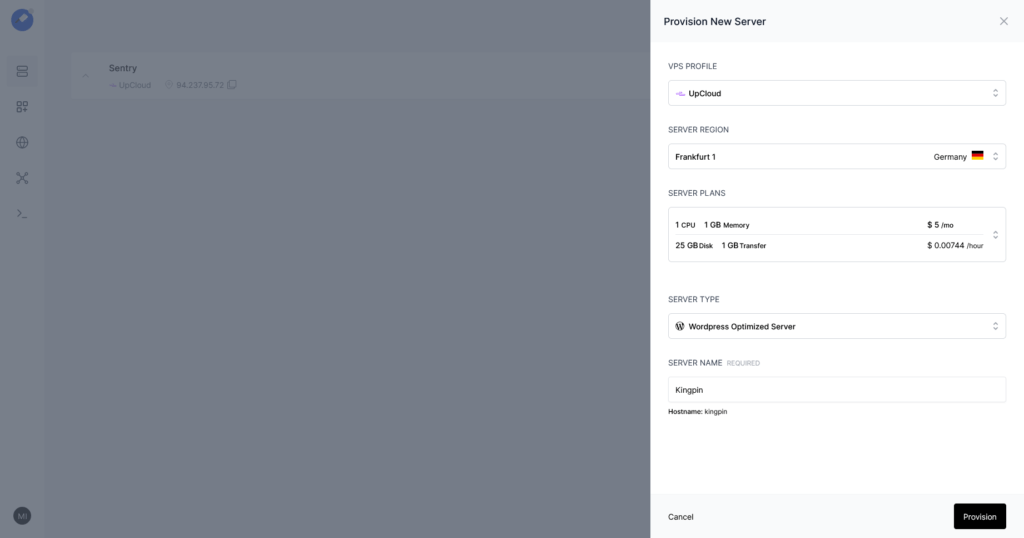 Once you've added one of the server providers in the panel, adding and managing servers becomes very easy, as depicted in the screen above.
Servers will show in a very clean list, where you can see the most important details. From this list, you can quickly jump to several settings for the server from a handy dropdown, as depicted above.
A very neat thing when setting up a server (or a site) is the process indicator, where you can see how far the installation process is and what steps are already taken.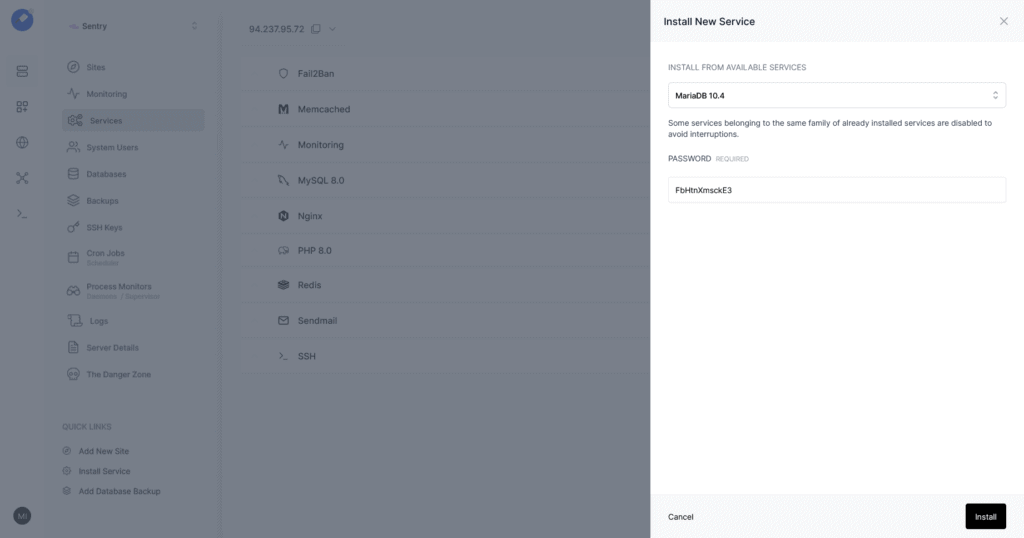 Moreover, the settings for each service can be added on the fly, and you can even run multiple services and databases on a single server as you can see in the figure above.
Backups can be done on a site level, where you back up the site and database or either of them. Again, it works very straightforward.
Another great feature that works very well and is easy to set up are CronJobs, as depicted above. This is very useful for WordPress, as the default cron-job engine from WordPress is not optimal.
Managing a site
Managing a site is easy. In the section below (installing WordPress), I explain how to add a new WordPress site. In this section, I just highlight a couple of features that are very easy to use.
When clicking a site in your server, you can change various settings from authentication, redirects, staging, SSL, aliases and such.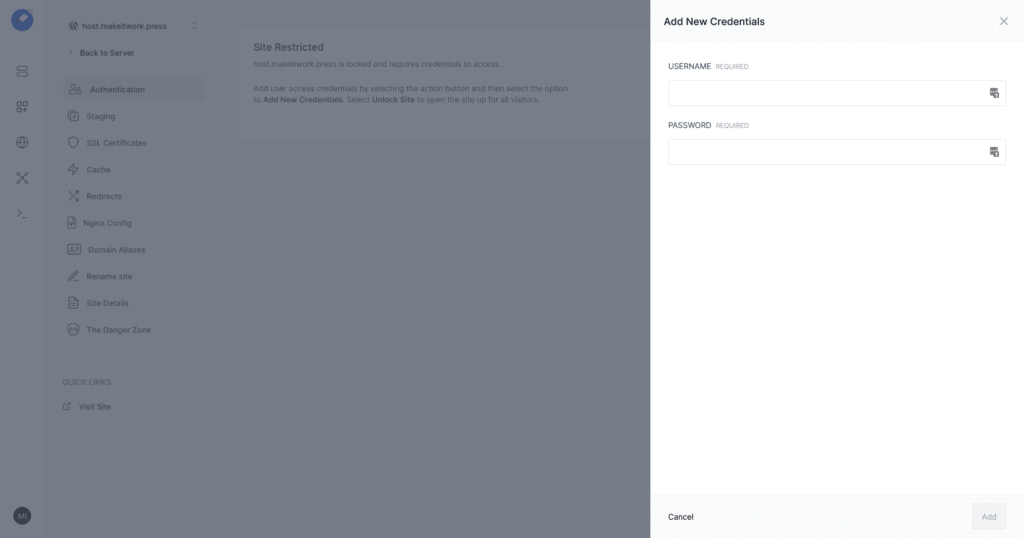 It's possible to add a pop-up (authentication) before your website so that it is shielded from the public.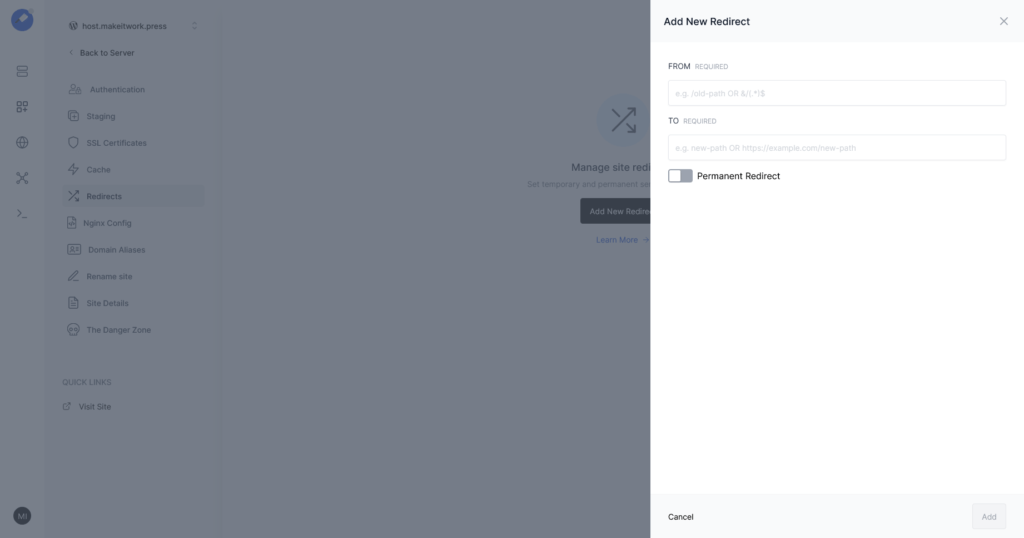 For each site, as depicted above, you can add redirections. For example, redirect from a certain URL on your site to another URL. Now there are many WordPress plugins that can do that as well. Doing it from Cleavr has a slight advantage though, as doing it from the server level usually has better performance.
Developers may be delighted that you can edit the Nginx config straight from the control panel, as shown above.
Deleting a site is straightforward, and can be done from the danger zone. This gives a great user experience, by using the label danger zone, a red coloured danger message and confirmation. I think this is again an example of great usability.
Installing WordPress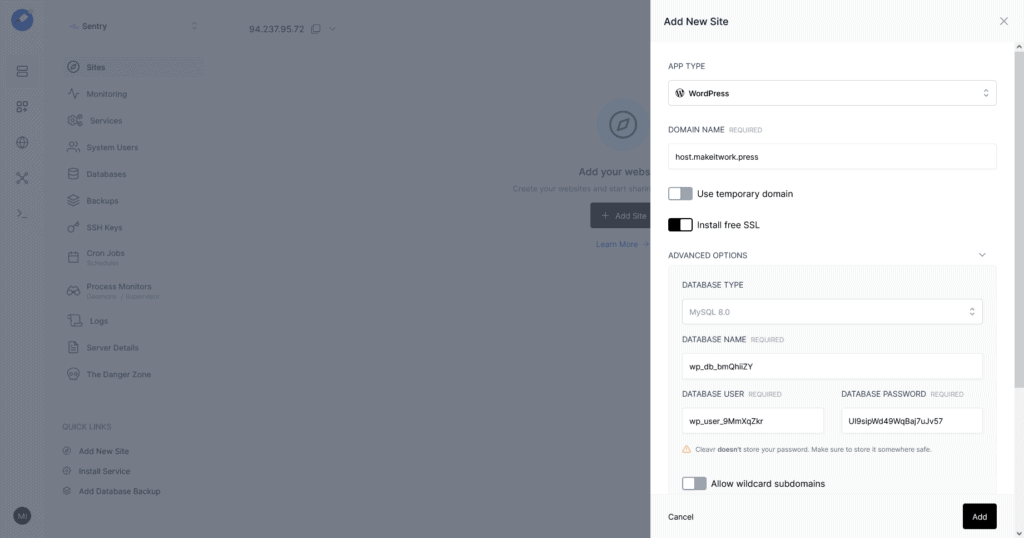 Installing WordPress is easy with the default installer, as depicted above. WordPress can only run on servers that are optimized for WordPress, which you can indicate when adding a new server.
Managing a Domain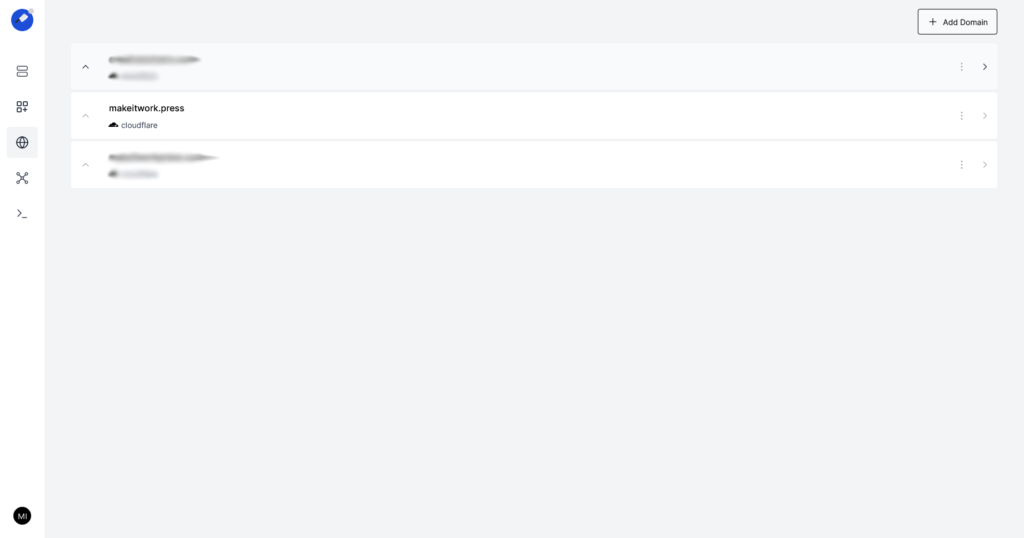 Cleavr even has support for managing domains from inside Cleavr. You can connect Cleavr to CloudFlare or DigitalOcean and synchronize the domains you have at those platforms. You can then update the records for these domains, or even add new ones!
And when editing a site, you can easily set up additional domains that belong to an application (called domain aliases).
Realtime Monitoring
This is a great usability aspect of Cleavr, and it is doing so much more cleaver (uh, I meant clever) than most of its alternatives here.
Yes, Cleavr has real-time statistics of your server. This is also visible in the video, but the stats in the figure above update real-time (can you spot when I did load testing?). This even includes statistics for MySQL or database usage.
A very welcome feature that helps to pinpoint performance issues.
Don't play the dumb users
By purpose, I played a dumb user by doing things that are logically impossible. For example, trying the change settings for PHP while the PHP version was updating. The platform is still a bit buggy there, in the sense that error messages are not formatted properly.
Cleavr Review: the Support
Cleavr support is very knowledgeable but only accessible over email. However, it may take a couple of hours or sometimes even a day before support reacts. And I think you can't expect support to help you out with your detailed WordPress settings and such (which I think is fair for the price they are asking).
Support platforms: Tickets and Community
Support is restricted to tickets (and email).
On my first ticket, I got a response in around 2 hours, but it was a confirmation that questions were going to be answered later. It took a couple of days to mail back and forth, which is okay I think.
However, I got the impression support is knowledgeable and know what they are talking about. There was one bug I encountered during the usage of the platform, and they deployed a fix very quickly.
In addition, there is also a community forum where you can post questions and search for common issues.
Proper documentation and how tos
What I really like about Cleavr is that they have a very clear section with documentation on the platform and also How-Tos, which are basically guides, for various kinds of applications. They even have a dedicated section for WordPress (including Videos!).
Cleavr Review: the Pricing
Cleavr is priced very well, especially if you manage multiple servers. It is a very inexpensive control panel (at the time of writing), and definitely less expensive than managed hosts.
Cleavr pricing plans
| | |
| --- | --- |
| Cleavr Lite ($6 a month) | Cleavr Pro ($15 a month) |
| One server | Unlimited Servers |
| Unlimited sites | Unlimited sites |
| Cron-jobs & process monitors | Cron-jobs & process monitors |
| | Monitoring and log reports |
| | Database and file backups |
The neat thing is that Cleavr offers a 50% discount for students, non-profits and low-income regions and even a sponsor program for open source projects. Great!
5 Best Alternatives to Cleavr
Cleavr is entering a competitive space. These are the 5 best alternatives to Cleavr.
What makes Cleavr unique is the focus on usability, which is great, and support for stacks with NodeJS. Most other panels only support PHP applications, such as WordPress and Laraval. That makes it a very versatile platform for both running WordPress and modern web applications.
Cleavr Review: the verdict
Phew! You made it to the conclusion of this Cleavr review. Cleavr is a very fine (and new) control panel with a good set of features, great performance and pricing, incredible usability and okay support.
While it is a general-purpose platform, offering support for many kinds of applications, it is also suited for running WordPress. I'm tempted to move a couple of my sites over to see how it does in the long run.
So what are you waiting for? Try Cleavr here, recommended with a server from Upcloud ($25 of free credits).
In my personal opinion, this is a panel that I love. I will be watching Cleavr and how this develops. This could be a very strong competitor to Runcloud, another proven and very popular control panel.