Cloudways is always an interesting provider to review. Surprisingly, they are different than most of the WordPress hosting providers you will encounter. In this Cloudways review, we will elaborate on our experiences with Cloudways. But who are they, the managed WordPress hosting company called Cloudways? And is Cloudways the best WordPress hosting provider?
In essence, Cloudways uses the infrastructure or servers of proven cloud providers. On top of these servers, they put their own layer of software, leaving all the hassle and management of a server at their own perils.
Now that is their big selling point in a nutshell, as it takes often a lot of effort to manage your own servers. But still, you have a virtual server of your own.
Essentially, Cloudways is a form of managed WordPress hosting. You will discover why this is so great for hosting multiple WordPress websites. So, is Cloudways the best provider of managed WordPress hosting?
ps. I started writing in-depth reviews because I'm in search of the best WordPress hosting provider. Many reviews lacked the information I needed, and so the quest began. I hope you enjoy my quest!
TLDR
Cloudways is a bit like a server control panel but managed. The value you get at Cloudways is great for what you pay! It has many good features, supports multiple sites out of the box, has great performance and is a pleasure to use. Support is okay.
If you don't mind managing your own VPS, try GridPane. It's a good alternative for WordPress.
Do you like CloudWays (and all the effort I put in this review)? You can always do me a favour and sign up through this link. Thanks!
Let's start this Cloudways review!
In this review, we have tested the combination of Cloudways with a server of Vultr with 4GB Ram, and 2 cores. The latter is the one providing the actual servers, while Cloudways is providing all the delights for managing it. Having said this, we believe Cloudways is mainly aimed at WordPress professionals and developers managing their own or clients websites.
Cloudways does support more applications than WordPress. But in this review, you will actually see Cloudways is also great for WordPress.
For whom is Cloudways?
Cloudways is a versatile platform with many options and configurations. Therefore, it is in my opinion suitable for the following audiences:
Cloudways is (in my opinion) mainly aimed at WordPress Professionals.
Compared to WordPress hosting control panels, it is much more suitable for beginners. Especially if you're a little technical. For example, you need to know how to point your domain to Cloudways. However, a starting fee of $10 might be a bit high if you're frugal.
Larger plans, and the team and project manager, may make it useful for corporates.
How do I review?
For each review, I use a standardized procedure. I was frustrated by the lack of detail and objectivity of many reviews out there. Therefore, I try to be as objective as possible. The following factors are evaluated in the review:
Extensive features
In this Cloudways review, we will first dive into the functionalities that Cloudways offers as a managed WordPress hosting provider.
To summarize, the features Cloudways offer are quite extensive. It provides most of the functionalities you will need as serious WordPress professionals.
General Features
The hosting package we have tested comes with 4GB of ram, 2 cores, 80GB SSD storage and 3TB bandwidth. In our experience, this is enough to host up to 20 smaller WordPress websites.
If you assume that an average webpage is 2mb in size, this package may handle up to 1,5 million monthly visits before bandwidth runs out. Performance wise, you may read later on that this package – if properly configured – can even handle 1,5 million monthly visits.
Safety Features
As a managed cloud provider, Cloudways implements several features to make your WordPress websites (and your server) secure.
Accessing the Cloudways platform and adding new servers and applications is done by logging in with your account. Cloudways support 2-factor authentication to make the process of logging in more secure. With 2-factor authentication, a unique code is sent to your mobile phone. To log in, this code needs to be entered in addition to your password.
Cloudways secures each server with an OS based firewall and with regular patches and updates for the operating system. They do not seem to provide any firewall at the application level, meaning a separate firewall for each WordPress website.
Access to your WordPress applications and server is only possible using the secure file transfer protocol (SFTP) or using SSH keys. Simply said, the communication between you and the application is encrypted.
Also, SSL certificates can be added for free to each WordPress application. This enables your website to be served over HTTPS, meaning that the connection between a visitor and your website is encrypted.
And have we mentioned back-ups and restoring yet? Each of the WordPress applications on Cloudways is backed up with a frequency up to one back-up per hour. Of course, these back-ups can be restored at any time. Pretty useful might your application get hacked, destroyed, cranked up or just anything what could happen in this world.
At last, Cloudways blocks suspected persons trying to access your server or WordPress installations by their IP address. In the server settings, you can whitelist your own IP so it won't be suspected.
Developer Features
Where Cloudways really excels is in the number of features aimed at developers and WordPress professionals. Let's mention some of these:
Memcached, Redis, PHP FPM and Varnish services for caching and better performance
Control on all server services such as Apache and Nginx
GIT integration and deployment on the application level.
Easily cloning, setting-up staging or moving WordPress websites over multiple servers.
Seamlessly scaling up of a server and monitoring of server resources
Cron-jobs (outside WordPress)
Integration with New Relic for application monitoring
One-click Elasticsearch on the server level
Notification Bot for server or application warnings with Slack integration
A CDN for better global delivery as a paid extra
Free support for WordPress Multisite
And of course, WP CLI is installed
Now that is quite a list with technical words, but I assume you know what they as a developer :). There are two features which I find so outstanding for a managed hosting provider that I elaborate on them.
The first one is GIT deployment. You can connect your GIT repository to a certain WordPress installation. In addition, you can even select which folder this repository should be connected to. Subsequently, you can pull updates from the Cloudways control panel. This removes the necessity for SFTP and allows for a more integrated development cycle.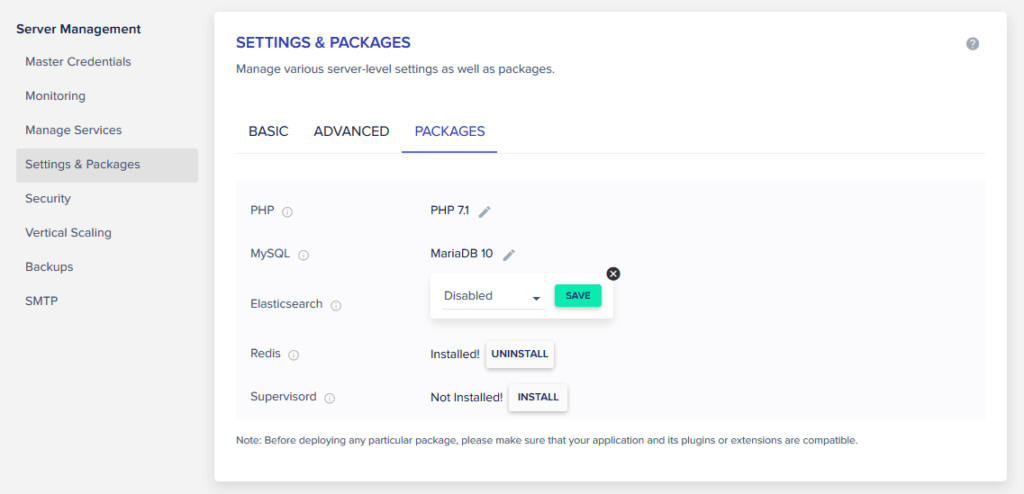 One of other the things we love being included is Elasticsearch, which can be enabled at the server level. Elasticsearch is a system to search through a lot of data at a high speed. And it is intelligent. Even if visitors mistype words, it can guess the right spelling and come up with meaningful results. The good thing is that it can be easily integrated with WordPress using the ElasticPress plugin.
E-mail Features
Out of the box, Cloudways does not support the ability to have e-mail accounts, but they have a paid add-on for Rackspace e-mail accounts.
This also means that by default, a server will not send e-mails going from your WordPress installation. This means that you have to connect each of your WordPress applications or your server to an external provider such as Mailgun or SendGrid.
This might feel a bit of a hassle, but once you have it running it's quite easy to implement. In addition, relying on an external provider to send your server e-mails may in many cases improve the deliverability of your e-mails. In plain language: e-mails get delivered in your inbox.

Other Features
Now there are a couple of other features that are worth mentioning. First, it is possible to add projects and move WordPress installations and servers inside certain projects.
Subsequently, it is possible to add team-members to Cloudways and give them access to a wide variety of levels, such as project level, server level or application level.
This is a great advantage in working together with clients, employees, other companies or developers.

Cloudways = Stellar Performance
In short, Cloudways excels in cached performance. It leaves many of the managed and well-known hosting companies for WordPress far behind for their price level. However, uncached performance (such as performance in the WordPress dashboard) is not always good.
Technologies for Performance
Cloudways uses a combination of Apache, Nginx, PHP-FPM, Redis and Varnish to provide stellar performance and cache web pages. Caching is basically a technique to serve web pages faster.
A Virtual Server instead of a Shared One
With Cloudways you have your own virtual server without the hassle of managing it. But what does that mean? Usually, your WordPress website shares the resources of a server with other websites. You may know this, but basically, a server is a computer on which websites can run.
With Cloudways, you have more control over your resources because you're using your own virtual server. It's like having a tiny virtual computer on which you can run your own WordPress websites.
This is a huge plus over shared hosting companies. They will usually throttle or even close down your website if you are using too many resources. At Cloudways, your server will just crash and automatically restart if it can't handle the number of visitors. If your server is constantly on the edge of its capabilities, you can easily scale to a more expensive server.
Performance Results
For our hosting tests, we set-up Cloudways with their own caching plugin Breeze and loaded WordPress with WooCommerce, a heavy homepage and a bulky theme. In essence, this creates a good baseline for testing. Subsequently, we simulate a large number of users visiting the website and measure if the website still loads under 2 seconds.
Maximum Concurrent Visitors: 2200
With caching enabled, the 4GB Vultr package from CloudWays can handle up to 2200 concurrent clients with an average response time of 0,327s.
That means that 2200 people may be able to visit your webpage every second, while it still responds within 2 seconds for every request. You may want to know that this equals 132000 pages visited in a minute.
If you are ok with a maximum response time of 10 seconds (you shouldn't), this server can handle up to 2700 concurrent visitors with an average response time of 1,82s.
Cloudways is less performant if you are using many options where caching is not possible, such as platforms with many user interactions or uncached ajax calls. This is mainly because it is still using Apache as a web server.
Maximum uncached visitors: 13
Without caching enabled, the 4GB plan can handle up to 13 concurrent visitors with an average response time of 986 milliseconds. That means that every second, 13 requests are fired to your webpage.
Uncached pages often occur with webshops or other websites that heavily rely on dynamic interactions. That's why this is an important test. This score is not particularly high, and I encountered that Cloudways can be slow if you have large sites with many posts or products compared to similar alternatives.
Closest Loading Time Averages: 0.53 seconds
We've tested this server with Pingdom, WebPageTest and GTMetrix for average loading times with a heavy theme and WooCommerce. The server was located in Amsterdam.
The closest Pingdom server (Stockholm), loaded the website 0.53 seconds. GT Metrix, testing from Canada, averaged 3.00 seconds while the WebPageTest loaded the website on average in 3.80 seconds.
WP Performance Tester Score: 955 Queries/Second
In addition, I also ran the WP Performance Tester plugin. This resulted in a WP Performance Tester Server score of 7.496, an execution time of 1.047 seconds and 955 queries per second. Especially the later are great figures.
WP Benchmark: 7.9
WP Benchmark is a server benchmark that can be run in WordPress. Cloudways scores a 7.9 for the WP Benchmark score, which is excellent. The following tests were done with the following values:
Large Text Data Processing: 7.2 seconds
Binary Data Processing: 7.1 seconds
Large DB Import: 4.8 seconds
Simply Query: 1.6 seconds
Complex Query: 2.8 seconds
These are excellent values.
Time to First Byte: 32ms
I tested the time to the first byte from seven loads, and it averaged a whopping 32ms.
How does performance differ per plan?
But what if I want to scale up? And with Cloudways, I can also choose several other providers. What is their performance?
Well, lucky you, I also tested them with the exact same performance test! I looked how many concurrent visitors various plans could handle, did a WordPress benchmark and looked into other factors such as Time to First Byte (TTFB). You can see the most important results in the table below:
Performance
Maximum Simultaneous Visitors Under 2 seconds
600

/ 54.55 (weighted)

- Cloudways Vultr 1GB/1C

($11 Monthly)

1000

/ 43.48 (weighted)

- Cloudways Vultr 2Gb/1C

($23 Monthly)

2200

/ 50 (weighted)

- Cloudways Vultr 4Gb/2C

($44 Monthly)

3200

/ 38.1 (weighted)

- Cloudways Vultr 8Gb/4C

($84 Monthly)

600

/ 60 (weighted)

- Cloudways Digital Ocean 1GB/1C

($10 Monthly)

500

/ 41.67 (weighted)

- Cloudways Linode 1GB/1C

($12 Monthly)

500

- Cloudways Vultr HF 1GB/1C

Maximum Simultaneous Visitors Under 2 Seconds (Uncached)
5

/ 0.45 (weighted)

- Cloudways Vultr 1GB/1C

($11 Monthly)

8

/ 0.35 (weighted)

- Cloudways Vultr 2Gb/1C

($23 Monthly)

13

/ 0.3 (weighted)

- Cloudways Vultr 4Gb/2C

($44 Monthly)

26

/ 0.31 (weighted)

- Cloudways Vultr 8Gb/4C

($84 Monthly)

5

/ 0.5 (weighted)

- Cloudways Digital Ocean 1GB/1C

($10 Monthly)

4

/ 0.33 (weighted)

- Cloudways Linode 1GB/1C

($12 Monthly)

7

- Cloudways Vultr HF 1GB/1C

Average Response Time (ms) (lower is better)
242

- Cloudways Vultr 1GB/1C

($11 Monthly)

745

- Cloudways Vultr 2Gb/1C

($23 Monthly)

214

- Cloudways Vultr 4Gb/2C

($44 Monthly)

332

- Cloudways Vultr 8Gb/4C

($84 Monthly)

296

- Cloudways Digital Ocean 1GB/1C

($10 Monthly)

455

- Cloudways Linode 1GB/1C

($12 Monthly)

342

- Cloudways Vultr HF 1GB/1C

Time to First Byte (ms) (lower is better)
47.00

- Cloudways Vultr 1GB/1C

($11 Monthly)

49.80

- Cloudways Vultr 2Gb/1C

($23 Monthly)

31.57

- Cloudways Vultr 4Gb/2C

($44 Monthly)

46.20

- Cloudways Vultr 8Gb/4C

($84 Monthly)

34.17

- Cloudways Linode 1GB/1C

($12 Monthly)

28.43

- Cloudways Linode 1GB/1C

($12 Monthly)

171

- Cloudways Vultr HF 1GB/1C

WP Performance Test Queries per Second (higher is better)
448

- Cloudways Vultr 1GB/1C

($11 Monthly)

961

- Cloudways Vultr 2Gb/1C

($23 Monthly)

955

- Cloudways Vultr 4Gb/2C

($44 Monthly)

817

- Cloudways Vultr 8Gb/4C

($84 Monthly)

484

- Cloudways Digital Ocean 1GB/1C

($10 Monthly)

157

- Cloudways Linode 1GB/1C

($12 Monthly)

841

- Cloudways Vultr HF 1GB/1C
Generally speaking, Vultr leads the pack with Digital Ocean as a close second. Linode excelled in Time to First Byte, but was performing worse on all other aspects. The average loading times on Pingdom or other testing platforms did not vary significantly.
And how does performance compare to other providers?
Compared to competitors, Cloudways is slower than Kinsta, GridPane, Ploi, WPCloudDeploy, and SpinupWP. In some cases faster than Runcloud, CyberPanel, and ServerPilot. It's definitely faster than Vepp, Cloudron, and Laraval Forge.
But it's your lucky day! I've programmed some neat charts down here, so you can easily compare Cloudways to its competitors on various properties.
How stable are my websites on Cloudways?
Cloudways puts a managed hosting shell on top of proven cloud providers for a reason: these provide stability and ongoing performance.
In the one year testing period that we have extensively used Cloudways, we have encountered 100% or 99.99% uptime for most of the WordPress websites hosted at Cloudways.
How many websites could you host per plan?
Based on our own experience with several packages, we found out that the various hosting plans may account for the following amount of optimized websites.
| | |
| --- | --- |
| Plan | Estimated Number of Small Websites |
| Vultr $11/month (1C/1GB) | ~ 5 |
| Vultr $23/month (1C/2GB) | ~ 10 |
| Vultr $44/month (2C/4GB) | ~ 25 |
Please note that these numbers only count for small websites and are no hard figures, as each website may have a different impact on your server. For example, for a single webshop I would recommend at least the 2GB package.
Usability on Cloudways is good
We may conclude that cloning, migrating and adding new WordPress installations is a breeze with Cloudways.
The major thing we're not so fond of is that you have to wait a couple of minutes before a new WordPress installation is accessible and that you only can perform one server action at a time.

Adding and cloning WordPress

So how does installing WordPress actually work in Cloudways? First, you have to add a server and wait a couple of minutes until this server is configures. Subsequently, you can add WordPress installations to this server. And yes, as many installation as you want.
It's very easy to add and clone WordPress applications in Cloudways. Just hit the add application button, select the desired WordPress version and an application is launched in a couple of minutes. And it's a little annoying that you have to wait a couple of minutes before this new installation is added.
By default, this application comes with an automatically generated login for your WordPress installation and a temporary URL, which makes it perfect for adding websites that still need to be developed. All these details are accessible in a single screen.
At last, the clone functionality allows you to clone existing applications or set-up a staging website, even across multiple servers. This is very useful if you want to clone or move an application to another server because of its size.
One particularly useful possibility of the clone functionality is using it for creating WordPress templates. For example, you can create a basic WordPress installation with all plugins configured to your own preferences, and clone this each time you want to add a new installation.

Managing Domains
Domain management is quite straightforward in Cloudways. You can add primary and secondary domains under domain management. By adding a primary domain, Cloudways automatically rewrites all your WordPress URLs to this domain. Useful, isn't it?

Secondary domains can be used if you redirect domains to the same domain as the primary domain, or if you are using a WordPress multisite with subdirectories. For example, if you point your A-Records of the secondary domain to the same server, it will redirect to the primary domain.
Migrating to Cloudways
Cloudways does not come with migration tools on their own platform, but they have developed a plugin which can be added to WordPress to migrate website to their platform.
So how does this work? You have to add a plugin to the website you are planning to migrate. After you have entered the details of the destination website, it will migrate the current website to the destination. Cloudways has a short video which explains this much better.
They will also migrate your first website for free. And that saves some of the hassles.
Managing Projects and Team-Members
Now we have shortly mentioned the projects, users and teams manager. What it basically does is allowing you to but your WordPress websites and servers into any projects.
Subsequently, you can add team-members and assign them to certain projects: they will only have access to servers and WordPress applications in these projects.
You can control if team-members can add new servers, applications, adjust billing, and so forth. Of course, access control goes way further down to limiting team-members to only access certain applications.
And as I mentioned, this is great for working together with clients, employees, external agencies and developers and moves Cloudways beyond a regular hosting platform.
Managing Servers and Applications
From a usability perspective, you want to be able to manage your WordPress installations and servers with at much ease as possible. Cloudways did a great attempt at achieving user friendly application management.
What we find a big plus for the Cloudways platform is that all settings for managing a server are in one place. Also, all settings for managing a single WordPress installation are in one place. It's a little less obvious to delete applications, as the option is hidden under the button in the right corner.
As you can see in the above screen for server management, all options are shown in several tabs. And as you have seen in the section about managing domains, a similar approach is used for managing applications. And this is a great advantage over hosting parties using cPanel. For the latter, settings are often in all kind of places.
Now in my opinion their platform is not so simple or intuitive as some of the major managed WordPress hosting parties such as WP Engine or Flywheel. But to close with a positive note: this may be caused by the incredible amount of features they have crammed in their offerings.
So-so Support
The support is okay. In many cases, I could quickly solve a problem myself than the support was actually able to understand the problem.
Don't expect too much from support if you are not technically literate.
But, Cloudways does provide extensive documentation and a supportive community. That's at least our experience with using Cloudways support for more than a year.
Live-chat and tickets
I have a little preference for hosting parties that are using live-chat. Because you immediately know if they can help you are not. Now how fortunate, Cloudways is using both live-chat and a ticket system to help you out. But….. in our experience, the live chat is not always available.
Occupied, but present
Ie love the fact that the live chat is immediately available and you can fire your questions straight away. However, often a conversation takes a lot of time and answers are not given straight away. Sometimes, the person on the other side of the proverbial line seems a little bit occupied.
A good answer half of the time
And that brings us up to the following point. I received some good help on some occasions. However, often the answers given by the support staff were just a rephrase of our own actual questions.
For example, I was looking for the best settings for Varnish Caching on a multisite with subdomains. After a long conversation, I had to refer the support staff to their own knowledge base where this is explained.
This is not an isolated case. I found often the answers from support staff were not very elaborate. Sometimes, I was even able to solve the matter ourselves during the conversation.
I have read many raving reports about the Cloudways support and I appreciate the hard work these support staff is doing. But in our opinion, it is lacking.
Now they introduced paid add-ons for better support. In my opinion, this should already be included in their basic packages. Competitors such as GridPane provide better support for a lower fee.
Knowledge Base and Community
As you may know, support entails more as live chat and ticketing. Cloudways took great pains to form an elaborate base of knowledge and documentation on using their platform. We found that in most cases, this documentation was accurate and up to date.
In addition, they provide a community where each member can start a discussion but also request for features. And the latter in fact encourages transparency, as also unsatisfied customers are allowed to start discussions And that brings us to the end of this review. So what can we conclude?
Plans and Pricing
Cloudways pricing model is very flexible. First, pricing is per hour and invoiced monthly. That means that if you're just hosting a website for a week, you only pay the usage for that week.
This is a common practice if you rent a so-called virtual private server (VPS). And as Cloudways puts their own layer of services on common VPSes, it is a logical step. This is, however, a pricing model I'd like to see more often in hosting providers.
From the basic plan up to the most expensive, all features are included. The only differences are the performance of your virtual private server. Prices below are monthly.
| | | | | |
| --- | --- | --- | --- | --- |
| Plan | Price | Bandwidth | Disk | Ram/CPU |
| Digital Ocean 1 | $10 | 1TB | 25GB | 1GB/1C |
| Digital Ocean 1 | $22 | 2TB | 50GB | 2GB/1C |
| Digital Ocean 1 | $42 | 3TB | 80GB | 4GB/2C |
| Linode 1 | $12 | 1TB | 25GB | 1GB/1C |
| Linode 2 | $24 | 2TB | 50GB | 2GB/1C |
| Linode 3 | $50 | 3TB | 80GB | 4GB/2C |
| Vultr 1 | $11 | 1TB | 25GB | 1GB/1C |
| Vultr 2 | $23 | 2TB | 55GB | 2GB/1C |
| Vultr 3 | $44 | 3TB | 80GB | 4GB/2C |
| AWS | $35.51 | 2GB | 20GB | 1.75GB/1C |
| Google Cloud | $33.30 | 2GB | 20GB | 1.70GB/1C |
AWS and Google Cloud are awfully expensive. This list is not exhaustive. Higher tier plans exist and can be found on the Cloudways website.
Considering the features and performance offered for the price leave, Cloudways is great. For example, there is no limit on the number of WordPress installations you can run on any plan (the only limit being the resources of your server). Only once you get up to the higher plans, it may get a bit too expensive.
Cloudways Alternatives
It's a little hard to place Cloudways in a category. On the one hand, they offer Managed WordPress hosting similar to companies such as Kinsta or WPEngine. So let's look at them first!
Top 5 Managed WordPress Hosting Alternatives
Cloudways wins in terms of features and price from many other managed WordPress hosting providers, but lacks support and sometimes performance.
Top 5 WordPress Control Panel Alternatives
On the other hand, their hosting service just looks like a so called control panel. It seems to be aimed at the more technical minded and reminds me of the other WordPress Control Panels that are out there. The major difference with control panels is that they purchase the VPS for you.
That's why I have included control panels in this comparison as well:
Cloudways does relatively well to most of the control panels, but if obviously pricier than most of them.
Concluding the Cloudways Review: Cloudways offers Great Value!
While the entry pricing level of Cloudways is somewhat higher than most entry hosts, they do provide great value in terms of performance, usability and features delivered.
Especially if you consider the number of visitors their packages can handle compared to other Managed WordPress providers, who often have a limit on monthly visitors. And that makes Cloudways a pretty good managed WordPress hosting providers.
Cloudways is in my opinion aimed at people who are somewhat more technically minded. For example, you have to connect your Cloudways servers to an external e-mail provider before it will send e-mails. As another drawback, I'm not overly enthusiast about their support.
But the major drawback for the more technically focused is that once your servers turn bigger, the price levels also rise significantly.
And if you're one that knows his or her way around using virtual private servers, there are less expensive alternatives available such as SpinupWP, ServerPilot, RunCloud, Ploi, Laraval Forge or Gridpane.
But Cloudways is still significantly cheaper than traditionally managed WordPress hosts such as Kinsta, WP Engine or Flywheel.
So what do you think? I would love to hear your thoughts in the comments below!