Ooh yeah! It's time for another hosting review, dear readers. This time, I am going to review Templ.
Templ is a Swedish based managed WordPress hosting company, using the server technologies of Google to bring WordPress to you. Basically, Temple is the Kinsta from Sweden.
If you're not aware of it, hosting is basically renting a space on the internet to put your website on. In this case, it will be a website running on WordPress.
Managed WordPress hosting is actually a marketing term used by many hosting companies, but it includes something like extra services, such as making sure that your server is always secure and fast.
But if you're looking into WordPress hosting reviews, I guess you're familiar with that!
In short, Templ is Managed WordPress Hosting on Google Cloud!
Nevertheless, that's exactly what Templ is offering. In this review, I'll be discussing if Templ decorates does a good job at managed WordPress hosting. Let's see!
TL;DR
For those who don't read long form content:
Templ is a promising managed hosting company, offering a good amount of features, good performance and great support. They are a bit pricey though. Perfect if you're having a budget to spend.
They are very similar to Kinsta in their offering, which is a worthy competitor. In my opinion, Kinsta is slightly better in terms of performance and features offered.
If you don't want to pay too much and don't bother support quality, consider something like Cloudways.
If you like Sweden, and of course Templ itself, you can always try them out. If you sign up for fast WordPress hosting through this link, it brings also some bread to my table :).
The Templ Review Procedure
I started all of my WordPress hosting reviews with the quest to find the best WordPress hosting out there. Thus, I want to review each party as objectively as possible. Usually, I use the following criteria in my review:
So you will find each of these criteria back in the review.
For whom is Templ created?
I would say Templ applies both to beginners as more advanced users with their great user interface.
Obviously, you need to be aware of things such as WordPress, accessing your website over SFTP and pointing a domain. But with that knowledge, you're pretty much covered.
For more technical users, the control you have is a bit limited.
By the way, this article is part of a series of Managed WordPress Hosting Reviews, which is again part of a larger set of WordPress Hosting Reviews (on the given page, you can easily compare WordPress hosting).
The Templ Featureset
Templ offers a very good balance of features, with a big plus having a domain manager and simple email support within their platform.
So are there any downsides in terms of features? For beginners, I believe there are little. However, from a developer perspective, it would be nice to have more statistics and better integration of GIT within the interface.
General Impression
I tested all the various plans of Templ (more on that in the pricing section of this Templ Review), but in general Templ is offering the following:
Disks space, bandwidth, and memory / CPU (which says something about the performance) for running your website.
A great, good looking dashboard for adding and managing your WordPress websites.
Sign-in to WordPress from the dashboard – without having to enter your account details.
Backups and also a staging functionality.
The ability to manage domains and have the records managed by the Templ nameserver (more on that later).
The ability to share your account with others.
Free migrations for an unlimited amount of websites.
And a couple of other features which are explained below.
The first impression is good, it has all the essential features and the dashboard looks great! Don't you think?
Some Developer Goodness
Templ is offering some essential features that are helpful if you are a WordPress developer.
First of all, they have the staging feature which makes it easy to clone an existing WordPress website.
Furthermore, they use a modern stack using the latest MariaDB database, PHP and NGINX. WP-CLI and Git are installed on the server as well. There is also a handy database manager included.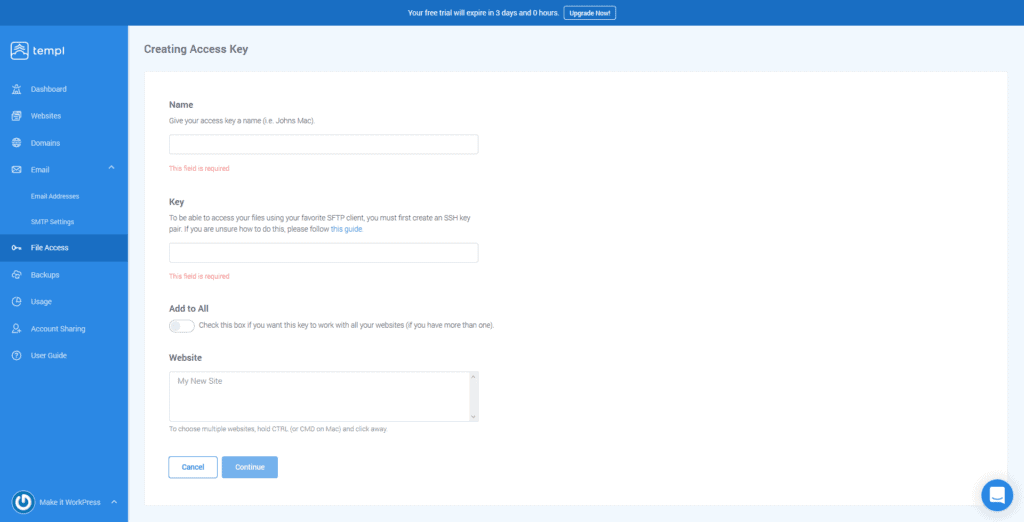 The great thing however is that they promote the use of SSH keys over SFTP. SSH is a secure protocol for connecting to external computers (which is a server), often used to connect to servers or websites. But if you're reading this as a developer, big chance you now this!
Adding your SSH keys can be easily done through the interface of Templ, after which these SSH keys are added to any website you add.
By they way, they do not offer an API integration nor the possibility to have notifications on email, slack or any other important channel.
A note on safety
Templ is a managed WordPress hosting provider, which should mean that they manage the security of your websites as well. And they put some good things in practice:
Each website is isolated, with tight permissions. If one goes down, only one goes down.
SSH / SFTP connections are monitored and can be banned once getting to a suspicious number.
They do regular vulnerability checks on every site (a big plus!)
Everything seems to be fire-walled.
In their whole existence, they claim that only 2 or 3 websites have been hacked because of a vulnerability in a plugin. Sounds good to me!
Something to remark: email
One of the things I liked about Templ is that they both offer transactional emails and simple email setup.
Transactional emails are the mails that are sent by your server, for example when someone fills in a form. And it's included out of the box by Templ (it's only disabled if you are on a trial program, to prevent abuse).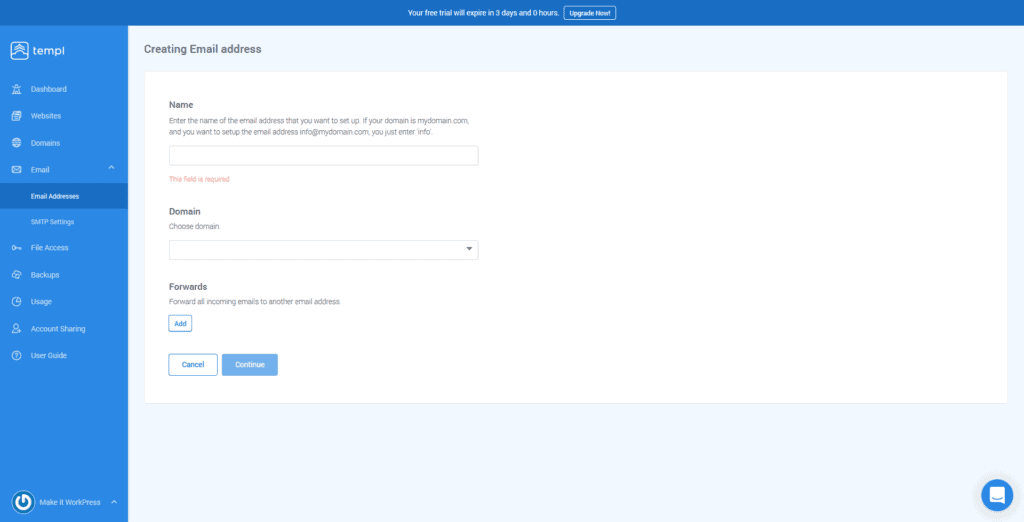 Creating an email address is simple in Templ. After you've connected your domain and the nameservers to Templ, you can just create email addresses for the domains you added.
Now, they don't offer an interface for accessing email but it can be neatly integrated within Gmail or other providers for example.
Performance Results
I can't waste too many Words on this. Templ.io is really fast, but not as fast as it's major competitor Kinsta.
How do I test?
For the test, I use tools such as Pingdom for load times and Loader.io which can simulate users visiting a website. And especially the latter is interesting if you want to know the real performance!
So, I do test the maximum number of users a server can handle, while keeping average response times under 2 seconds – the figure for which it is still bearable to browse a website.
For that, I load up a bloated theme from Themeforest and pack it with Woocommerce, products, images and so forth. Obviously (or unfortunately?), that resembles the average WordPress website well. Aside from the optimisation provided by the hosting provider, I keep it as it is. And then the testing can commence!
Performance Results for the Small Plan
But enough bleating! How does Templ do?
Simultaneous Cached Visitors: 1100
Here comes the raw power of the Viking-powered hosting (if you skipped history class in school, the Vikings originated from Sweden, being a fierce band of warriors. They are inadvertently used as a stereotype to communicate strength).
The Templ Small plan can handle up to 1100 concurrent users, firing 65991 successful requests with an average response time of 379 seconds.
And that is pretty good for Managed WordPress Hosting.
Simultaneous Uncached Visitors: 7
The uncached simultaneous test is important, because it reflects the amount of users a server can handle without any caching or optimisation.
This situation is often reflected in Webshops, where users have to log-in and you can't use techniques such as caching.
Templ Small was able to handle 7 concurrent users, firing 420 requests in one minute with an average response time of 0,696 seconds.
Uptime: 100%
Well, I guess Google wants their servers too be stable. And that is reflected in a perfect uptime score for Templ (remember, they are using Google Cloud).
Time to First Byte: 20ms
In the time to first-byte test, I test the time to the first byte from multiple locations and take the smallest value (and I always test with a server in Frankfurt or Amsterdam). For this, I use the Performance Checker of Sucuri.
And the result is a whopping 20ms, which is one of the fastest values I have encountered yet.
Other Noteworthy Metrics:
Don't you love data? I do! Here are some more figures – although they are less relevant to performance in my opinion. The figures below are all performance tests you would commonly see in other WordPress hosting reviews too.
Pingdom average cached loading time: 0.47 seconds
Pingdom average uncached loading time: 0.67
GT Metrix average loading time: 3.60
Webpage Test average loading time: 3.87
WordPress Performance Server Score: 8.573
WordPress Performance Test Execution Time: 2.162
WordPress Performance Test Queries per Second: 462
How do plans compare?
Now here comes an interesting thing with Templ, and mainly has to do how Templ is set up. The performance difference between the various plans is relatively small, especially for uncached users.
And that is because the smaller plans support bursts – you can have the power of larger plans, but only for a limited amount of time. Thus, larger plans are good for sustained performance, and smaller plans can handle spikes. I like that!
For your own reference, there is a fine table here:
Performance
Maximum Simultaneous Visitors Under 2 seconds
1100

/ 37.93 (weighted)

- Templ Small

($29 Monthly)

1200

/ 22.22 (weighted)

- Templ Small Plus

($54 Monthly)

1500

/ 18.99 (weighted)

- Templ Medium

($79 Monthly)

1800

/ 12.08 (weighted)

- Templ Large

($149 Monthly)

Maximum Simultaneous Visitors Under 2 Seconds (Uncached)
7

/ 0.24 (weighted)

- Templ Small

($29 Monthly)

12

/ 0.22 (weighted)

- Templ Small Plus

($54 Monthly)

12

/ 0.15 (weighted)

- Templ Medium

($79 Monthly)

13

/ 0.09 (weighted)

- Templ Large

($149 Monthly)

WP Performance Test Queries per Second (higher is better)
462

- Templ Small

($29 Monthly)

344

- Templ Small Plus

($54 Monthly)

397

- Templ Medium

($79 Monthly)

460

- Templ Large

($149 Monthly)
Templ Performance Comparisons
This review comes with a very handy chart compare performance data (the perks of being a developer myself). With the dropdown below, you can select any kind of data and compare it to some of the closest competitors of Templ.
Did I say the values are sometimes also price weighted?! Makes it easy to compare on price as well.
Usability
Templ uses a proven design with a menu on the left and is a delight to use. The only caveat I found is that tasks such as deleting or changing the SFTP login of a website are a bit hidden.
Furthermore, their design could be improved if the platform would give more hints or feedback on some of the features (such as adding domains and the email manager).
The good thing is that you're not overwhelmed by options (at least in my opinion).
Managing Websites
Managing websites with Templ is a breath of fresh air. You go to the websites tab, easily add a new website, wait a couple of minutes and there you are. Managing a website is basically done in the panel, with a screen as the above.
As you can identify, all the major tasks and things you want to see are there such as login details, backups, staging, the import functionality and some tools.
When managing a website, there is a section to edit a website and change your WordPress login details, add SFTP logins and so forth. It's placed a bit below the other details, so at first sight you have to look for it.
Now, you can clone websites with Templ, but the process is a bit clumsy. You have to create a backup of the site you want to clone first, then create a new website and restore this backup to the website.
Domain Manager
Within Templ, you have to add a domain in a central place before you can connect it to a website (even if it is an external domain). This is a bit cumbersome if you have all your domains external, and just want to change them when you're managing a website.
But it makes a lot of sense from the perspective of Templ, as they also offer the possibility to have email addresses.
By the way, you can't register a domain on Templ. For that, you need a domain registration company. Once you have a domain, you can also add it to Templ by changing the nameservers to Templ's nameservers.
Now, understanding nameservers may be challenging at first. But once you have changed your nameservers from your domain registrar to the nameservers of Templ, it all works easily.
You just change the domains of your website, add email addresses and Templ makes sure everything works out of the box.
Additional Tools
I don't have so much to comment on this. But it is nice to see all the tools in one single location. Especially the vulnerability check and domain fixes (if you change a domain, you also need to update all links in WordPress, done in a click with this tool) are useful in my opinion.
Account sharing
You can share your account with other mail addresses, which is great if you need others to access your account! Useful if you are working in an agency for example.
So far as I tried, it was not yet possible to limit users to certain sites and functionalities, which makes this functionality less useful for collaboration and client access. Other parties such as Cloudways to a better job in this.
Monitoring and Statistics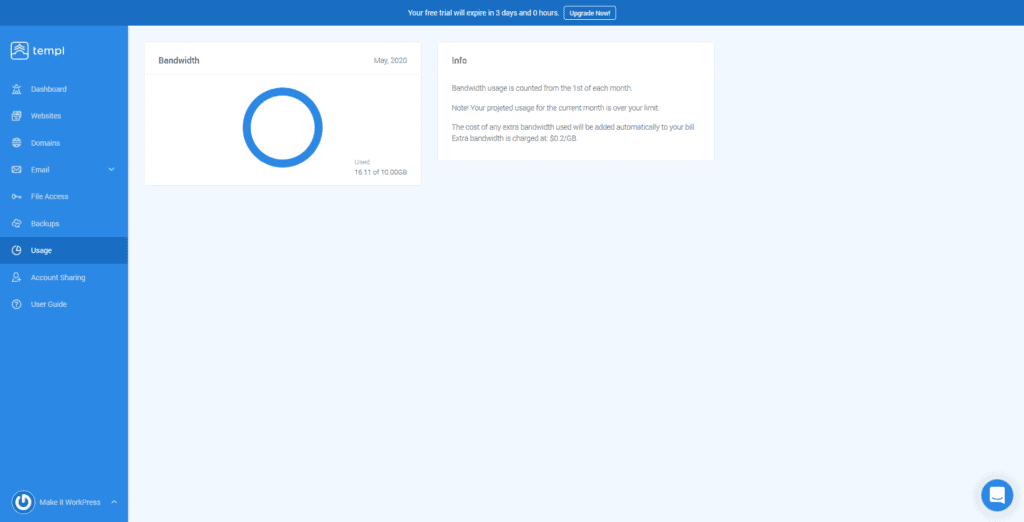 The tab usage is denoted by one single stat. The bandwidth usage. It would be nice if you could see more statistics per website here, such as CPU usage, visitors, bandwidth user per day and so forth.
That's it for now concerning the usability! Let's see how their support is holding out.
Support (and documentation)
Support is another fun part to test! And my conclusion? I encountered great support, and Templ has some fine documentation (although not very elaborate).
What I usually do is firing a set of questions with varying difficulty at the support, and see how they are able to cope with this.
I also create some errors within a WordPress installation and see if they can point me in the right direction.
Support interaction
Templ uses live chat as the main way of support – which I believe is great. They also offer email based and telephone support (at limited hours).
Using the live chat, I had contact with the support of Templ within 30 seconds.
Support was able to answer all my questions sufficiently – and timely.
My first impression is that support is friendly and great to converse with, but also knowledgeable about WordPress.
Support Extent
Moreover, I created a programming error in the default TwentyTwenty WordPress theme and within minutes, they were able to point me to the error.
And that's one of the things I like most about the support delivered by Templ. They even go along debugging your website if it is slow or if it is crashing. Great!
What about documentation?
Templ has its own Help Center with quite some articles about their platform. From the most simple tasks to some more challenging tasks, it is mostly covered.
Don't expect a full blog on WordPress tips though, which bigger parties such as Kinsta have.
Pricing: oh boy…
There we are! The pricing part. Always fun to talk about.
And let's start with the statement that Templ is not cheap. It makes a lot of sense, as it's not meant as a cheap hosting provider and offers solid support and performance.
Let's see what plans they are currently offering!
Pricing Plans
Templ offers four monthly plans, each support 1 WordPress website. Additional websites costs $10 a month.
| | | | |
| --- | --- | --- | --- |
| Small ($29) | Small Plus ($54) | Medium ($79) | Large ($149) |
| 12.5% of 2 CPU cores | 25% of 2 CPU cores | 50% of CPU 2 cores | 2 CPU cores |
| 1GB RAM | 2GB RAM | 4GB RAM | 8GB RAM |
| 10GB Storage | 18GB Storage | 25GB Storage | 50GB Storage |
| 10GB Bandwidth | 18GB Bandwidth | 25GB Bandwidth | 100GB Bandwidth |
Now the pricing is fine, but I find the lack of bandwidth disturbing (if you pass the limits, you pay $0.2 per GB). For the small plan, it's 10GB bandwidth. That means if your homepage is 2mb in size, you can have a maximum of 5000 monthly unique visitors in the given plan.
Competitors such as Cloudways have more favourable pricing ($10 for 1000gb of bandwidth) if you can stand the level of support.
As you can see – pricing is also based on the amount of CPU and RAM. That basically means how fast your website will be and how many visitors it can handle under sustained load.
Kinsta is, on one hand, less expensive as well, as their bigger plans support multiple WordPress websites without an additional fee.
And that's the thing I don't like about the pricing model of Templ – it would be nice if bigger plans have more sites included as well. However, they will install add-ons such as Redis for free on your websites, which are very pricy on Kinsta on the contrary.
But generally speaking, their pricing levels are pretty comparable to most Managed WordPress Hosting providers.
By the way, if you know how expensive Sweden is, I think they are still reasonable priced. It must be a challenge being an international business.
Templ Alternatives
If you are familiar with Kinsta, you may find the interface and setup of Templ very familiar. Honestly, in my opinion, Templ is the Kinsta from Sweden. If that's a good or bad thing is up to you!
So what are some other managed WordPress Hosting competitors of Templ? Let's list them:
Conclusion
So what can I say? In this Templ hosting review, I thoroughly examined Templ – which is a managed wordpress hosting provider based on Google cloud.
It was a delight to use Templ, their performance is good and I was seriously impressed by their support. One thing I liked is that they support email (to a limited extent), and one of their biggest disadvantages, in my opinion, is the limited bandwidth in their plans. I also didn't like the fact that bigger plans don't support multiple websites.
In addition, it does not feel as polished yet as Kinsta, which is their primary competitor (in terms of features and price). And you may find Templ expensive too – but it's worth the value if you want to have peace of mind.
Having said that – they are still a very good hosting company and offer so much more performance and support than most cheaper hosting WordPress companies out there.
By the way, if you are more technically minded (and less risk-averse), it may be worth checking out Cloudways or any WordPress Control Panel. Otherwise, Templ is a perfect host to run a stable, performant website on. And also friendly to beginners. Why don't you give the Swedes a try?