Hi there, it's time for a full-blown ChemiCloud review. ChemiCloud is a shared hosting provider, that offers website and email hosting for starts, and more powerful options for growing sites. While their offering is aimed at hosting websites in general, WordPress is also supported.
They have a great-looking website, offer many features, and appear to have a friendly image. But are they any good? In this review, I'll be reviewing ChemiCloud in great detail on various aspects.
TL;DR;
If you read more of my reviews, you may already be familiar with this section. If you lack the time to read, here's what you need to know:
ChemiCloud offers most of the features that you will need to run starting up to even relatively large WordPress websites.
ChemiCloud offers amazing cached performance (performance for regular websites), but uncached performance is just average (performance in dynamic sites, such as webshops or when logged in).
ChemiCloud uses cPanel for managing your hosting, which is somewhat harder to use than control panels that are custom designed but do the job.
There is a strict limit of 500k inodes (number of files) on the largest subscription. With a large WordPress website, you may surpass this number.
Unfortunately, I could only use tickets to contact ChemiCloud support.
ChemiCloud is priced very reasonably, in line with direct competitors.
Reviewing ChemiCloud: The Approach
Every WordPress review, including this ChemiCloud Review, is subject to the following criteria.
By the way, this review is part of a large series of WordPress hosting reviews, in my personal quest to find the best WordPress hosting.
For whom is ChemiCloud?
ChemiCloud offers competitive pricing, and despite being harder to use, it is aimed at starters, starting professionals, smaller businesses, and smaller websites. Especially since you pay smaller fees, and the service includes e-mail addresses (many managed WordPress hosts don't).
ChemiCloud also offers reseller hosting for people that want to start their own hosting business, and cloud servers for people that need more power.
WordPress on ChemiCloud
ChemiCloud uses cPanel, a famous control panel to manage websites, email accounts, and domains. In cPanel, there is a special module called Softaculous that is also used by ChemiCloud to install WordPress.
It's possible to install WordPress as a standalone software package, but using Softaculous is the preferred way. This also gives more tools to manage WordPress. But more about that later.
Hosting Features: Good
ChemiCloud has the right amount of features to get started with WordPress, including some interesting features for Developers. Let's elaborate on this ChemiCloud review with what it has to offer:
Core ChemiCloud Features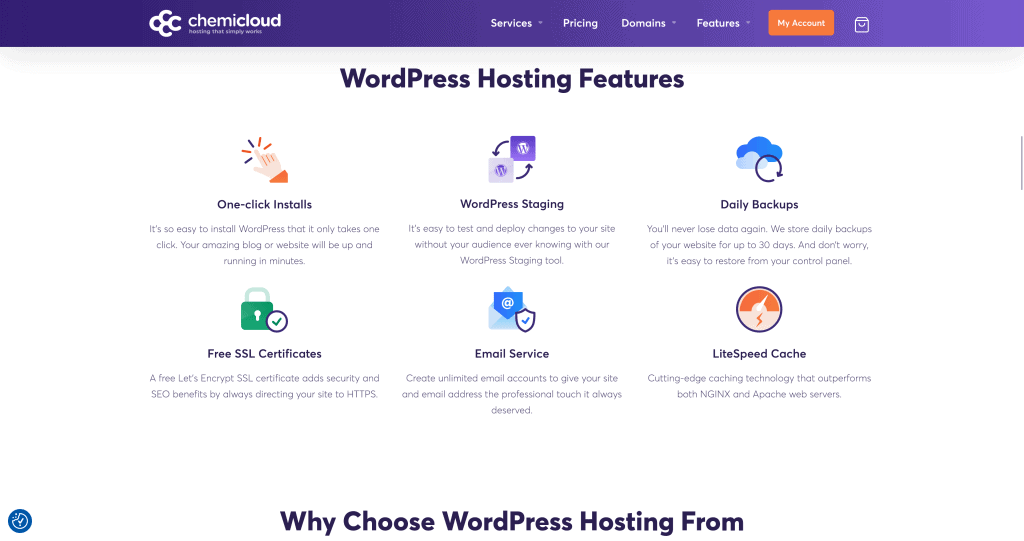 This is the core of ChemiCloud's offering:
1 to unlimited websites (within the limits)
Up to 40GB of disk space for your website
24 hours per day support
"One-Click" WordPress installer based on Softaculous (also see video)
One free website migration
One free domain registered
Email and domain registration service
Multiple server locations (Dallas, London, Frankfurt, Bucharest, Mumbai, Singapore and Sydney)
Security and Developer Features
As websites grow more professional, security and developer feature become important. This is what ChemiCloud offers in terms of Security and Developer features:
Free SSL certificates (a no-brainer)
Daily Backups (up to 30 days retention)
A staging environment for WordPress
Git integration
Performance Optimizations and LiteSpeed caching (for drastic performance improvements)
Advanced Firewalls
Malware scans and removal (based on Imunify)
Pro-active server monitoring
Isolated server accounts
WP-CLI pre-installed
SSH and SFTP access
support for different PHP versions
QUIC/HTTP3 support
Integration with Cloudflare
File and database manager
ChemiCloud has Limits on Resources
Similar to other shared hosting providers, ChemiCloud has strict limits on its resources. It's not always obvious if you are starting out, but you are sharing your website with other clients' websites. Hence, resources are limited.
The turbo plan (the largest plan) I tested has the following limits:
500000 inodes (basically 500000 files). I have WordPress websites running that easily surpass this limit, so this may be a bit low.
3 cores CPU and 3GB of ram for handling requests and server-side processing. In the performance testing, we found this can handle up to 16 (uncached) users per second
Once you grow big, you may hit the limits of shared plans and you need to move up to bigger plans.
Performance: Average-Good
In general, ChemiCloud offers good performance and your website will run quite smoothly. We found the disk speed on ChemiCloud to be abysmal though, but there is one area where ChemiCloud really excels, and that is in cached performance. More about that later.
Load Testing Results
ChemiCloud uses LiteSpeed as its web server, which is a piece of software that can be used to serve websites over the web. It's very popular with shared hosting providers and can deliver good performance for ample resource usage.
For every hosting provider I test, I use the exact same tests and setup; using a bloated WordPress theme and various load-testing tools. These are the results:
General Loading Times:
The following general benchmarks are often used on other sites, but are in my opinion less interesting. These are nevertheless tested as well – as they mainly indicate how fast your site will load for a single load.

Pingdom Average Cached Loading Time: 0.56 seconds (average performance)
Uncached Pingdom Loading time: 0.86 seconds (average performance)
GT Metrix Loading Time: 1.5 seconds (great performance)
WebPageTest Loading Time: 5.24 seconds (poor performance)
Load testing uncached users: 16 users per second
In this and the following test, I test how many users the site can handle with caching turned off and on, and with the criteria, that response times should remain lower than 2 seconds.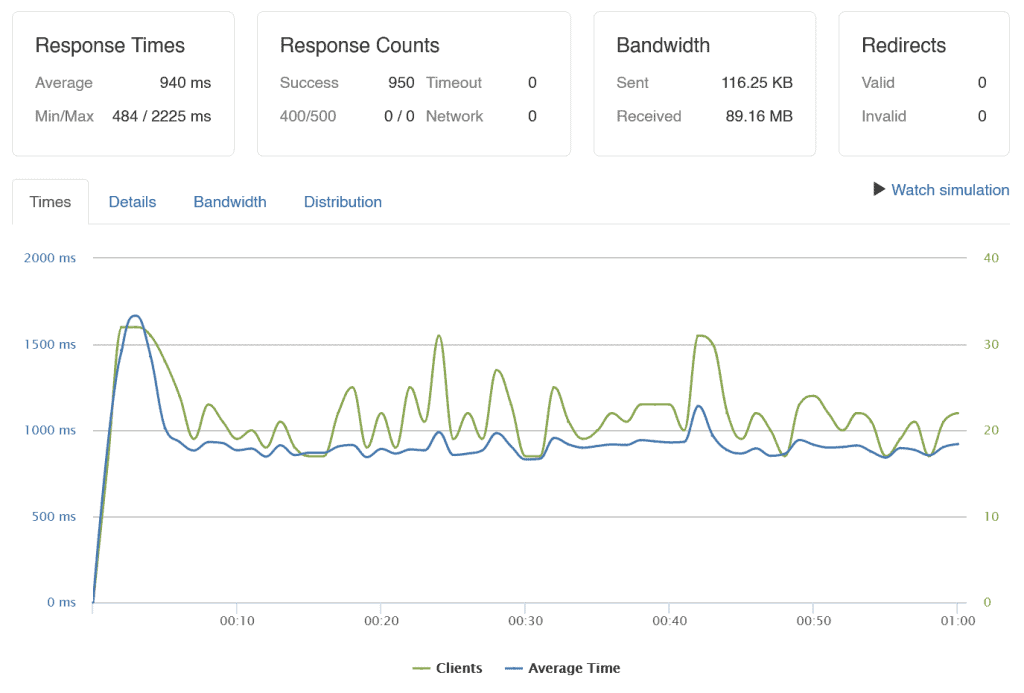 This figure indicates how many users per second your site can handle. With caching turned off, this is 16 per second with an average time of 948ms, which is average to poor.
Load testing cached users: 5800 users per second
Caching is a performance technique, that drastically increases performance (and as you may have figured out from these numbers).
A whopping 5800 users per second, with an average response time of 112ms is an excellent score – topping the list at the moment of writing. Congratulations!
h2load load testing: 1527 request/s (cached), 35.86 requests/s (uncached).
h2load simulates multiple users firing requests upon the site, and tests how many requests per second the website can handle.
| | |
| --- | --- |
| With caching | Without caching |
| 1527.53 requests per second | 35.86requests per second |
Scores are average to good in here
Time to the First Byte (TTFB): 4ms (local), 342ms (global)
The time-to-first-byte score is excellent.
| | |
| --- | --- |
| Fastest (Local) | Average (Global) |
| 4ms | 342ms |
Server Benchmarks
WordPress Performance Test
The WordPress performance tests processing and query performance.
| | |
| --- | --- |
| Server Score | Queries per Second |
| 7.252 | 1188 |
ChemiCloud scores are average here.
WordPress Server Benchmark: 5 (score)
The WordPress Server Benchmark tests the server on various aspects, such as network, processing speed, query speed, and network speed.
ChemiCloud performs poorly here, with long processing times and very low file transfer speeds. Either they use older hardware (servers), or the testing is going wrong.
| | |
| --- | --- |
| Test Metric | Score |
| Large Text Data | 8.1 seconds |
| Binary Data | 10.4 seconds |
| Write Ability | 10 Mb/s |
| Local File Copy | 10 Mb/s |
| Small File IO | 11 Mb/s |
| Large Database Import | 5.3 seconds |
| Simple Query | 2 seconds |
| Complex Query | 8 seconds |
| Network Speed | 91 mbit/s |
| Final Score (Scale 1-10) | 5 |
WordPress Posts Benchmark
The posts benchmark is a plugin I developed myself and can be used to test query and MySQL performance for WordPress. It says a lot about the speed of your backend.
| | | |
| --- | --- | --- |
| Insert 10000 posts | Delete 10000 posts | Query 10000 posts |
| 23,85 seconds | 43,32 seconds | 0,32 seconds |
ChemiCloud does average here.
Comparing ChemiClouds Performance
Besides this ChemiCloud review, you may be wondering how ChemiCloud compares to other shared hosting providers. Use the dropdown below the generate performance graphs for various statistics:
Usability: Okay
ChemiCloud uses cPanel and its own custom panel for managing services. Their own panel looks great, but cPanel is harder to use. If you're used to it, it's fine. Otherwise, it can be improved.
In other words, to just install WordPress you have switched from three different-looking panels. And that's an odd experience.
Let's dive into some specific screens that make ChemiCloud more (or less) friendly to use.
Customer Panel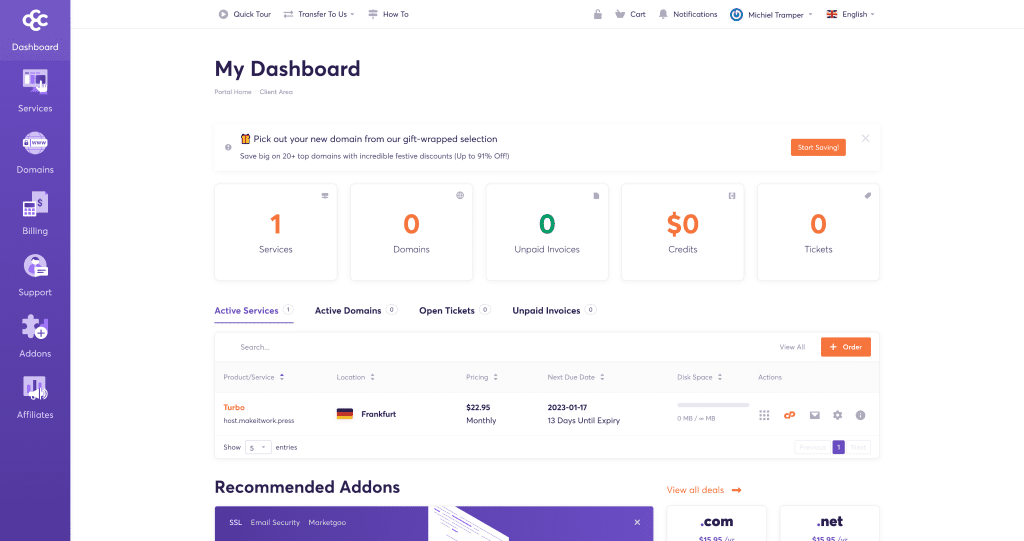 After login, you'll be redirected to the customer panel which gives a good overview of your services, registered domains, invoices, and some additional information. This panel looks great and is easy to use, it even includes a tour for beginners.
cPanel website administration
For all tasks related to website administration, such as the creation of new email addresses, managing domains, viewing files, adjusting security and performance settings and so on, ChemiCloud uses cPanel. This is the industry standard but may get some time to get used to.
Softaculous: Managing WordPress
For managing and adding new WordPress installations, cPanel comes with another functionality called Softaculous. This is basically a software manager that can be used to install all kinds of software, such as WordPress.
This manager is great and offers some neat features such as importing WordPress websites, and staging, and cloning websites – something which not all shared hosting companies offer.
Support: Good
In my setup, I could only reach support by ticket. Responses for support were quick (within 15 minutes), with an average to average-high level of knowledge. ChemiCloud is also rated highly on Trustpilot (4.9).
Support: Tickets (15-minute response time) and Live Chat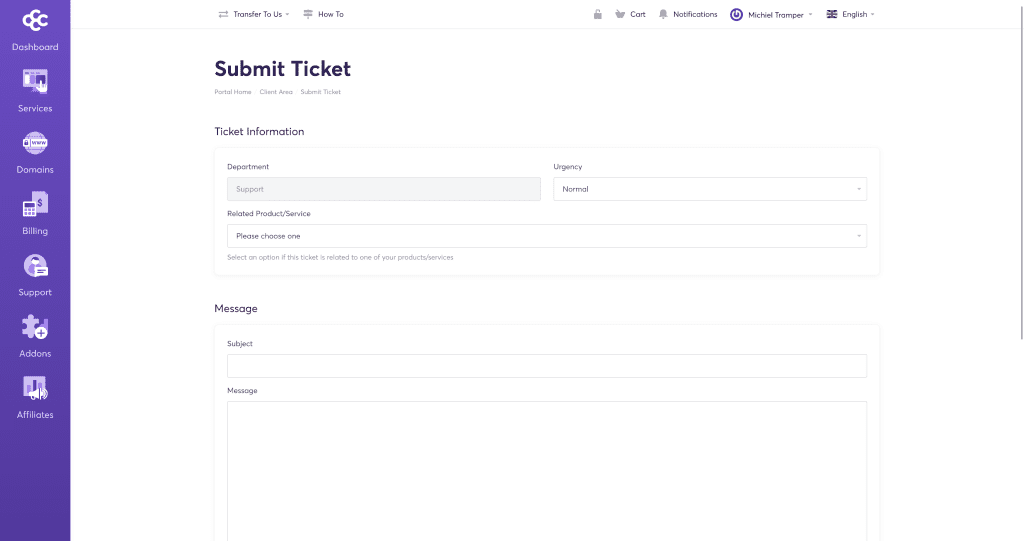 Similar to all other hosts, I ask a series of technical questions to see how support was doing. I also add a manual error to a WordPress error (with an encoded message) and see if they can decode the message.
Support was quite knowledgeable and gave elaborate answers to all my questions within 15 minutes, which is quite fast. However, they did not find the encoded error message.
Unfortunately, live chat was not available for my account. Probably because I use a privacy-friendly browser such as Firefox. That's a bummer!
A good amount of tutorials and knowledge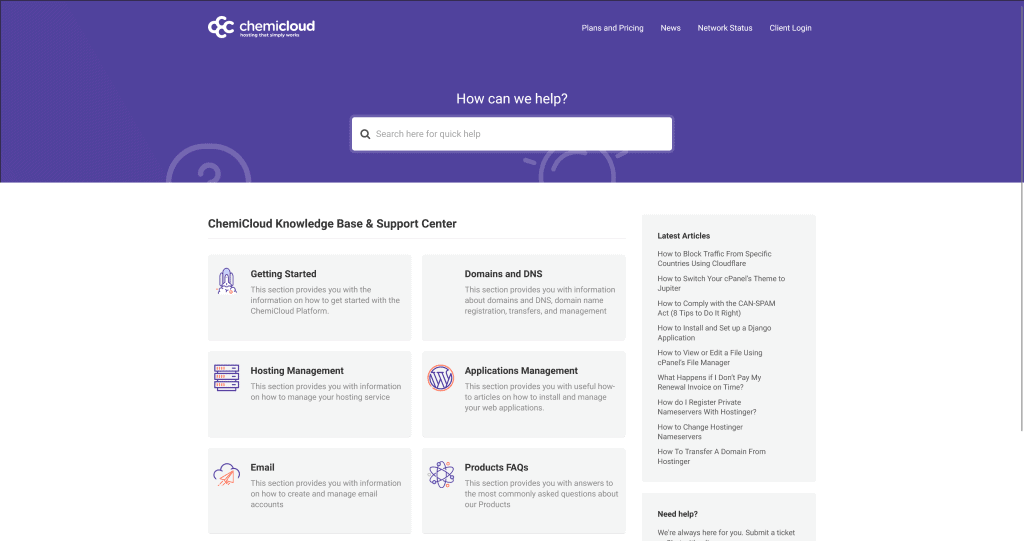 ChemiCloud offers a proper knowledge base with some good documentation and they have a great youtube channel with dozens of videos.
Pricing: Good
ChemiCloud is offering a good price for what you get, especially if you buy 3-year packages (you'll get up to 70% discount).
Subscription Plans
The below image gives a good summary of the WordPress subscriptions that ChemiCloud offers at the moment of writing. These are monthly prices without any discount.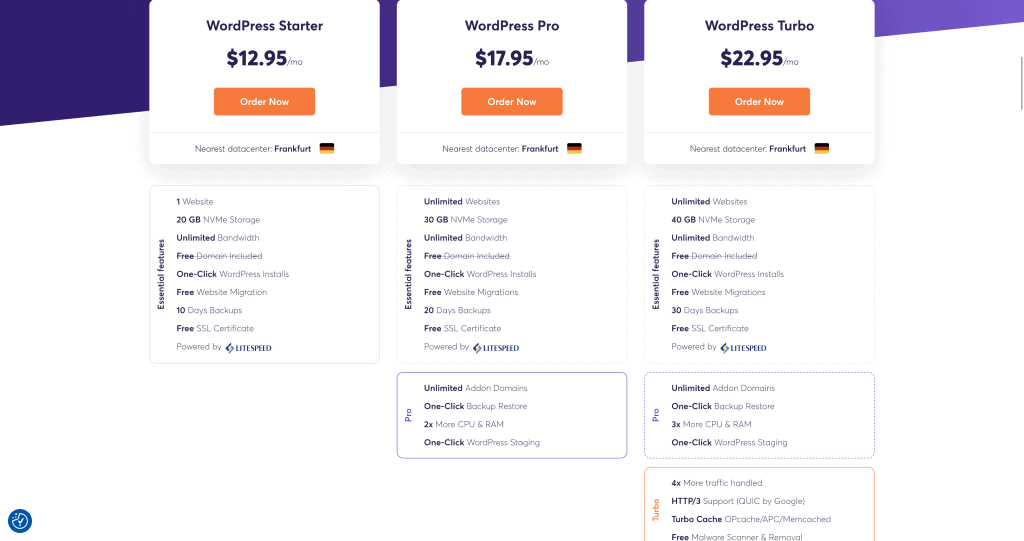 Pricing is in similar ranges as some of their direct competitors, such as Hostinger.
Similar to many other shared providers, ChemiCloud will offer a substantial discount if you prepay hosting for up to 3 years. Please check their website for the most recent offerings.
Alternatives to ChemiCloud
These are the 5 best alternatives to ChemiCloud:
ChemiCloud Review Conclusion
I hope this review gave a good, in-depth overview of how well ChemiCloud performs. These are the key take aways from this ChemiCloud Review:
If you're starting or even if you aren't, ChemiCloud has great features for setting up and managing WordPress websites.
ChemiCloud offers amazing cached performance and average uncached performance.
ChemiCloud uses a custom login which works great, but it is also combined cPanel, which some may find harder to use.
Support is knowledgeable and friendly, and responds fast.
ChemiCloud is not expensive, although the server is shared with other websites.
Subscribe to ChemiCloud here and get up to 70% off.