And hello again! It's time again for another mind-blowing review. This time, it will be a Hostinger Review! Hostinger is a very popular hosting company, and I've seen multiple people recommend them. It's also a provider you will see recommended in many reviews.
And my initial impression is great! Their website looks amazing and, as mentioned, many blogs positively review Hostinger. But are they as great as they appear to be? In this review, I will discuss my objective, honest experience with Hostinger from the perspective of using WordPress with Hostinger. A true Hostinger WordPress hosting review.
TL;DR;
If you don't like to read the whole review, this is what you need to know:
Hostinger is offering everything you need if you're just starting a WordPress website but lacks some useful tools found at other parties. Think of features such as staging environments and cloning websites.
Hostinger is not very expensive, but some competitors are less expensive.
Hostinger is offering okay uncached performance, but the cached performance is very bad.
Hostinger is great to use and they have a very well designed control panel
Hostinger support is very friendly and knowledgeable but I found them somewhat slow to answer, although they have many articles and a great knowledge base.
Hostinger is a large hosting provider which is great to use and offers friendly support. They have great packages for WordPress hosting: sign up here and get up to 80% off.
About this Hostinger Review
Before we get to the body of this Hostinger review, let's briefly see how I do reviews and for whom Hostinger is meant.
Review objectives
The overall verdict is determined by the following five criteria:
Installing WordPress on Hostinger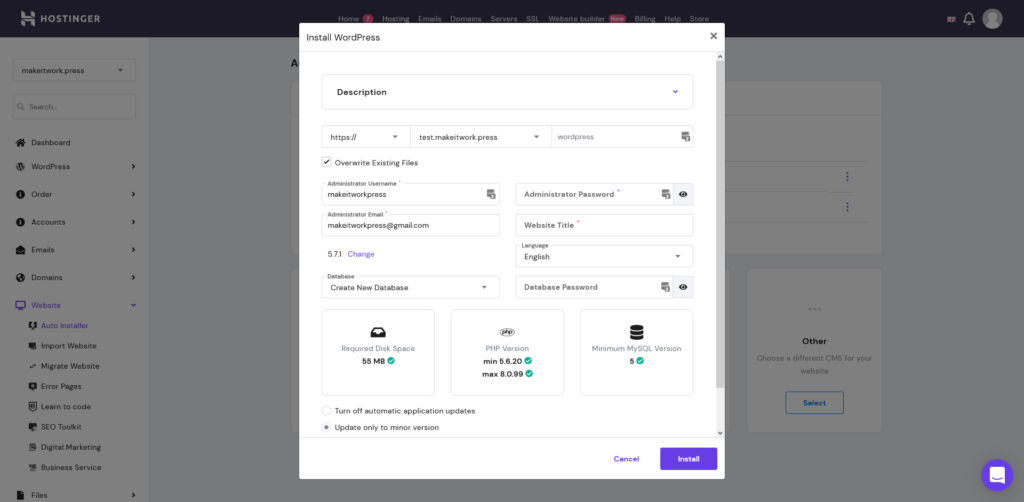 Installing WordPress on Hostinger is really easy. They even have a special wizard for it if you just start out with your account (which I love by the way) and also a fine auto-installer for additional websites. The installation process is as following:
Make sure you have a domain. You can either register this at Hostinger or at another provider, such as NameCheap.
Go to your hosting panel, and manage your main website. Click on dashboard.
If you want to add your website to a subdomain, first go to subdomains and add the subdomain.
Secondly, go to the websites tab on the left and click on Auto Installer.
Click on WordPress and follow the instructions. WordPress is now installed!
For whom is Hostinger?
Hostinger is mainly aimed at starters or aspiring professionals. If you are running a serious WordPress hosting business or managing dozens of sites, you either may want to try their cloud servers or reseller packages or try a WordPress control panel (the best WordPress control panels are listed here)
Loving this so far? You can find the best WordPress hosting here or compare WordPress hosting reviews here.
Hostinger's Features: Good
Hostinger has a great amount of features, especially if you are just starting out with WordPress. In that case, they will offer all you need, including email and domain registration. Professionals who manage dozens of sites may miss some important features such as Staging.
What you will get at Hostinger
Obviously, Hostinger is providing (WordPress) hosting, or in other words, a place for your website. But what does it offer?
A great to use control panel for managing your websites
Support up to 300 websites and unlimited databases on a single subscription
Storage ranging from 30GB-200GB
Free SSL certificates
Active security monitoring
Backups (unfortunately, as a paid add-on for the Single and Starter Subscriptions)
An easy way to manage your domains and email
An easy installer for WordPress or WordPress with WooCommerce
A useful dashboard for managing WordPress
Additional WordPress security with PatchStack
2-factor authentication for accounts
Migration and importing websites to Hostinger
An easy redirection manager
Domains and email
A great feature that makes Hostinger very useful if you are just starting out, is that they include domains and emails in their packages (for domains, you have to pay an additional fee). You'll have everything under one roof.
CloudFlare Integration
Hostinger also offers Cloudflare integrations for your websites, which can speed up websites globally and increase the security. For this, a Cloudflare account is needed.
Cloudflare is a global content and security provider, specialized in making websites secure and fast no matter where you are in the world.
Developer Features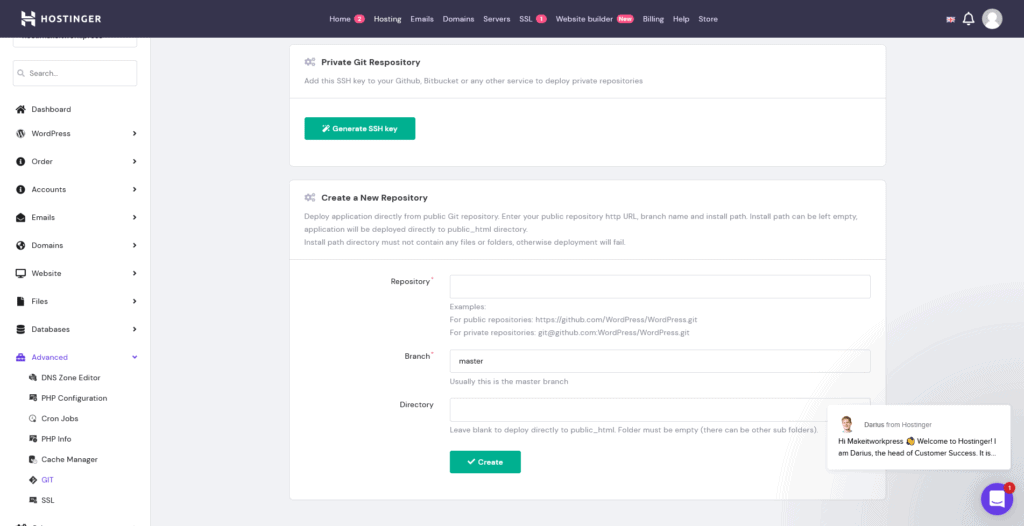 Especially for developers or professionals, there are a couple of features which may stand out:
WP-CLI installed and SSH access (except for the Single Subscription).
Hotlink protection, protecting other websites stealing your images.
A cronjob and database manager.
A file manager for easily editing files on the fly.
FTP access (over SSL), and tools to enforce HTTPS.
An access manager, giving other users access to certain websites.
GIT Integration, allowing you to connect your GIT repository to a certain folder on your account.
Limitations of Hostinger
Now on paper, this all looks really awesome. But are there some limits on Hostinger? Depending on the subscription you have, there are limits on bandwidth, supported websites, databases and storage. You'll find more about that in the pricing section of this Hostinger review.
Since the offering we're discussing here is mainly shared, a company like Hostinger has to set limits to prevent bad usage of their servers. It is a practice that makes a lot of sense and is, in my opinion, fair, but not always communicated. What I like about Hostinger is that they clearly communicate their limits in the pricing tables. The limits they set are:
The number of CPU cores and RAM, which influences the performance
The number of entry processes and active processes, influencing how many scripts can run simultaneously.
The number of inodes, which to some extent represents the number of files on your account.
The size of your database, which can be a maximum of 3GB (or 6GB for the Pro subscription).
Especially for the smaller subscriptions, limits are quite tight which has an influence on your performance (more on performance later). And most likely, you will likely run out of inodes faster than disk space. Fore example, if you are running a big WordPress website with many plugins, the number of inodes will ramp up quickly.
What would make Hostinger perfect?
What would make something perfect obviously varies by the person you're asking. But in my opinion, this would make the feature set of Hostinger amazing:
An easy way to clone websites or set up staging (a temporary development environment for an existing website)/
A better way to monitor websites and get messages if something is wrong, or the website is offline
An easier way to manage plugins and themes on WordPress websites.
In my opinion, backups should be included in all subscriptions.
Hostinger's Performance: Poor
Unfortunately, the out-of-the-box performance of Hostinger is poor (in my tests). Especially the amount of cached users it can handle is very low, meaning your website can not handle sudden spikes of visitors. In understandable language: that viral blog post won't hold it for long.
Performance Testing
But before I introduce you the results, I'll briefly explain how I test hosting providers on performance. Basically, I'm doing the following:
I upload the exact same theme for each provider, and install WooCommerce and import a shop demo.
I test the maximum amount of simultaneous visitors the website can handle using Loader.io. The server must respond in under 2 seconds.
I also test the uptime and the time to the first byte, which also says something about the speed of the server.
At last, I use a WordPress plugin for executing the WordPress performance benchmark.
I also test some of these figures with caching off. Caching is a technique that can greatly improve the speed and performance of your website. Testing with caching off is also important, as it reflects situations where users are logged in and you can not use caching, such as in a webshop with user accounts.
Simultaneous users: 30 (caching on), 14 (caching off)
This test how many simultaneous users a hosting subscription can handle; in other words, how many requests per second? Response times also must be lower than 2 seconds. If a website loads slower than 2 seconds, it will turn off a lot of visitors.
Unfortunately, Hostinger did not allow the simultaneous user test for the Single, Starter, and Business description. However, I could test the WordPress Pro subscription. In this test, I basically test the number of requests per second a server can handle. In this case, the maximum was 30 which is very low.
| | | | |
| --- | --- | --- | --- |
| Pro Plan | Maximum Users | Completed Requests | Average Response |
| Caching on | 30 | 1786 | 398ms |
| Caching off | 14 | 838 | 986ms |
With caching on, the WordPress pro subscription could handle up to 30 visitors at the same time, having received 1787 requests in one minute with an average response time of 398ms.
With caching off, it could handle up to 14 visitors at the same time, processing 838 requests in one minute with an average response time of 986ms. As you can see, this is a lot lower.
Average loading times: 0.41-0.47 (Pingdom)
Pingdom: 0.41-0.47 seconds
In Pingdom, loading times averaged 0.41-0.47 seconds for the various subscriptions (with caching turned on). This slightly slower than some comparable hosting providers.
| | |
| --- | --- |
| Plan | Average Loading Time |
| Single | 0,44 seconds |
| Starter | 0,47 seconds |
| Business | 0,43 seconds |
| Pro | 0,41 seconds |
Pingdom (with caching off): 0.68-1.11 seconds
With caching off, Hostinger performed okay with loading times ranging from 0.68-1.11 seconds. In general, Hostinger was a bit faster than some of it's competitors here.
| | |
| --- | --- |
| Plan | Average Loading Time (uncached) |
| Single | 1,11 seconds |
| Starter | 1,07 seconds |
| Business | 1,02 seconds |
| Pro | 0,68 seconds |
Notable is the pro plan, which offers much more uncached loading performance and therefore may be useful for running webshops.
GTMetrix: 3-4.8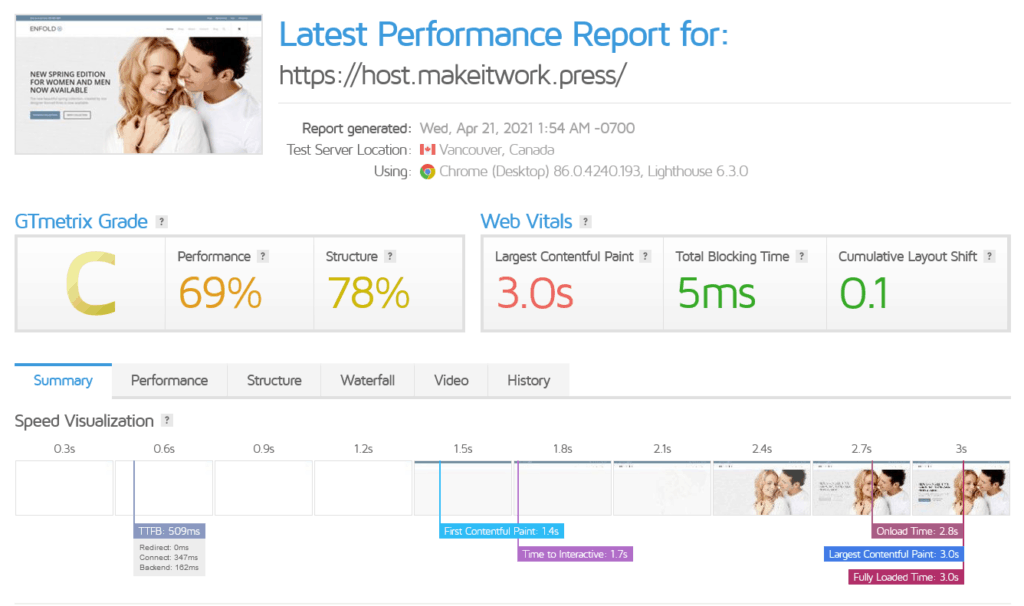 | | |
| --- | --- |
| Plan | Average Loading Time |
| Single | 4,80 seconds |
| Starter | 3,00 seconds |
| Business | 3,60 seconds |
| Pro | 3,05 seconds |
The loading times using the GTMetrix tool varied between 3 and 4.8 seconds on average, which is in par with comparable providers.
WebPageTest: 4.17-4.35 seconds
| | |
| --- | --- |
| Plan | Average Loading Time |
| Single | 4,35 seconds |
| Starter | 4,22 seconds |
| Business | 4,18 seconds |
| Pro | 4,17 seconds |
The loading times using the WebPageTest tool varied between 4.17 and 4.35 seconds on average, which is slightly slower than some tests I did with comparable providers.
Time to the First Byte: 39-63ms (fastest), 438-462ms (worldwide)
The time to the first byte (TTFB) is a measure that indicates when the first response of the server comes back. In other words, when will your website start loading? It's a good measure of how fast a hosting provider can be.
The further a server is from a visitor, the larger this value will be, as it will take some time to connect to a server that is further away from you. From the closest location
| | | |
| --- | --- | --- |
| Plan | Fastest TTFB | Worldwide Average |
| Single | 63ms | 438ms |
| Starter | 46ms | 462ms |
| Business | 59ms | 448ms |
| Pro | 39ms | 446ms |
There is not so much variation here, although the Pro plan had the fastest value. The worldwide averages range from 438-462ms, which are fine but are higher than some other parties I tested.
WordPress Performance: 890-1005 queries / second
| | | |
| --- | --- | --- |
| Plan | Server Score | Queries / second |
| Single | 9,625 | 925 |
| Starter | 10,086 | 890 |
| Business | 9,553 | 1005 |
| Pro | 8,918 | 981 |
The WordPress performance test runs a couple of operations, and then determines how well the server can handle this:
It could handle 890 to 1005 queries per second, which is great
The server score was ranging from 8.918 to 10.086, which is on the high side (and which is bad).
Uptime: 100%
During the testing period, the uptime was a solid 100%. That implies that the website was online all the time.
Comparing Performance
But how does Hostinger compare to some of its direct competitors? This is basically the most important thing you want to know. Well, with the following tool, you can select a certain performance value and compare how they do:
At the moment of writing, Hostinger seems to be slower at most metrics than the 2 other LiteSpeed providers I tested (AccuWebHosting and A2 Hosting).
Hostinger's Usability: Good
Hostinger has created its own control panel so that you can easily manage your websites. For example, other providers such as a2 Hosting still use a modified cPanel set-up, whose interface is much harder to use.
Clear Interface, Great Wizard and Feedback
If you are going to add a new website, Hostinger will walk you through a great wizard. This wizard is greatly designed and makes it easy to add a new website. Adding subsequent WordPress websites to an existing account is also relatively easy.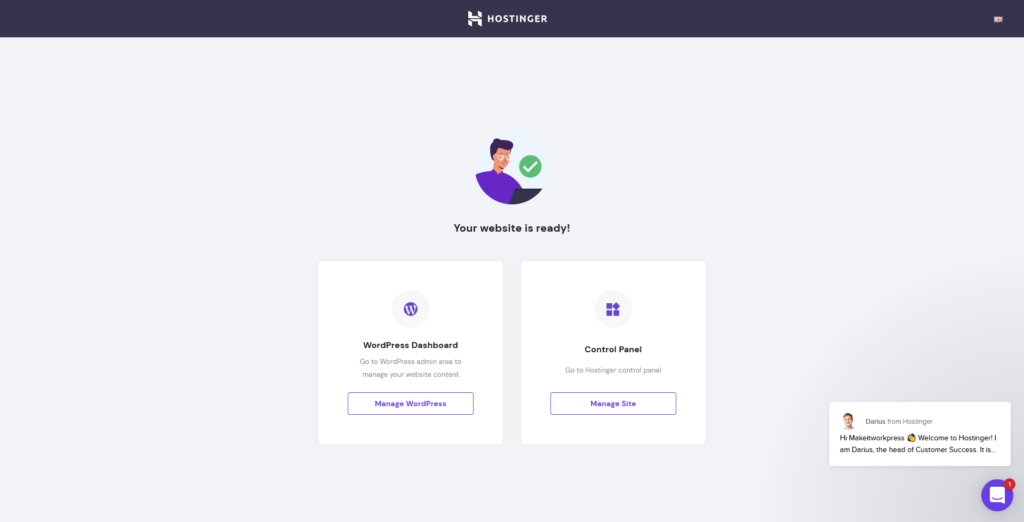 Also, throughout the panel, there are helpful feedback messages, such as a notification that I still had to link my domain.
Managing WordPress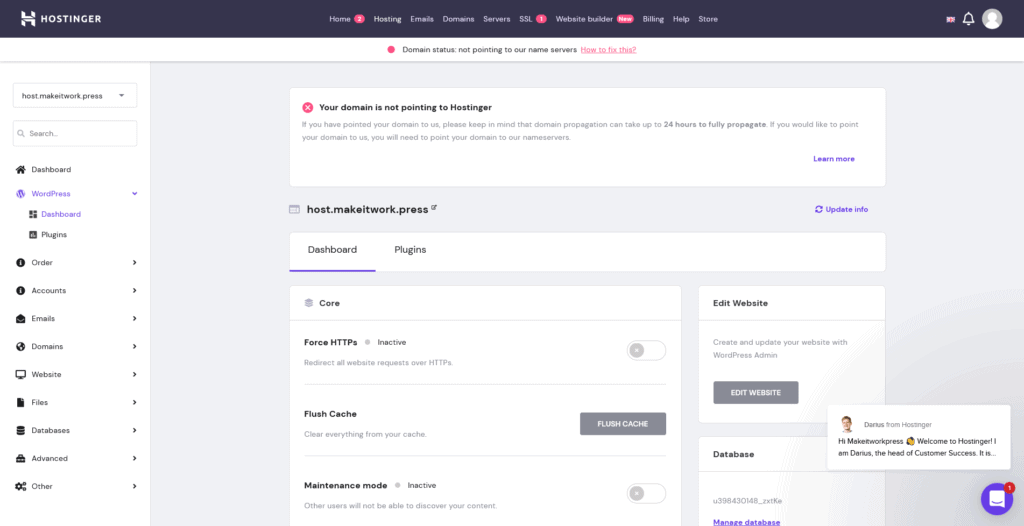 When managing websites in the dashboard, there is a useful manager for WordPress included in the services of Hostinger. It include some useful tools such as Force HTTPS, Maintenance Mode and a link to the WordPress Admin area for that given website.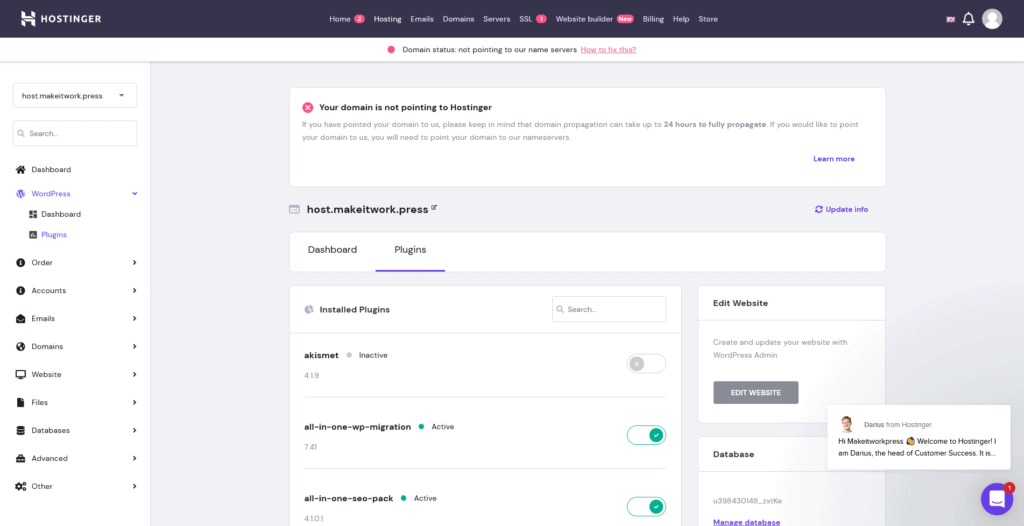 In addition, you can also manage plugins from this screen.
The access manager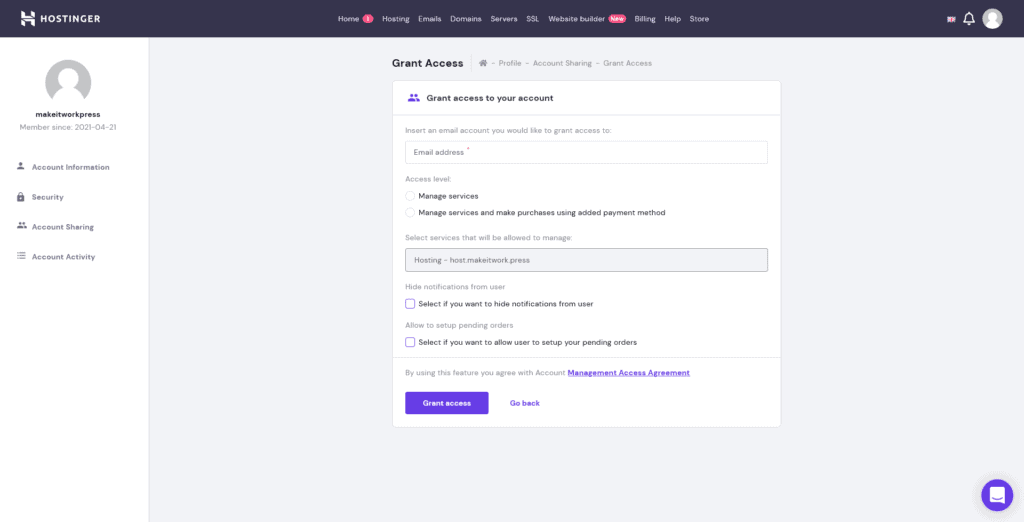 This is something I love too and is very useful if you are working together with other people or want to give clients access. But what is the access manager? It is an easy-to-use manager that allows giving additional people access to all or certain websites in the Hostinger Panel.
Application authentication and email authentication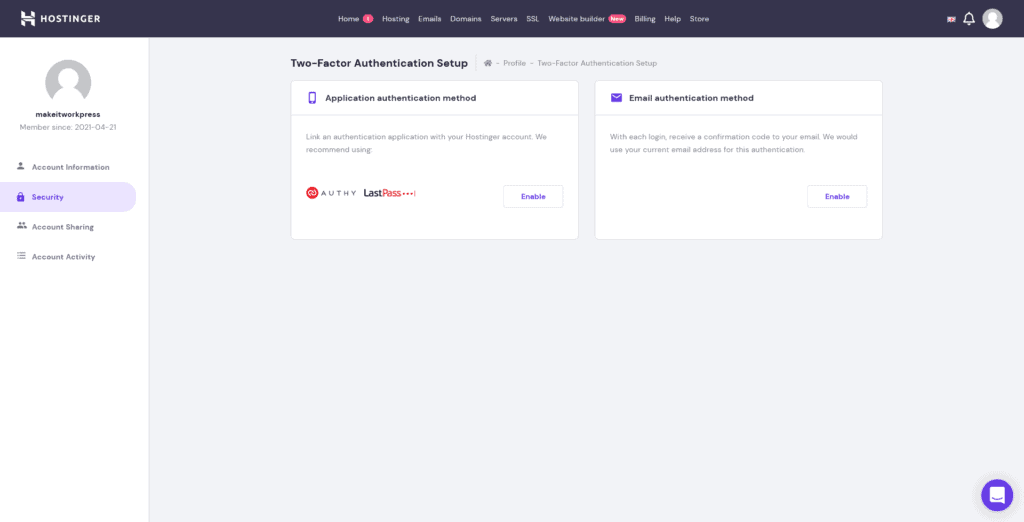 While technically this is a feature, I really think it is a good experience if you can have either email authentication or application authentication as methods of logging in more securely.
There are a couple of weird quirks though
Hostinger's control panel looks great but still has some weird bugs.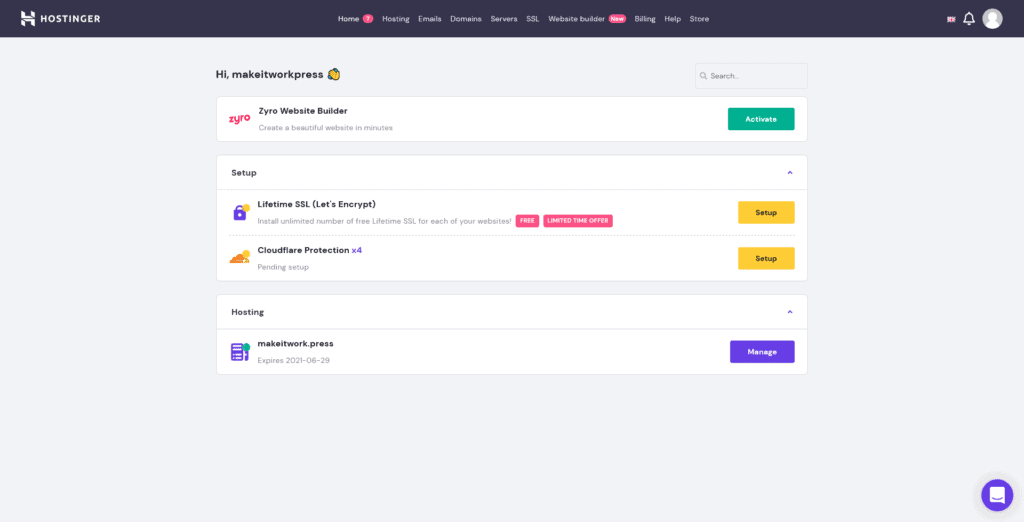 What I don't like at first is that the context switches a couple of times. That means that the main navigation switches places (in other words, where can you find the most important links and are they in the same position). The top bar of the site is consistent but when I click on hosting, for example, I see my l list of sites, then a dashboard, and if I then edit a setting there will be a different menu on the left.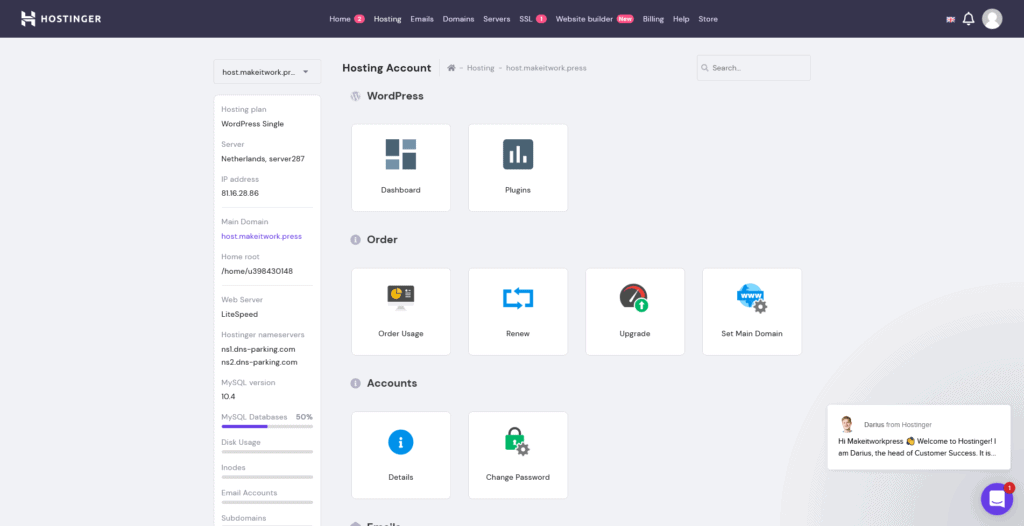 While I was using their control panel, sometimes I ended up in a different kind of control panel, which also looked slightly different and had a different starting URL. This gave a confusing experience. Seemingly, they moved to a new panel and in some cases, the old panel still comes through (at the time of writing).
I also experienced some 404s (meaning the page could not be found) at some random moments and places, such as the file manager. In other words, I could not reach the given page.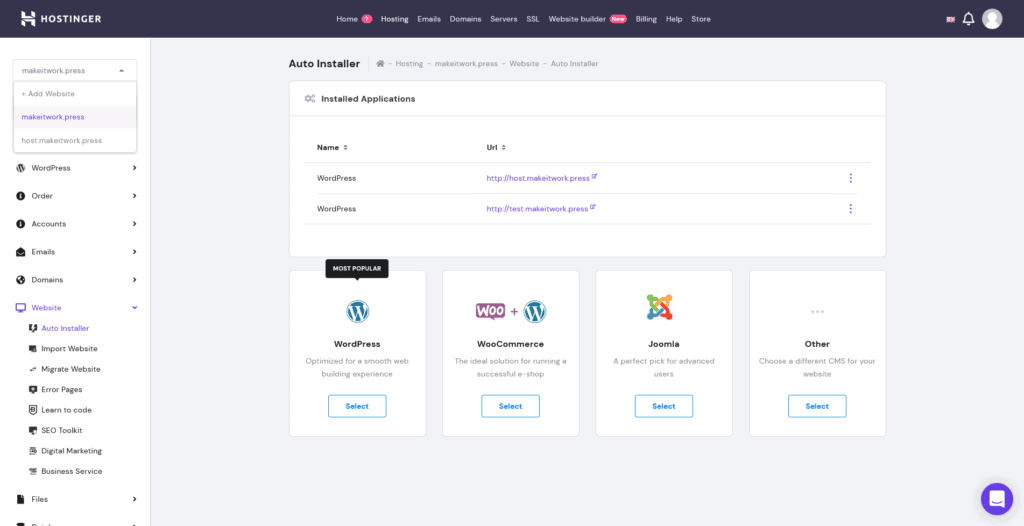 At last, while browsing through the settings, it is not always clear that these settings are only for one site. On the top left, you can switch sites and alter the settings for the given site. However, settings for multiple sites are often visible independent of which site you have selected, such as the autoinstaller shown above. I had to figure that out first because it's not that obvious from the design.
Hostinger's Support: Good
For this Hostinger review, I also tested how well support functioned. Support is available through live chat and email. While the staff was very friendly and knowledgeable, also about WordPress, initial reaction times were slow.
Live chat and reaction time (~30 minutes)
Hostinger mainly offers support over live chat (which is beautifully designed, with support for emoticons and gifs) and email.
The initial reaction time for the live chat was just under 30 minutes, which is abysmal in my opinion. I also had a good amount of conversation with their support staff, but sometimes it took a lot of time to get their replies.
However, I have been in contact with support about this issue and they are stating reaction times will be improved in the near future. And they have not been lying, in some of my tests a week later support reaction time was much better.
Support Knowledge and Experience
For each hosting provider that I review, I usually ask them a couple of technical questions related to hosting or WordPress. The staff from Hostinger answered these to my satisfaction. Also, I add an error in the theme with a hidden message and see if they can solve it.
On this occasion, they pointed me in the right direction on how to debug WordPress and what to do if the theme is corrupted. However, they did not decode the message nor look into the details of the error.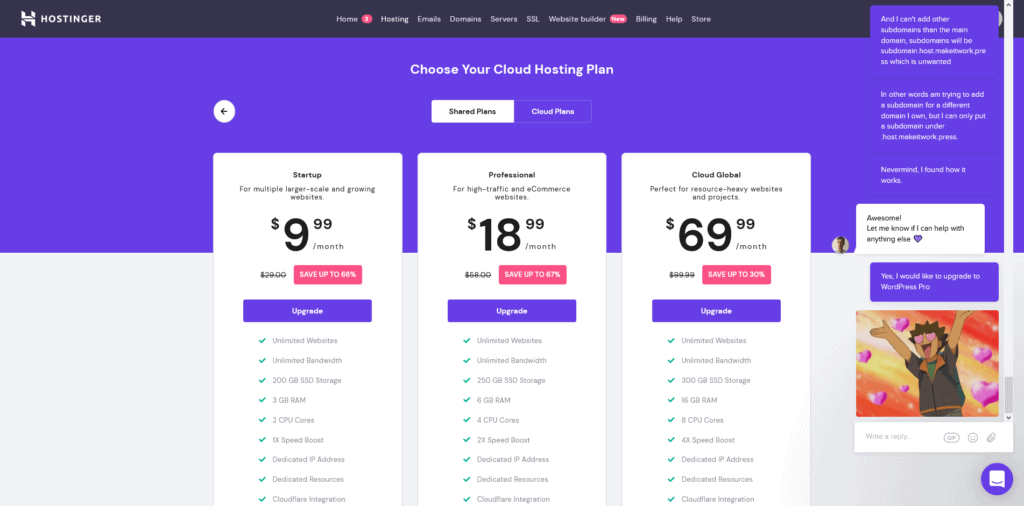 However, in general, I really liked to converse with support as they were really friendly and helpful to explain all kinds of things. For example, the upgrade process for WordPress was not really clear and they helped me out.
Clear Knowledge Base
What I do like, however, is the support experience in general, and how well it is connected to the knowledge base. You can find the answers to common questions easily in the Knowledge Base and also the chat functionality will give good hints before engaging with the real, human support.
Don't expect elaborate articles on how to grow your site, get more traffic, and what WordPress plugins are best though. In my experience, that is often only done by WordPress-focused providers such as Kinsta.
Hostinger's Pricing: Good
Compared to Managed WordPress providers, Hostinger is inexpensive. In the same category, some parties such as DreamPress and AccuWebHosting have slightly lower entry prices.
Pricing Plans
Hostinger has 4 main WordPress hosting plans, which are basically WordPress-focused alternatives of their regular shared offering and cloud starter package.
Hostinger also offers bigger cloud plans, but I did not test these in the review.
| | | | |
| --- | --- | --- | --- |
| Single ($7,99 monthly) | Starter ($14,99 monthly) | Business ($15,99monthly) | Pro ($29,00 monthly) |
| 1 Website | 100 Websites | 100 Websites | 300 Website |
| 30 GB Storage | 100GB Storage | 200GB Storage | 200GB Storage |
| 1 Email Account | Unlimited Email Accounts | Unlimited Email Accounts | Unlimited Email Accounts |
| 2 Databases | Unlimited Databases | Unlimited Databases | Unlimited Databases |
| – | Google Ads Credit | Google Ads Credit | Google Ads Credit |
| – | WordPress Multisite | WordPress Multisite | WordPress Multisite |
| 1 Core, 256MB RAM | 1 Core, 512MB RAM | 1 Core, 2GB RAM | 2 Core, 3GB RAM |
| 200000 Inodes | 400000 Inodes | 600000 Inodes | 2000000 Inodes |
Hostinger is significantly cheaper if you buy a 3-year contract instead of a monthly one (up to 80%). However, I always benchmark monthly prices and don't incorporate initial discounts. The thing you need to be aware of is that once you renew at shared hosting providers such as Hostinger, they are usually much more expensive. Please note prices indicated here are monthly prices. If you commit for the long term, prices can be up to 80% lower.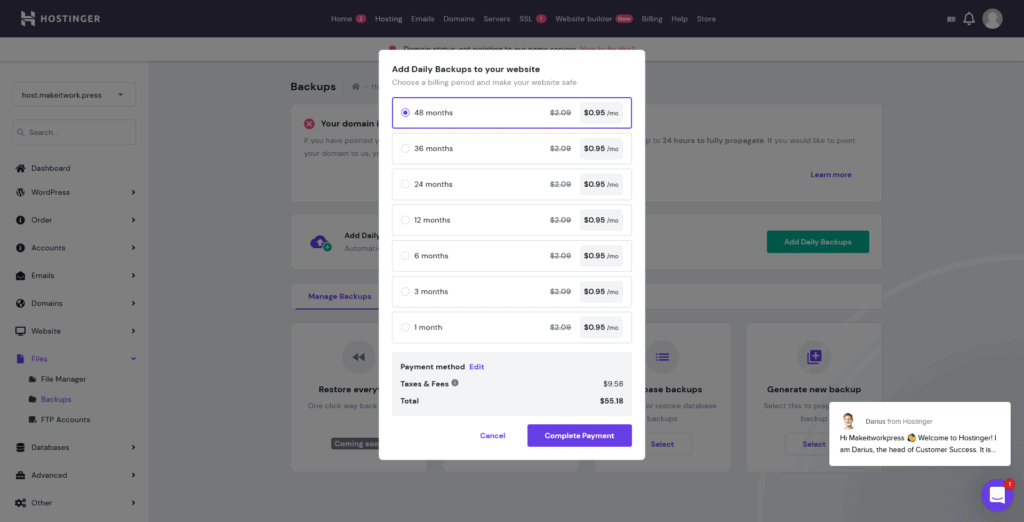 Also, all of the packages have limits on how many cores, ram, inodes, active processes you have, and how large your databases can be. This basically indicates that you can have many websites (up to 300), but will likely hit a limit sooner or later, as I explained earlier under features. You can find more information on these limits on the Hostinger WordPress pricing page.
The best Hostinger Alternatives
In my opinion, these are the five best Hostinger alternatives:
As I will continue my journey in testing hosting companies, this list will update with some new interesting companies. While Hostinger excels in usability and I also like the support quality, a couple of other companies have faster servers and are somewhat less expensive.
Concluding the Hostinger WordPress Hosting Review
I really liked testing Hostinger and writing this Hostinger Review, and it was an interesting journey. And I hope you liked reading this review and that it helped you to make an informed decision. The key takeaways:
Hostinger is offering everything you need for hosting a website, including email and domain registration although advanced users may be hungry for more features.
Their performance, especially for cached sites, is not so good. In other words, your website won't load fast if you have many visitors.
Their platform looks beautiful and is in general easy to use. This makes them really stand out compared to other platforms.
Support is friendly and knowledgeable, although it takes some time before they answer.
They are not expensive, although some competitors are slightly cheaper.
If Hostinger can improve their cached performance and a couple of features such as staging and improve their support reaction time, they are seriously good (and even among the best ones I tested so far, at the time of writing). Until then, why not give them a try?
Do you like Hostinger? Consider it for your website. Sign up for Hostinger here and get up to 80% off.