You may be familiar with Google Analytics, and even use it for your own websites or digital applications. But did you know there are some great alternatives for Google Analytics? In this post, you'll find the best Google Analytics alternatives.
As technology is advancing rapidly, so is the need (or hunger) for data and the associated privacy concerns, in which web and app analytics play a big part. Google Analytics is still the most widely used suite of analytics, but is it for good reason? And why should you make the switch to parties that do value your privacy?
If you're not familiar with Google Analytics: it is a package for analytics. You can track things such as which pages are visited most, the duration of these visits, and a lot of other things. It helps website (and app) owners to improve their websites. And other companies to make more money.
Why stop using Google Analytics?
There are some good reasons to stop using Google Analytics. Let's look into a few.
It is free, but comes with a cost (privacy)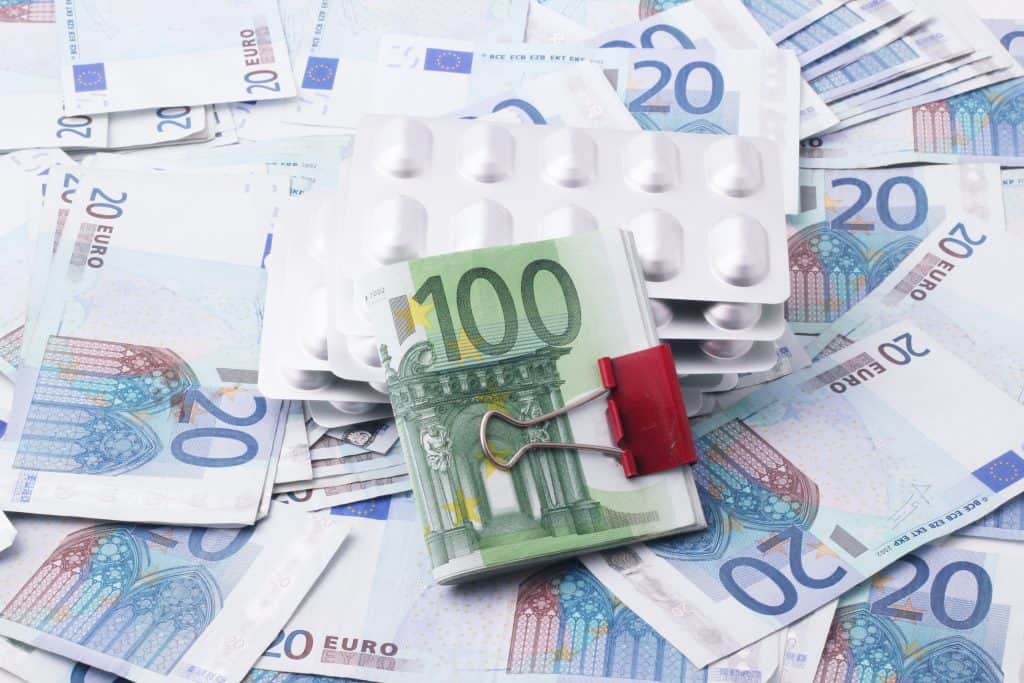 The major reason that people use Google Analytics is that is widely used and promoted. And it is widely used because it is free. Gratis.
That's at least what you think.
Okay, you don't need to pay money for using Google Analytics. But you pay with another currency, called data (and in this age, data is gold).
Yep, all the data that is analysed in Google Analytics is also stored at Google. And Google can use all this data to create highly-personalized profiles and serve their advertisements better.
Making Google Analytics was a smart move of Google. Millions of webmasters use it, and Google now has an enormous amount of website and app usage data at its disposal.
In short, you using Google Analytics helps them make more money, more efficiently. Besides that, they get to know a lot more about you (and anyone else visiting a website that uses Google Analytics).
You probably need 10% of it's features

I don't know if you have ever used Google Analytics (probably you have), but it can do a lot.
So much, that its interface and functionalities are overwhelming, complex. And so complex that you even can take courses on understanding and using Google Analytics (as I did, oh boy, it was boring!).
In many cases, you don't need all the functionalities that Google Analytics offers, and thus you don't need such a complex interface.
It may not be compliant with privacy laws
Using Google Analytics in the EU may be illegal. Yep, you heard it right.
The NOYB (slang for none of your business) is a European Center for Digital Rights that helps to enforce the privacy ruling (GDPR) that came into account in May 2018 for all countries in the European Union.
As a consequence of one of their cases, the Austrian Data Protection Authority has decided that the use of Google Analytics violates the GDPR (this ruling is named Scherms II). In fact, Google Analytics transfers personal data to the United States without any explicit consent given and this is now illegal.
In the light of this, the French Privacy regulators also declared the use of Google Analytics non-compliant.
Now it is not clear what the consequences are for any country in Europe, but you can see a trend emerging. The usage of services (that transfer personal data) to the United States seems to be non-compliant with the GDPR. As of these legal developments, businesses need to look for good alternatives.
So, if you are not a resident of the EU, it may not bother you. But your data is still being gathered and used.
Don't feed the beast at the top
I have to warn you, this last argument is somewhat opinionated but still valid nonetheless. In the past years, digital transformation has boomed, at a profit for many of the Big Tech companies (Google, Amazon, Facebook, Apple and Microsoft).
While small businesses struggle, the giants extended their power. While these companies are known for bringing world-changing products and innovations, they have largely extended their power even influencing nations and populations. I'm not saying their products are bad, or they are bad companies, but being large has consequences especially if you have access to a lot of data.
Some even indicate the hunger for data and growth associated with Big tech in two words: Surveillance Capitalism. The decision is simple. Will you support local or smaller providers in building their products and bringing new innovations? Or do you want to feed gigantic companies that swallow any innovative company that comes their way?
The best Google Analytics Alternatives
Here's a list for you so you can jump to the ones that sound promising:
In this video, I will also discuss some of these platforms:
Service Models
Most of these platforms act as a service. This means that you need to sign-up for them and manage your analytics from their dashboards.
Matomo, Plausible and 66Analytics can also be self-hosted (this requires developer experience). WP Statistics is a WordPress plugin that can be easily installed on any WordPress website.
But without further ado, let's discuss the best Google Analytics alternatives!
1. Matomo
Matomo is an open-source Google Analytics alternative with a lot of features (closely resembling Google Analytics). It starts at €19 per month for 100.000 page views, or you can install the software on your own server or WordPress website if you are a bit handy.
It has support for:
Real time visitors
Extensive visitors statistics, Bounce Rates and Behaviour
Acquisition statistics, such as channels and keywords
Heatmap and A/B Tests
Goals, Events Funnels
GDPR Compliancy
Integrations for WordPress, through the Matomo WordPress plugin.
With Matomo, you own your data, and Matomo doesn't. Matomo is also based in Europe, which is also a big plus for the privacy criteria. It is also possible to set up Matomo in such a way that it is GDPR compliant.
In my opinion, Matomo is the best option if you want almost as many features as Google Analytics, but better control over who owns the data. It also has a stand-alone WordPress plugin, which makes installing very easy. Just install it as a plugin on a WordPress website, and it will run. Great!
The downside is that the Matomo script that you need to place on any website tracked is quite large, and not really lightweight. Also, by default Matomo uses cookies to track users.
2. Fathom
Fathom is a good-looking and simply analytics suite with a focus on speed and privacy. Fathom features:
Page statistics, such as most viewed content, views and referrers
Visitor statistics, such as devices, browsers, countries
Events, such as download or sign-ups
UTMs to track campaigns and sources
An uptime monitor that notifies you if a site goes down
A WordPress plugin for easy integration, and support for other platfirns
Data is retained for an unlimited time
Fathom ignores ad blockers, but anomyzes logs
EU Isolation, where your data is kept in the EU, making Fathom compliant with the GDPR
Fathom is very simple in its use. It may be too minimal in features for some, but if you just need clear statistics, it is amazing.
3. GoSquared Web Analytics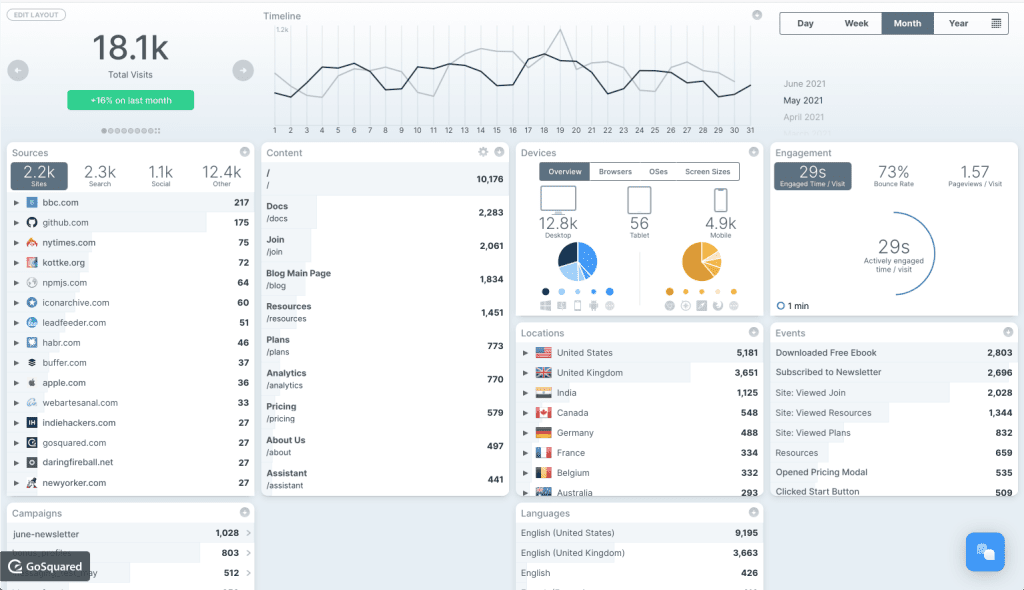 GoSquared is a British company that offers simple, but affordable website analytics, starting at £9/month for 3 websites. GoSquared Web Analytics offers:
Real time metrics
Smart predictions, smart bounce rates and comparisons
Top content, bounce rates, event metrics and device usage
An API to extend GoSquared to your own tools
GDPR Compliance, not collecting any personal information
Integrations with many platforms such as Twitter, Slack, and obviously, WordPress.
The best aspect of GoSquared is that it has real-time statistics and integrates well with some other platforms, but GoSquared does use cookies to track visitors.
4. Plausible
Plausible is a lightweight and simple analytics suite focused on privacy and speed.
Plausible collects current visitors, unique visitors, pageviews, bounce rate and visit duration
Plausible is open-source and you own your data
It doesn't collect any personal information
It doesn't set cookies
Plausible can also be self-hosted at your own server, providing your server supports Docker.
One of the major advantages of Plausible is the fact that the script is just under 1kb, having no impact on your sites speed (contrary to Google Analytics). The script is as small as the number of features, which may be more than enough for your use case.
5. Simple Analytics
Simply analytics offers, well, simple analytics starting at €19 per month for 100.000 page views and unlimited websites.
Simply analytics doesn't use cookies nor does it collect any personal data, so you don't need to use cookie banners and it's compliant with all major privacy regulations.
Simply Analytics only tracks a couple of metrics, such as page views, referrers and browsers. You won't find metrics such as bounce rate, although it supports events.
It also can send you e-mail reports. If that's enough for you, it is a great package.
6. 66Analytics (self-hosted)
66Analytics is another great Google Analytics Alternative. It's an analytics package that is purely self-hosted and available for $79, which includes 6 months of support.
It's focused on privacy, ease of use and you own all data (since it is self-hosted).
66analytics features:
Top pages, countries, referrers and UTM support
Goals tracking
Visitor country, browser and session insights
Heatmaps and session replays
GDPR, CCPA and PECR compliance
A lightweight tracking script
No cookies are used nor IP-addresses are collected
An administration panel for user and site management
For $549, you will get an extensive system with payment gateways, invoices, customers that can be used to set up your own analytics service. Similar to the others mentioned here.
I think this is a great package for a great price. The one caveat is that you need the technical know-how to install 66Analytics yourself.
7. Cloudflare Web Analytics
Cloudflare Web Analytics is a privacy-first product from the American company Cloudflare. It doesn't fingerprint users using their IP address nor uses any cookies.
It offers insights into:
Top visited pages, countries and status codes
Referrers, page views and page load times
The Core Web Vitals, or the loading speed of your website
Cloudflare analytics look great, but some argue they don't filter out any bots or traffic that is not legitimate – giving a very different picture of your analytics.
The basic version of the analytics is available for free (with a maximum of 7 days of data retention), while the more advanced web traffic analytics are available at the pro plan ($20 per month). Cloudflare Web Analytics also integrates well with the other offerings of Cloudflare.
8. WP Statistics (WordPress Plugin)
WP Statistics is statistics right into your WordPress Dashboard. Next to Mamoto, it is one of the most extensive statistic plugins for WordPress and it is hugely popular (with over 600.000 installs).
It lists visitor countries, browsers, page views, referrals, keywords and search phrases, top pages
It is compliant with the GDPR
It doesn't use cookies and anonymizes visitor IPS
It also has a premium offering for real-time stats, access to statistics using the REST-API and advanced e-mail reports ($280 a year for unlimited sites)
If you are not using WordPress, you can't use WP Statistics.
9. Dreamdata
Dreamdata's Digital Analytics alternative to Google Analytics specifically focused on business to businesses (B2B). It comes with a free and paid plan. It does not only do web analytics but also incorporates cost reporting, account tracking and much more.
This free tool tracks and measures engagement at the account level, allowing you to run B2B-specific reports and find your best-performing business segments. It is suitable for websites with up to 35000 visits a month.
Digital Analytics also collects your spending data from across all your ad networks in one place. And of course, all data handling is privacy-compliant by design. Best of all, you can set custom sales pipeline stages to measure the impact of conversions on real business goals. 
With Dreamdata's paid plans you can connect all your go-to-market tools to see what's really driving your B2B revenue. In my opinion, this is a very interesting package if you are a B2B business.
The Best Google Analytics Alternatives come at a price
Since these best Google Analytics Alternatives are not using their data, they need another business model to finance their operations.
In other words, they need to ask for a price for what they are offering. And this is what they ask:
| Package | Price | Model |
| --- | --- | --- |
| Matomo | 0-€19/month | Service and Self-Hosted |
| Fathom | €19/month for 100.000 views | Service |
| GoSquared | £9/month for 100.000 views | Service |
| Plausible | 0-€19/month | Service and Self-Hosted |
| MixPanel | 0 for 100.000 tracked users | Service |
| Simple Analytics | €19/month for 100.000 views | Service |
| 66analytics | $79 one time | Self-hosted |
| Cloudflare Web Analytics | Free / $20 a month per site | Service |
| Dreamdata | Free up to $999 a month | Service |
As you can see, they are keeping a close eye on each other which very similar prices.
Conclusion: Bye Bye Google Analytics?
Google Analytics is still a very powerful package, but it comes at a privacy, legal and ethical cost. In this article, I explored the best Google Analytics alternatives. In short, if you want:
In the upcoming months, I am going to test a couple of the above and update my findings here. The best package will be incorporated into my hosting & maintenance service.
And what do you think? Time to move to a better Google Analytics?