So, I can imagine this title may surprise you. Mostly, I keep my writing for all of the hosting providers I test to a single review only and this title may sound like an advert to you. Rocket.net is an exception.
I can't help it. I'm just mind blown about this new provider, Recently, I came across this WordPress hosting provider that seriously needs more attention. It's a little gem among a vast amount of providers and does very well for the price they are offering. It's actually one of the best WordPress hosting providers so far.
That's why I decided to have another article about them and interview the founders.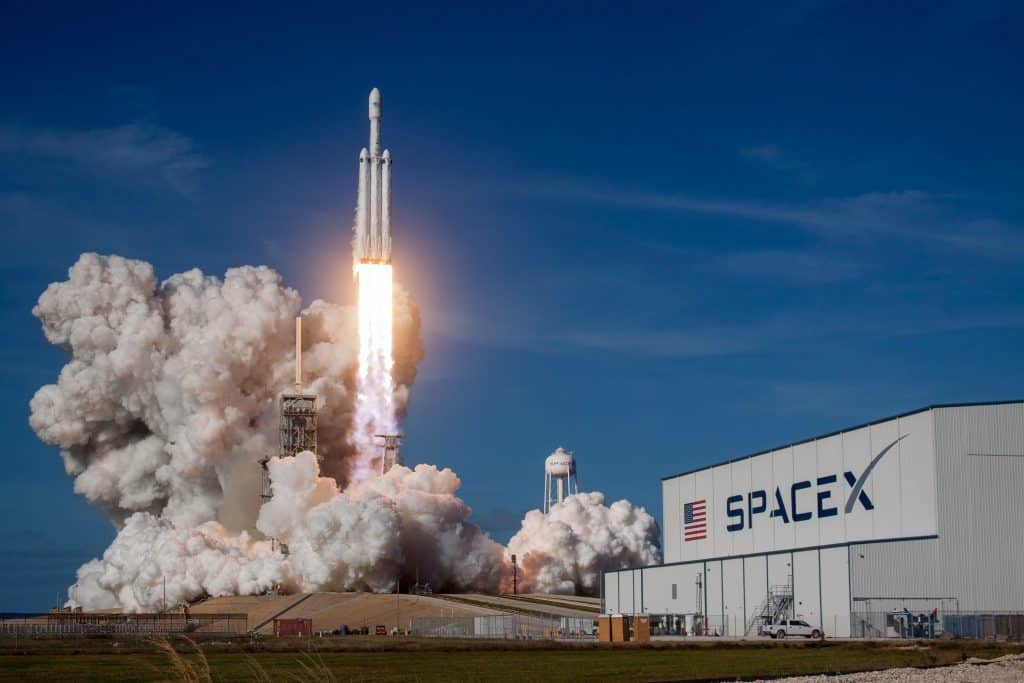 The Rocket.net Interview
I sat together with Aaron and the other founders of Rocket.net. They are veterans in the hosting industry, having worked at GoDaddy and cPanel. The questions I asked are specifically aimed at their platform and the WordPress hosting space.
But first, what is Rocket.net?
What is Rocket.net?
Rocket.net is actually a hosting provider for WordPress, providing managed WordPress hosting. Managed WordPress hosting is a specific branch of WordPress hosting that takes care of all optimizations, technicalities and performance so that customers can focus on building great websites. It usually comes with great support too.
Rocket.net is unique since it caches the majority of a WordPress website on a CDN. A lot of technical wording, but basically means it makes your site faster. A CDN is a technique to serve (parts) of your website from a server located as close as possible to your website visitors.
Besides, they incorporate microcaching and tightly integrate with WooCommerce, the plugin to run webshops on WordPress, so that even webshops run fast.
At last, Rocket.net focus on simplicity of use and security (proving a hack-free guarantee). They have a simple control panel with as little configurations as needed, and no thousand of setting icons and complex configurations you mostly never need to think about. In other words, your mom should be able to work with it.
At the time of writing, you can try Rocket.net out for just $1 for the first month.
As soon as performance, SEO and visitors are growing, in other words, once you become a serious WordPress user, it makes sense to use Rocket.net.
Let's get to the actual interview
But without further ado, let's kick of the interview:
The WordPress hosting space is a crowded one with many good players. What made you start a new hosting business?
"It was all Ben's idea and in early 2020, he called to TELL me we were launching a Managed WordPress hosting company and test his problem theory with the world. His theory (after working for a CDN company for 2+ years) was this:
Massive amounts of WordPress users are attempting to utilize CDNs to improve performance, but many do not cross the finish line as things get complicated. To test this problem theory we MVP'ed Rocket.net through a partnership with Cloudflare to allow WordPress users the ability to use advanced CDN, WAF feature with ZERO configuration".
Speaking about the density of the market, there are of course many other players I could opt for. Why should we choose for Rocket.net, instead of for example Kinsta?
Where Rocket.net stands out is our ability to scale content and not PHP. Starting with servers located in Edge Data Centers (the same locations as CloudFlare) and our full page caching, we can deliver incredible speed with minimal effort.
And by scale, let me give you an example. Over the 2020 Election, we hosted a media website that clocked in 1M unique visitors, every 15 minutes. In traditional cloud or static CDN configurations, this would have crushed the hosting infrastructure, incurred insane bandwidth usage & required consistent upgrades of PHP workers to keep up with the load. When running on the Rocket.net platform, this website served almost 98% of its traffic from the CDN and had very little impact on the server resources.
Rocket.net was built as an all-in-one platform. Beside additional bandwidth, we do not have upsell or add-ons with our service. Cloudflare Enterprise and all of its features are on by default with every WordPress installs, which with WAF & Full Page caching normally costs $200/per month.
I did some testing with your platform and so far, it was one of the fastest platforms I've been testing so far. Are you willing to lift the veil, and tell us what makes Rocket.net so fast?
There is no one single secret that makes us so fast, rather a diligent attention to detail that includes the right hardware, Edge Data Centers, the right web server configuration, and Ben's infinite knowledge on CDN technologies that harnesses these things into a single platform and made available to anyone able to make a simple DNS change!
One of the other aspects I find unique was the way the caching and CDN is integrated, making Rocket.net a fast platform anywhere in the world. How is this different from other players, and why would anyone need a fast global website?
We think of full page caching as a vital player in the Rocket.net ecosystem & it's one of thing that our founder saw during his tenure as Chief Product Officer at Stackpath, is that loads of WordPress users were using CDNs, but not such features as full-page caching, which has huge performance benefits.
Having a fast global website helps with SEO Rankings, improved user experience, and most importantly increasing conversion. Bounce rate is everyone's enemy and the quicker you deliver content, the more likely website visitors stick around and check you.
On your website, you are talking about the Global Edge network as one of the unique features of Rocket.net. Can you explain what it is and why it gives a difference?
Our Edge Data Centers (where the WordPress origin servers are housed) are all located directly in Internet Exchanges. Internet Exchange is where all the major internet providers are located and have various meetup points around the globe.
Rocket.net's WordPress infrastructure resides inside 20 Internet Exchanges. Cloudflare in every one of our locations, usually only 200 feet from your WordPress install, making the transfer of your data to their CDN blazing fast.
You're also talking about Google Font Optimization, something I haven't seen at other hosting providers. What is it and how does it help in performance?
This is just one of many tweaks that we have & how it works, is our platform detects if you are using Google Fonts, and they make sure they are cached on the CDN, so that when your page loads, it doesn't have to make a call back to the origin server. Just one of hundreds of optimizations that are included, on by default, and they help reduce load times.
To close it off, if there is one tip you'd give to any serious WordPress professional, what would it be?
Have a purposeful life.
Work with people you love.
Build things you are proud of.
Take a day off.
And that's the interview! Aaron, it was glad that I could have interviewed you and I wish you much luck with the growth of the platform!
My site before and after moving to Rocket.net
So, as it's clear from the interview, Rocket.net excels in global performance. Their single unique point: tight integration with a so-called CDN, without the hassle. But what does that mean? Let's dive into a use case from the real world.
I used to host a couple of my websites with GridPane, a control panel for WordPress in combination with a server from Hetzner. This is already a very fast set-up. So how did performance improve?
I did a simple test with the Sucuri Load Time tester, which will test simple loading speed for various locations around the world.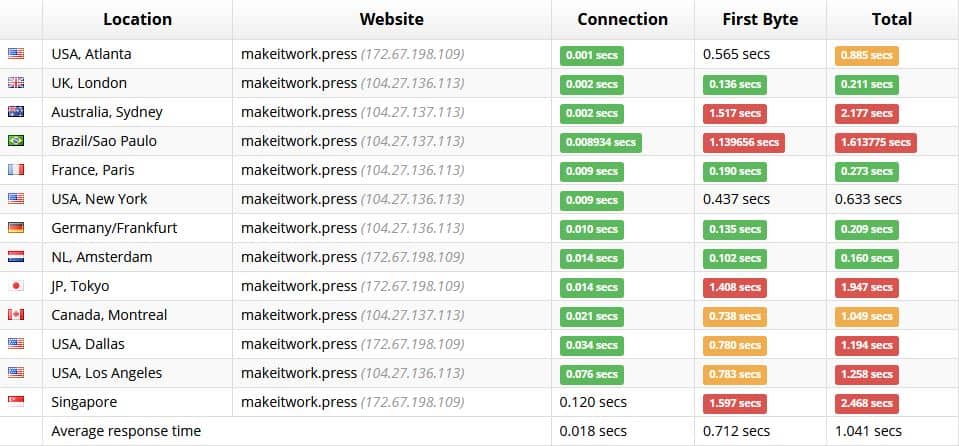 As you can see, the load times for locations close to my server where already really great, namely in the 0.160-0.273 seconds range. However, the average loading time wasn't, with 1.041 seconds.
Head the way for Rocket.net, baby!
And this is where we go with Rocket.net! From an average loading time of 1.041 seconds, my site went down to an average global loading time of 0.295 seconds, which is almost 75% lower.
The only downside is that a few locations loaded slightly slower. So, Rocket.net, is really, really useful if you run websites with visitors all over the world.
If you're particularly into numbers, you mayalso want to know the following. In one of the load tests I did with Rocket.net, it could handle up to 3600 simultaneous users with reasonable load times. That's almost twice at what Kinsta could. You'll be able to read more about this in the full review, referred below.
The full Rocket.net Review
Now performance is not the only advantage, as Rocket.net also excels in usability and support. I talk about that in great lengths in my full review. You can read the full Rocket.net review or get Rocket.net here:
Is Rocket.net perfect then? Of course, it isn't but it comes close! As a professional, I miss some easy tools for managing databases, performance monitoring and changing and adding additional domains to any website.
Sometimes, you can feel it's still pretty new. But these are just minor drawbacks, as it is pretty awesome too. You'll surely love them, so don't wait to test them out!