One of the perks of reviewing WordPress hosting is that you have many opportunities to try out new hosting parties. For this Rocket.net review, it's similar.
And there is one, I must already announce, freaking amazing new provider called Rocket.net. In this review, I'll explain why they are awesome and why they may be the new managed hosting provider. With an emphasis on 'the'.
Rocket.net is extremely fast WordPress hosting with a focus on global delivery and edge cloud – a fast website anywhere in the world. Sign up for this amazing provider here.
For those new to hosting: hosting is basically renting a space on the internet so you can have a website. There are many flavours of hosting, and WordPress hosting is aimed at… hosting WordPress (duh!). Within WordPress hosting, there are roughly three categories:
Managed WordPress Hosting (expensive, but with good service).
Shared WordPress Hosting (cheap, but often worse service).
WordPress Control Panels (DIY-hosting for techies).
But that's enough for the introduction! As you may know from my previous reviews or videos, I'm on the quest to find the best hosting company for WordPress (I have created a complete list of WordPress hosting reviews, where it's easy to compare them, and a guide of the best WordPress hosting). Will Rocket.net be among the best? Let's find out!
TL;DR
If you're too lazy to read, here's the catch:
Rocket.net is, at the time of writing, the best performing of all companies in terms of performance.
Compared to other hosts, they have one unique point: fast-responding servers with an enterprise CDN based on Cloudflare.
Rocket.net is very easy to use, with a focus on simplicity. No more hassling with complex caching plugins, everything just works.
In short, Rocket.net offers incredible speed, knowledgeable support and great usability for a better price as their direct competitors.
Advanced users may miss some features and there are a couple of rough edges, caused by the novelty of the service.
ps. I also interviewed the founders of Rocket.net. You can read the interview and some of my remarks here.
The Rocket.net Review Procedure:
For each review, I look to the exact same aspects and try to set an objective standard. The following five factors are taken into account for this Rocket.net review:
I had the privilege to test the Agency Plan of rocket.net, which amounts to 500.000 monthly visitors, 25 WordPress installs and 50GB of storage. More plans are explained under pricing.
Should I use Rocket.net?
With all questions, the answer is it depends. It depends on your use case, your wishes, your anything. Nevertheless, I believe Rocket.net caters to all three groups of users I distinguish on my site, with an exceptional purpose for Corporates:
Beginners: Rocket.net has a clear interface which helps if you're just beginning out – although you need to link your domain to rocket.net which may be a big step up for some beginners.
Professionals: Rocket.net is attractive for WordPress professionals, as it provides tools such as SSH Access, WP-Cli and staging. Although some professionals may want better tools for deployment, database management and monitoring.
Corporates: Rocket.net is especially interesting for (global) corporates as it combines excellent support (including WordPress optimization services) with great performance and WordPress served over a CDN. Which basically means a website can be fast from anywhere in the world.
Great features (with a few improvements)
Rocket.net is great in terms of features, although advanced users may miss a couple of features and the platform feels a bit new.
The one thing that Rocket.net makes stand out is the power (or speed) of their servers which are located at Internet Exchanges, combined with the way they do caching and content delivery (CDN).
What does Rocket.net offer in general?
So Rocket.net, what's in the juice? Let's taste:
Managed WordPress Hosting with guaranteed resources and performance.
A beautiful simple control panel and site manager
An option to add multiple users for collaboration
Global Edge Network with CDN based on Cloudflare, with data centres in over 20 locations.
24/7 expert support over e-mail, tickets, live chat and phone
Manual optimization of WordPress such as theme optimization and advanced troubleshooting.
Performance optimization through Micro-Caching and Asset Proxies allowing as much content as possible to be delivered locally.
Nice features, but what is a global edge?
Okay, that sounded nice! But what the heck does it all mean? What is Global Edge? Let me clarify a thing or two, as the above may be a bit verbose.
A global edge network means that Rocket.net is using servers that are as close as possible to internet exchanges, places where the internet comes together so to say. Basically, this means a website can load faster.
A CDN is a content delivery network. A content delivery network will serve (parts of) a website from a location (server) closer to a visitor.
Caching is a technique to improve the speed of a website by reducing the number of dynamic requests or calculations a server has to make. Rocket.net combines this tightly with their CDN, which results in great performance.
If you're still wondering what this all is, don't hesitate to hit Rocket.net's support. They are more than willing to explain anything, by all means. But only if it's related to WordPress hosting of course. They don't share cabbage recipes for example (who likes cabbage anyway?).
Safety first, you name it
Let's get back on track. You don't need to worry about your site safety if it's up to Rocket.net. Being awake at night should be reserved for young parents and party animals :). Nevertheless, these are the safety measures implemented by Rocket.net:
Protection from the 10 most common security vulnerabilities (usually called the OWASP top 10).
Protection for brute force attacks and SQL injection
Prevention of weak passwords
Real-time Malware scanning
Free patching when malware is detected
Isolated resources without root access
Regular server updates
Regular and on-demand Backups
Did I mention (application) firewalls yet?
A hack free guarantee
Implementation of ImmunifyAV, the antivirus for websites.
And at last: 2-factor authentication for the platform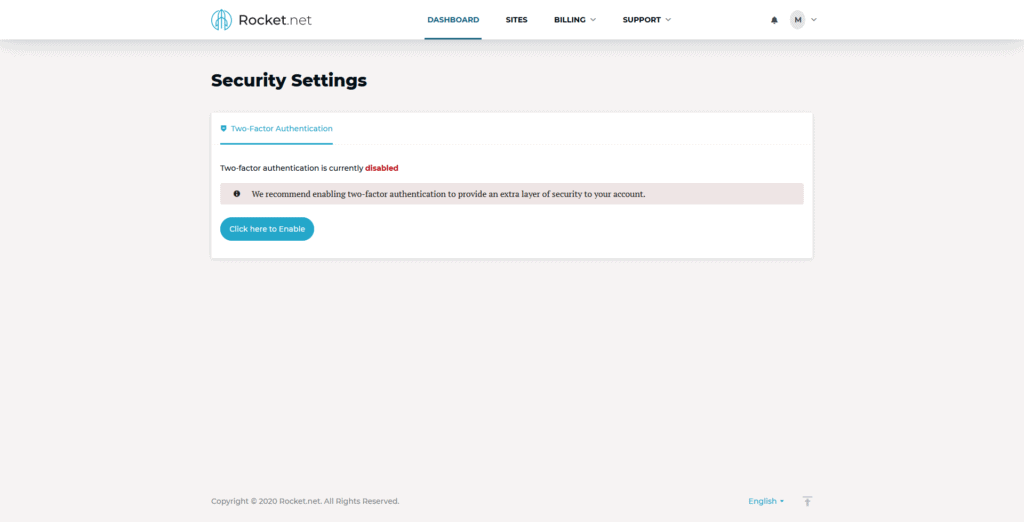 What's in it for professional devs?
As a professional WordPress developer, looking for a new hosting provider, you may want to know the following details:
Optimized stack with NGINX, MariaDB 10.3+ and PHP 7.4.
WP-Cli and git is preinstalled on the servers
It's possible to access servers over SSH
Obviously, staging environments are possible
There is also an interface for managing cronjobs (outside of using the native function of WordPress, which is better).
Things such as caching, WordPress and MySQL are already optimized.
Unfortunately, you can't clone sites yet, although support will do this for you. Furthermore, there is no database manager accessible in the interface. And what if I want to attach multiple domains to a single installation? It's not supported.
While some control panels provide a way to easily integrate GIT deployments, this is not possible with Rocket.net. Also, don't expect an API to be publicly available.
And at last, I did not find some advanced functions such as object caching and things such as Elastic Search preinstalled – something that may be preferred by some developers.
Hosting first, domain second
Rocket.net focuses on hosting, and purely WordPress hosting first. Therefore, you can't buy a domain at rocket.net or have email.
Although the good thing is that a server will send emails coming from forms on your website (called transactional email).
You may be wondering why they don't offer email. Well, this is a good practice done by many other managed WordPress providers too. It means they can focus on delivering the best possible WordPress hosting and leave email hosting to the big boys, such as Microsoft.
Now that we've looked into the features, let's move to the fun part! Well, for the eggheads at least. Performance!
Log me tender. Unfortunately, not.
One of the things that professionals seem to like, or to desire, is the ability to see what is happening under the hood. Many WordPress hosting companies provide the option to see logs, have custom notifications and (advanced) analytics from their control panel. Many also don't.
Unfortunately, logging possibilities are limited. Of course, there are server and application logs that are accessible. But the within the interface there is nothing to see logs, analytics are limited to just visitors and disk space and you can't be notified over email or slack if something goes awry.
The good part – it makes the whole interface more simple. The even better part: we're moving on to performance now!
Rocket.net = Insane Performance
If Kinstas performance was unbelievable, Rocket.net's performance is insane. It's seriously the next level.
I bet it has to do with their infrastructure, as I explained before under features. For those interested, a recap of what drives performance:
NGINX with optimized MariaDB and caching.
Powerful, 256GB Memory servers with a lot of cores on locations close to the global internet, called the Global Edge. Fancy!
An enterprise CDN based on, I believe, CloudFlare, tightly integrated with caching.
Great caching from inside the platform, no caching plugin needed.
Testing Rocket.net's performance: the review procedure
As you may know from my other reviews, I test each hosting provider on the same metrics. That makes it easier to compare, and data is just lovely. Especially if you can draft it in charts, which you will see later in this review.
But what did I test? I first upload a typical bloated WordPress Themeforest theme and set-up a simple WooCommerce shop with a couple of products and images. Then I perform several tests on the homepage:
The maximum number of simultaneous visitors that Rocket.net can handle while the maximum response time is still under 2 seconds.
The loading time from locations as close as possible to the server using Pingdom.
A couple of other tests such as time to first byte (TTFB) at multiple locations in the world, the famous GTMetrix and WebPageTest.org test.
WordPress related benchmarks using the WP Performance Test Plugin.
And at last, the uptime over a two week period.
Each provider is tested with the exact same theme and setup. No further optimized outside what a provider offers is done.
Let's dive into the results, since you currently know how I prepare my cake!
Hosting Performance Test Results for Rocket.net:
And tadaa… these are the results. Fasten your seatbelts!
Maximum simultaneous visitors: 3600
The Agency Plan of Rocket.net can handle up to 3600 simultaneous visitors without breaking a sweat. That means 3600 people visiting your website at the same time while constantly firing requests.
It's an unbelievable high number and some of the highest I've seen in tests so far.
Because of the way caching works with Rocket.net, it was impossible to do load testing for uncached users. Extrapolating test data from similar providers, I expect Rocket.net to be able to handle at least 96 concurrent uncached users.
Average loading time: 0.6s, 0.67s (uncached)
Using Pingdom, the average loading time for Rocket.net was 0.6 seconds for cached pages and 0.67 seconds for uncached pages. It's a bit lower than I would expect, but in my opinion, this test isn't really important.
WordPress Performance Test: 1536 queries/s
The WordPress Performance Test is a benchmark originally developed by Kevin from the famous ReviewSignal website. While it's not always totally accurate, it gives a hint of the actual performance of a server.
Rocket.net is beating them all here, at the time of writing. It's very impressive. In this benchmark, they achieved:
A server score of 6.54 which indicates server operations go fast
A text execution time of 0,651 seconds with 1536 queries per second, which indicate very good database performance (the previous record of 1418 queries per second was held by SpinupWP with a Vultr High Frequency server).
Time to first byte: 38ms
The time to first byte is the time it takes to receive the first response from the server. And 38ms is a very good value.
The most important: global performance
But the real thing is global performance. You know, usually, a server performs best for visitors that are close to a server location. For example, if I have mainly German visitors, I choose a server in Germany.
But what if a company is operating globally with visitors all over the world? Enter Rocket.net!
Let's compare my own site to the testing site using the Sucuri Load Time Tester. Now my own site is not optimized for global delivery – but Rocket.net is out of the box.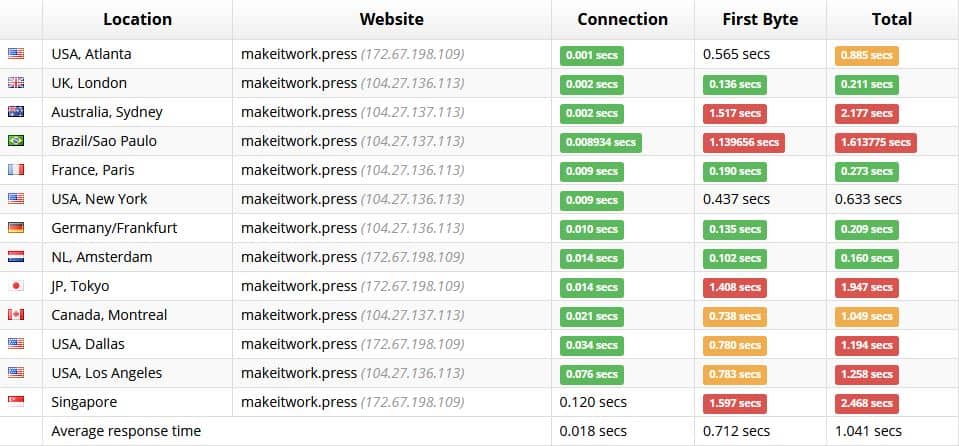 As you can see, the site is doing okay for European locations (the server is in Germany), but outside Europe it's abysmal. Let's see what Rocket.net is doing:
Now the test site, while you can't compare it directly, is still significantly faster globally. And I mean, a lot faster. It's doing great globally.
Ouch! I should optimize my site again, since most visitors are global.
Chart time: how does Rocket.net compare?
You may be wondering how Rocket.net is comparing to other alternatives. For that, I developed a handy chart:
With the above, you can pick any metric and compare the values and see how Rocket.net is holding up. Useful, huh? Let's move on to the next part of this Rocket.net review: usability!
Usability focused on simplicity
The platform is very easy to use and has a good user experience, with great use of colours, steps and feedback messages. I'd argue that simplicity is also one of their major unique selling points.
One of the greatest things is that everything related to hosting just works out of the box, you don't need any plugins for security and performance.
A couple of useful tools such as cloning and a better way of pushing between staging and production would even improve usability.
The dashboard
The dashboard gives an overview of your usage, support tickets and current sites. It just gives the information you need.
Managing WordPress in Rocket.net
On a separate page, you can also view all the sites you're managing. It's a very clear screen.
From the above screen, you can directly login to WordPress or manage your site. You can also install new WordPress sites, which is a delight with Rocket.net.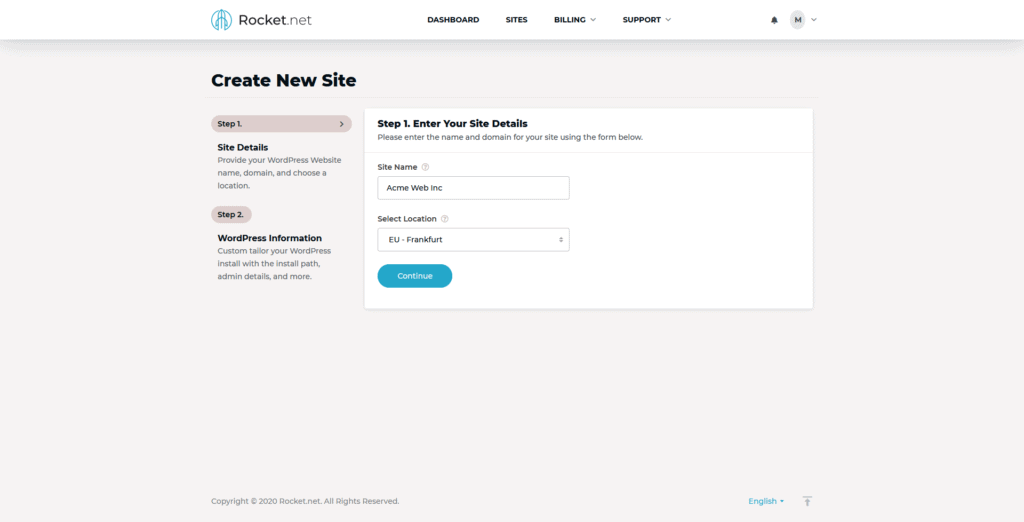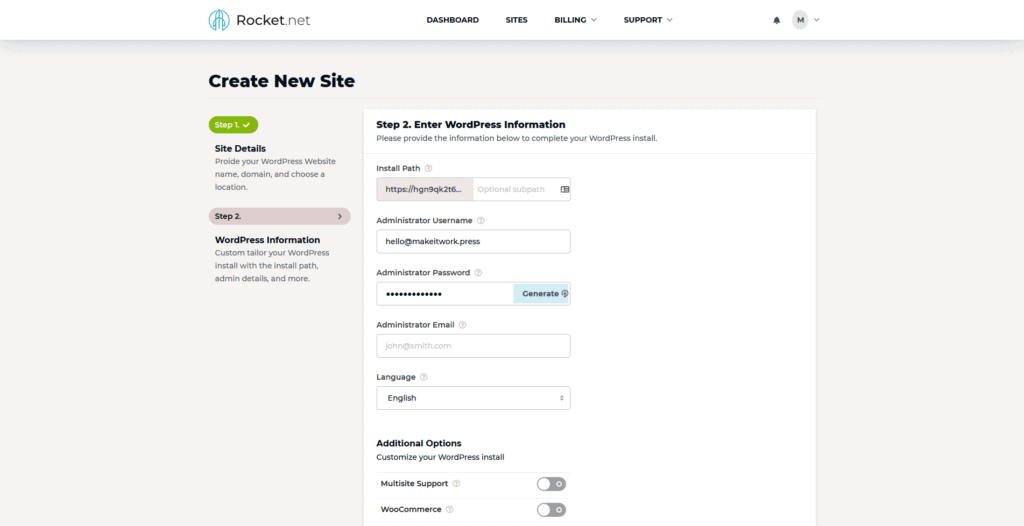 The two step-installer is very clear, as depicted above.
The overview gives the most important site details, some analytics, the domain (changing a domain is hard though!) and a couple of FTP settings.
Updating Plugins and Themes through Rocket.net
An especially useful function is the possibility to see what themes and plugins are installed, and also the possibility to add additional ones.
Furthermore, under the advanced tab is is possible to make themes, plugins and WordPress update automatically. Keeps it safe and sane!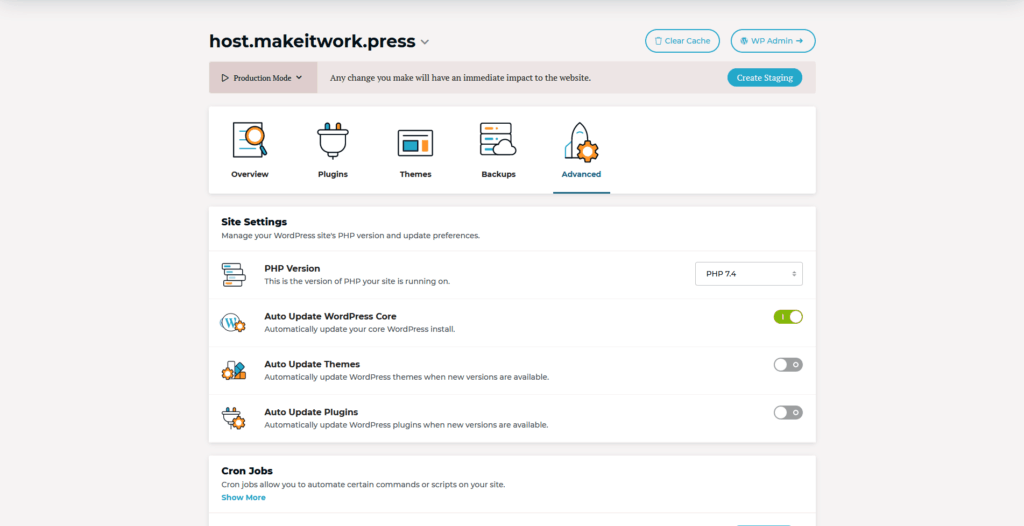 Some other perks: the user manager
Rocket.net has a user manager, which allows to add other users and give them limited access to your account. Access per user can be controlled for for some seemingly random features such as View & Pay invoices and View Products and services, which would probably indicate a client could see his sites.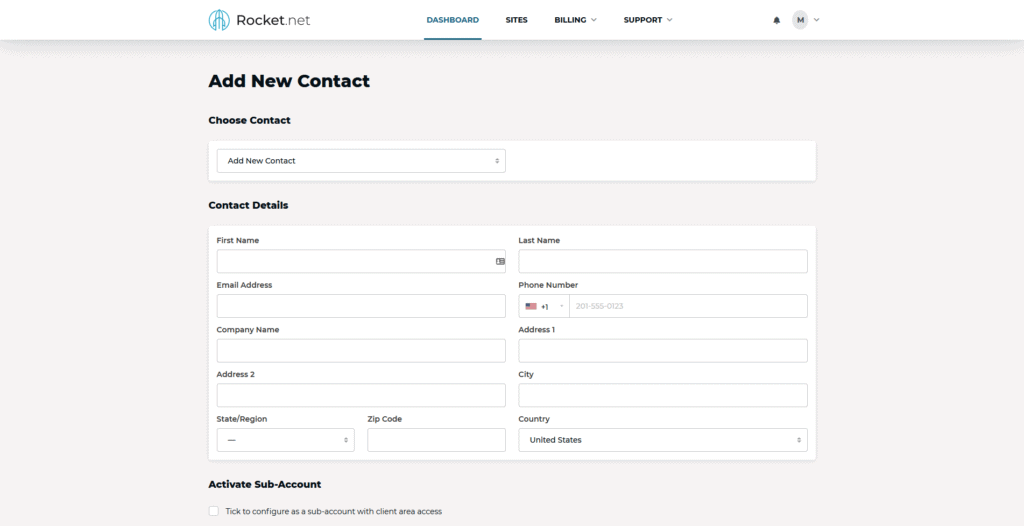 Now this is a great feature, which I think is especially usefully for reselling, but I find the wording a bit confusing. It would be really nice if you could manage per site access.
…and some annoyances
During the usage there were a couple of annoyances which could be improved:
It's not possible to change or add additional domains to one site. This is really annoying if you're changing or updating domains.
You can't easily duplicate a site (support will do it if you ask though).
As mentioned, managing a database is not possible from the interface.
In my browser (FireFox), scheduled backups wouldn't load.
When using a subdomain for your site, instructions are not clear on how to update your DNS.
Expert 24/7 Support? Yes!
Support is excellent, fast and knowledgeable. But I couldn't get live chat to work.
24/7 Live-chat, email, phone.
Rocket.net boasts multiple ways of 24/7 support. I mainly had contact with them over email, as I couldn't get live-chat to work. It just did not load. Maybe I am dumb, but this something that should be working if it's advertised.
Nevertheless, the first reaction was within 42 minutes and subsequent replies were sometimes under 30 minutes.
Moreover, replies were very elaborate, explaining how I could solve things or make things work best. Even some optimization was performed for the give site.
Testing out the support
One of the tests I do is adapting some code in WordPress, resulting in a fatal error. Subsequently, I test support if they can easily resolve this error.
For a seasoned WordPress developer, such errors are very easy to solve. In this case, I hid an encoded string with a hidden message in it: This was the error! Great work.
Not only did Rocket.net remove the error, but they also did decode it finding the original message.
What about the docs?
There is base-level documentation available on how to use their platform, but in my opinion, it didn't get the most attention.
Meaning that all necessary documentation is there, but don't expect useful articles on how to improve and make your WordPress site successful here.
Also, some articles could really be improved by using either pictures or video.
Pricing: a bit high but very competitive
As I'm honest in this Rocket.net review, I must admit it is expensive. You probably think, what the heck, 50GB of disk space for $200 a month? What about these other companies offering multitudes of that? But I have to place a note to that.
Given the performance they deliver and their awesome CDN, they are very competitively priced. For the bigger plans, they are at least 33% cheaper than their direct competitors such as Kinsta and WP Engine because they are not utilizing Google Cloud which is generally expensive. However, they provide a similar or even better service.
They also include features that are normally offered by Cloudflare Enterprise within their plans, something that normally costs up to $200 per site per month. And that follows their perspective of not doing upselling through add-ons but offering the best possible from even the lowest plans.
Pricing Plans
At the time of writing this Rocket.net review, the managed WordPress hosting provider has official 4 pricing plans. The main discriminator is disk space and visits.
| | | | |
| --- | --- | --- | --- |
| Plan & Monthly Price | Installs | Visits | Disk Space |
| Starter ($30) | 1 | 250000 | 10GB |
| Pro ($60) | 3 | 100000 | 20GB |
| Business ($100) | 10 | 250000 | 40GB |
| Agency ($200) | 25 | 500000 | 50GB |
Rocket.net your wallet!
Prices above are monthly. Annual payments get a discount of roughly 17%.
And are you liking Rocket.net so far? You can sign up for Rocket.net here.
Compared to some other hosting providers, they don't offer any expensive add-ons (yet).
Reselling WordPress Hosting with Rocket.net
There is one interesting option that I forget to mention, and that is how easy is to start a hosting business with Rocket.net
If you are a WordPress agency, Rocket.net offers some interesting options for reselling including custom invoices, payment gateways, packages and order forms.
Alternatives to Rocket.net
So, a Rocket.net review is nice, but what about the competition? There is some tough competition going on in the Managed WordPress hosting space. These are a couple of alternatives:
If you are technical-minded and want more control over your server, but still want a managed service, consider Cloudways. In all other cases, I believe Rocket.net is the way to go.
Rocket.net Review Conclusion: this is the next thing. To the moon and beyond!
To be honest, I am always a bit sceptical with new hosting companies mailing me for reviews promising a new unique selling point.
But after encountering Rocket.net, I am very positively surprised. From the hosting providers I tested, they are one of the best so far in terms of (global) performance. What I also did like is how simple their platform is, similar to the simplicity of DreamPress.
At last, I was surprised by how much detail support took in answer my questions and solve my problems.
Doesn't Rocket.net have any drawbacks then? Of course, they are not perfect either. What I did experience is that their platform feels very young and has a couple of annoyances in user experience. I missed some tools such as cloning websites, a database manager and better support for notifications and logging.
But these are problems that in my view can easily be resolved. If they do, they are one of the hottest newcomers in town. Kinsta, by many deemed the king of WordPress hosting, beware!