Yay! I am glad to review one of the most popular WordPress hosting companies out there, called Kinsta. Kinsta is premium WordPress hosting provider. They offer various plans, starting from $30 dollar to a whopping $1650 dollar monthly fee for very large plans.
If you're not familiar with hosting, let me explain some of the basic terms. Hosting basically equals renting a space on the internet to run a website on. Actually, you're renting a small part of a computer, connected to the internet. And this computer is able to run websites. There are many kinds of hosting, such as shared hosting, cloud hosting and virtual private servers.
In short: Kinsta's Managed WordPress Hosting is on steroids, powered by Google Cloud Platform's premium tier network, C2 virtual machines, and enterprise-level Cloudflare integration! You can sign-up for Kinsta here.
Kinsta is basically a cloud provider with Application, Database, and WordPress hosting. They have specialized in WordPress for over 10 years now and have introduced new hosting options to provide even more flexibility to their clients. On top of that, they built their hosting platform. In this Kinsta review (we'll be focusing on the WordPress offering of Kinsta), you'll discover this actually results in a great performance.
ps. Do you know these reviews started out of my own quest to find the best WordPress hosting? I did not find the information I needed in many reviews, and that's why I started to do some serious research! But without further ado, let's start the review!
TL;DR
Kinsta is nailing it. It is one of the best WordPress hosting companies out there offering great features, support and performance. But it is also, ahem, expensive!
If you want better performance for a lower price, albeit slightly fewer features, consider Rocket.net!
If you don't bother support quality, Cloudways is a cheap and good alternative.
Do you want to try Kinsta for free? Kinsta offers a 30 money back guarantee! Sign-up for My Kinsta here.
About this Kinsta Review
In this review, I look to the following aspects, which I deem important for good WordPress hosting. These are:
In this review, I tested their Business 1 plan. So, is Kinsta among the best WordPress hosting providers? I do think so, and I will explain it in detail in this review.
Kinsta plans
Kinsta has the following plans:
| | | | | |
| --- | --- | --- | --- | --- |
| Plan & Monthly Price | Installs | Visits | Disk Space | CDN |
| Starter ($35) | 1 | 25,000 | 10GB | 100GB |
| Pro ($70) | 2 | 50,000 | 20GB | 200GB |
| Business 1 ($115) | 5 | 100,000 | 30GB | 400GB |
| Business 2 ($225) | 10 | 250,000 | 40GB | 600GB |
| Business 3 ($340) | 20 | 400,000 | 50GB | 800GB |
| Business 4 ($450) | 40 | 600,000 | 60GB | 1200GB |
| Enterprise 1 ($675) | 60 | 1,000,000 | 100GB | 2000GB |
| Enterprise 2 ($1000) | 80 | 1,500,000 | 150GB | 3000GB |
| Enterprise 3 ($1350) | 120 | 2,000,000 | 200GB | 4000GB |
| Enterprise 4 ($1650) | 150 | 3,000,000 | 250GB | 6000GB |
Kinsta Pricing Plans
For whom is Kinsta?
Kinsta is a cloud platform, that besides app and database hosting, offers managed WordPress hosting. Having said that, Kinsta actually aims at everyone and I think that is true:
Kinsta is useful for developers with its array of developer features.
Kinsta is great for corporates as it delivers stellar performance and stability.
Kinsta is user–friendly and great in support, thereby also suitable for beginners. Though it may be on the expensive side for low-traffic sites.
But with no further ado – let's continue with this Kinsta hosting review!
Exactly the right features
To summarize this section: Kinsta offers exactly the right amount of features you'll need. Whether you are a seasoned WordPress developer or a beginner, Kinsta offers it all. On a more advanced level, there a couple of features either missing or quite expensive.
General features
The package we tested covered up to 5 WordPress installs, 100.000 visits and 30GB of disk space. What else can you expect from Kinsta?
An infrastructure running on Google Cloud Platform Preimum Tier Network and C2 machines
Back-ups (up to hourly)
Free unlimited site migrations from any host
Data centres in 35places on five continents
Uptime checks every 2 minutes
A great dashboard and collection of (site) management tools
A site manager for adding sites easily
A very detailed analytics panel
A user manager for collaboration
WordPress support by WordPress experts
Websites scale automatically, capable of handling traffic spikes
Activity log for actions performed on Kinsta
CDN with 275+ PoPs included in each plan
Enterprise-level Cloudflare integration included in all plans
Free APM tool
Free SSL certificates with wildcard support
Edge caching and early hints web standard
The most outstanding fact is how easy it to use all these tools. As you may see in the video and screenshots, the manager of Kinsta is beautifully designed. Definitely light-years ahead of cPanel!
Developer features
In this Kinsta review, I obviously can't skip developers features. Kinsta offers most of the required features that developers need:
An architecture built for speed (using NGINX, LXD, PHP8+ and MariaDB)
WP-CLI for WordPress administration on the command line
SSH access to servers
Git pre-installed on every application
Staging areas for development
Easily cloning WordPress websites
phpMyAdmin access
Performance analytics
Redirect manager
Detailed application logs
Possibility for application monitoring with New Relic
Automatic optimization of MySQL
Self-healing PHP
And recently: Application Performance Monitoring
Application hosting
Database hosting
What I still miss is the possibility to select what to push and pull in staging environments, such as selecting certain tables. Also, an interface for setting up automatic git deployments would be a great add-on. These are all features that have been developed now, which is a clear indication Kinsta listens to its customers.
Subsequently, Kinsta does not have an API, so some advanced automating is not yet possible. However, the API is in development – so stay tuned.
Safety Features
Kinsta itself takes pride in their safety features and it's true. They offer a vast amount of features for safety:
Monitoring of server and network events
Regular server updates
Hack free guarantee and free after hack fixes
Up to hourly backups (for a fee)
Uptime monitoring
SSL certificates with wildcard support
Hardware firewalls
DDoS Detection
Malware/file integrity scanning
Plugin restrictions
Enforcing strong passwords
Brute force login protection for WordPress
Automatic WordPress security patching
In my opinion, a great extra is that the enforcing of strong passwords and login protection are included within the package. At many other hosting providers, you have to manually add this yourself through plugins.
Other special features
The most distinctive element is the fact that Kinsta is being hosted on Google Cloud Engine. The performance of this, as we will see later in this review, is unbelievable. For this Kinsta review, I found out a few other perks:
Transactional emails (150 per day up to Pro plans, 1000 daily for Business and 3000 daily for Enterprise)
Amazon Route 53 Premium DNS
Redis (for $100 a month per site )
Hourly back-ups ($60 monthly per site)
External back-ups ($2 per month per site)
Reverse proxy for NGINX ($50 monthly per site)
Scale disk space (at $20 per 20GB increments)
Premium staging environments ($20 per environment)
Unfortunately, many of these are paid add-ons. Fortunately, they are not required for running an already optimized website.
There is one feature in this list that really stands out: The Amazon 53 Premium DNS. It allows connecting registered domains to the Amazon 53 DNS service. As you may know, a premium DNS service can have many benefits. The results: easily manage domains through Kinsta, improved security and often better performance.
Furthermore, as Kinsta is a managed cloud platform, they do not provide email hosting. As you may know, it is a good practice to separate web-hosting from e-mail hosting.
What a big advantage is that transactional emails are supported out of the box. Transactional emails are messages send from your website, such as form submissions.
Unbelievable performance
Now that we have looked into the features in this Kinsta review, it is time to look into the next chapter: Performance! In short: Kinsta's WordPress performance is superb! In fact, I miss the right adjectives to describe it. Moreover, the performance scales very well with consistent response times.
Kinsta's technology
So what makes your website scream on Kinsta? For the geeks out there: what technology does Kinsta use?
Google Cloud Platform's premium tier network & C2 machines
LXD Containers with NGINX, PHP8+ and MariaDB 10.4.
NGINX FastCGI for page caching
Enterprise-level Cloudflare integration with features like Edge caching, early hints web standard, SSL certificates, HTTP/3 enabled CDN with 275+ PoPs
Kinsta WordPress Hosting Review Test-set Up
I use various metrics to test websites on performance. To start the test, I use a bloated theme with WooCommerce and use the default shopping demo. I always use the same version of the theme to ensure testing conditions are similar for each host.
Subsequently, I test on various metrics using various tools:
The number of concurrent visitors the hosting party can handle on a cached page. These visitors constantly fire requests at the server, at least once a second.
The number of visitors the hosting party can handle on an uncached page. This often indicates the real performance of a hosting provider.
The loading time (both cached and uncached) from a location as close as possible to the website.
A few other well-known testing metrics such as WebPageTest.
And finally a few tests from the WordPress Performance Test plugin.
I've not yet tested their worldwide performance, but since they also integrate Cloudflare now, they must have great international loading speeds.
Performance results
But with no further ado: these are the performance results from this Kinsta review!
Maximum concurrent clients: 1500
For the cached test, Kinsta could handle up to 1500 concurrent visitors firing over 89857 requests in a one minute period. The average response time was a whopping 0,103 seconds. And that number is insane. It means that with many visitors, your website will still be really fast.
There is one big but in this test! Namely, this is an artificial ceiling. Probably, it is created by the DDoS protection feature of Kinsta. Theoretically spoken, their servers could handle even handle much more visitors for cached pages!
A webpage that is cached can handle much more visitors. But how will Kinsta perform for uncached pages?
Maximum Uncached clients: 40
This test is important for dynamic websites. Uncached pages often occur if visitors are logged-in, for example with webshops or WooCommerce. Also, websites with a lot of dynamic user interactions can't utilize caching that much. So what are the results for this Kinsta review?
Kinsta can handle up to 40 clients at the same time for uncached pages. And yes, each of these visitors may fire a request each second. In one minute of load testing, 2395 requests where fired with an average response time of 0.481 seconds.
While this number may seem low, it is actually impressive! Often, the number of uncached visitors is a lot lower. For example, a competing server with 8GB of ram and 4 cores from Vultr can just handle up to 26 concurrent clients.
Loading Time: 0.5 seconds, uncached: 0.74 seconds
I tested the loading time using PingDom from the location as close as possible to the datacenter. The average load time for this bloated website was 0.5 seconds. Testing the uncached version of the homepage resulted in an average load time of 0.74 seconds. Still pretty fast, if you ask me.
Other performance metrics
In this Kinsta review, I also looked to some other performance metrics. Kinsta scored very well on the other performance metrics:
A WP Performance Test server score of 9.55
1275 queries per second with WP Performance Test
0.784 seconds execution time for the WP Performance Test
A time to first byte (TTFB) of 39.00 milliseconds
An average GTMetrix loading time of 2.6 seconds
An average WebPageTest loading time of 3.51 seconds
WP Benchmark: 8.2
WP Benchmark is a server benchmark that can be run in WordPress. Kinsta scores a whopping 8.2 for the WP Benchmark score, which is amazing. These are the metrics associated with the test:
Large Text Data Processing: 7.6 seconds
Binary Data Processing: 7.1 seconds
Large DB Import: 2 seconds
Simply Query: 0.9 seconds
Complex Query: 3.4 seconds
Post Insert / Query / Delete Test
In this test, 10.000 posts are inserted, queried and deleted. The time for the tests is recorded:
Inserting 10.000 posts: 31,23 seconds.
Querying 10.000 posts: 0,353 seconds.
Deleting 10.000 posts: 36,161 seconds.
Again, Kinsta is very fast here.
Great global performance, averaging 278ms TTFB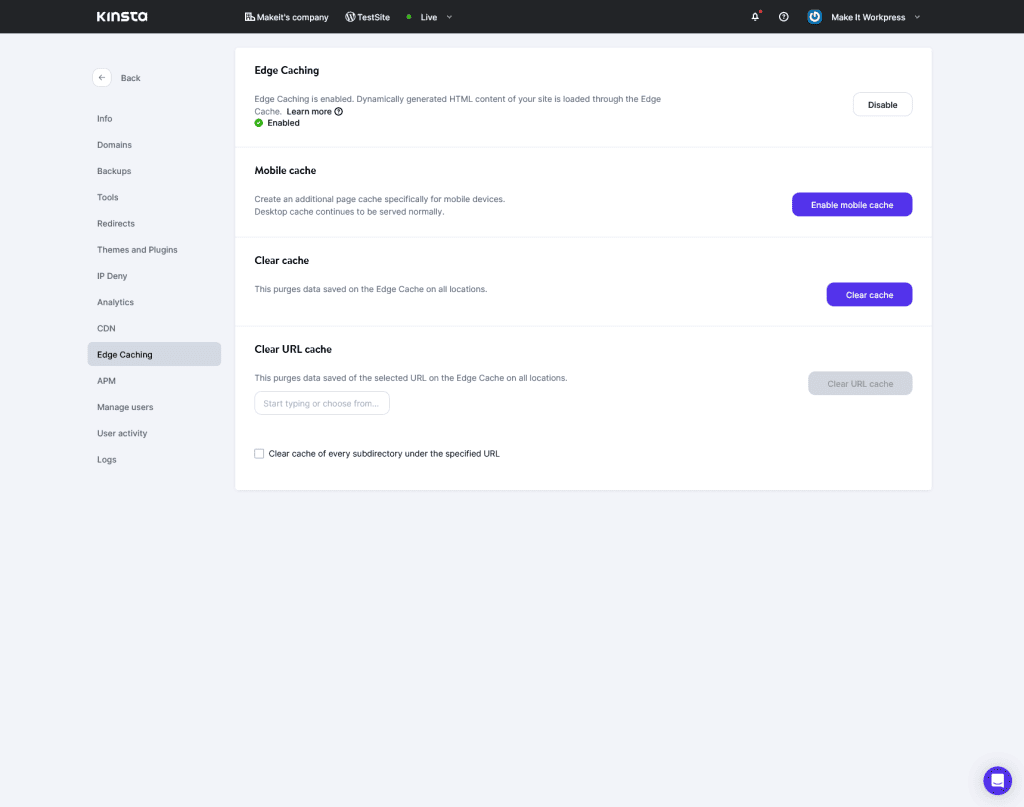 More recently, Kinsta has added CDN and edge caching as an integral part of their hosting stack (What is a CDN?). Simply said, it means your website at Kinsta is saved on many data centers around the world. The effect? It will load fast from any location in the world (opposed to if you're website would only be hosted in a single location).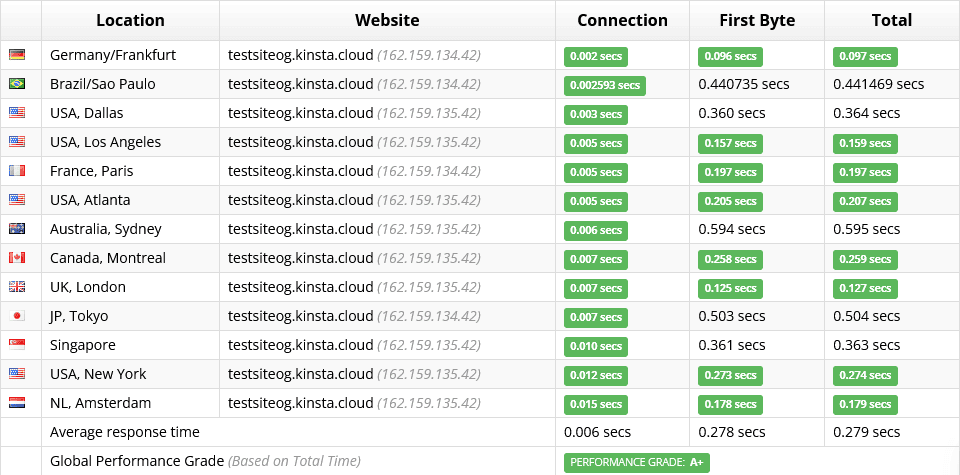 Stability results: 100% up-time
The up-time percentage indicates how much time you're website has been online. During my four weeks testing period, I did not have any second of downtime. Even during load testing. Perfect!
Comparing Kinsta to other providers
But how does Kinsta compare in terms of performance to other providers? Let's have a look at some providers in a similar category:
With the above dropdown, you can select any metric and it will show a chart displaying the values for each competitor.
If you want to find the best WordPress hosting company, be sure to visit the filter page for all WordPress Hosting Reviews.
Fabulous usability
Kinsta uses a custom-designed interface to manage your WordPress websites. My conclusion for usability in this Kinsta review? Kinsta's interface is very user -friendly!
Kinsta uses a proven interface layout with menu-items on the left, detailed settings on the right and major actions with a clear button on the upper right.
Managing WordPress Websites
Managing WordPress websites is done from a single location. At first, you have an overview of all your websites and a clear add site button.
When clicking a given site, a detailed screen opens where all necessary screens are present. It is also shown in the image below:
The first screen gives detailed access information. Managing the domains is done in the domains tab:
Moreover, there is a handy tab with all backup points. This tab has a very clear function for restoring backups. Subsequently, manual backups can also be made here.
There are a few other tabs such as a tab with common tools (such as enabling SSL, search and replace tool and so forth), redirection settings and more. It is also possible to block certain IPs from accessing your site, enable the Kinsta CDN and view the application logs here.
User Manager
What I love of Kinsta is the way their user manager is set-up. With the user manager, you can invite other users and give them certain permissions. Think of access to certain areas of the dashboard, but also limiting access to a single site.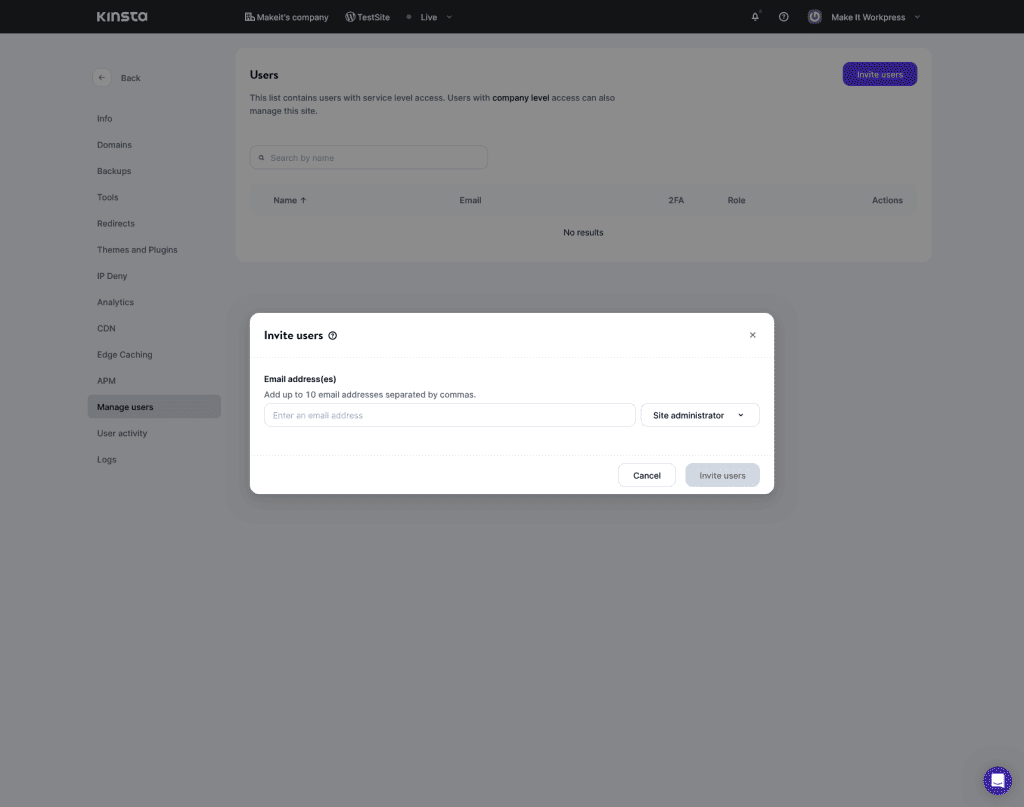 Needless to say, this is very useful for collaboration with clients, employees or external parties.
Acivity log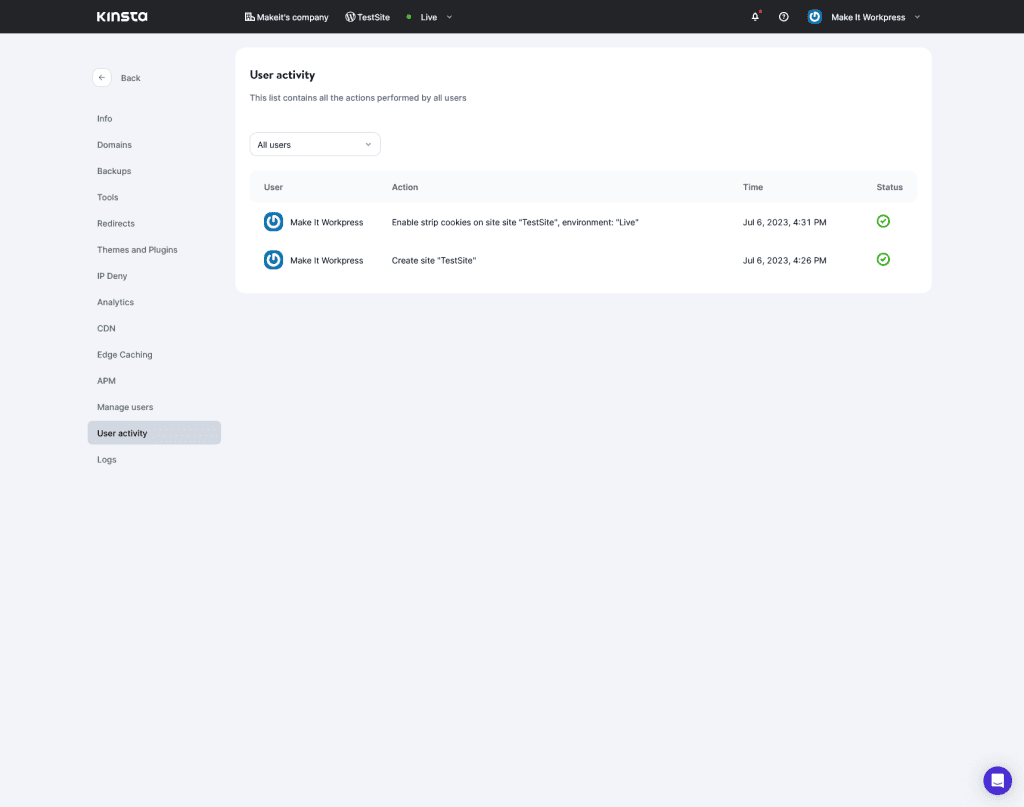 Another quite useful feature is the activity log of Kinsta's dashboard. It logs everything that is happening on Kinsta. Well, at your account at least :).
Application Performance Monitoring
Another great feature, which is beautifully designed, is the new application monitoring package of Kinsta.
This feature allows professionals and developers to have insight in how their WordPress website is performing, and actually what scripts are a drag on performance.
I listed it specifically because it's also a very well designed tool that gives quick insights into performance bottlenecks. Very useful if you are a professional developer! Read more about Kinsta's Application Performance Monitoring Tool here.
Tools, Plugins & Themes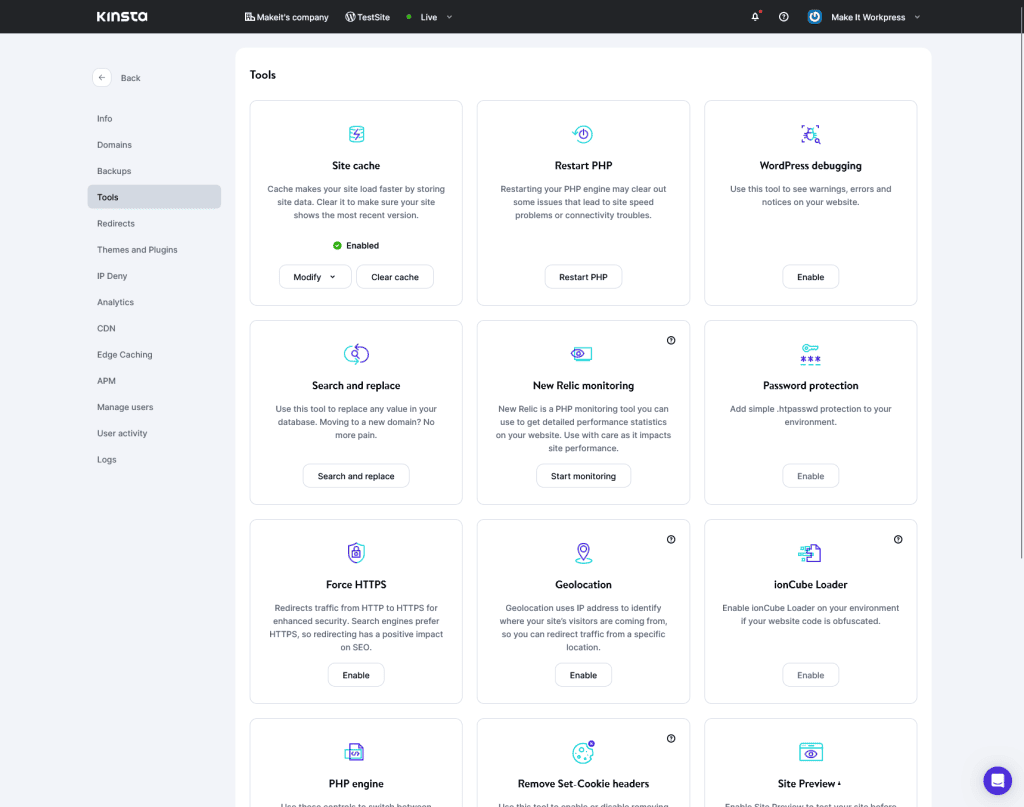 Kinsta has a tools section with some very useful tools for monitoring, improving and securing sites.
It is also possible to manage plugins and themes straight from the dashboard.
Can usability be improved?
So did we miss something in terms of usability? What I would love to see is some integration for notifications. Now, you can be notified if one of your plans gets close to over usage.
However, other hosting providers also support notifications for important events happening, such as downtime or creation of new sites. Moreover, these notifications can be connected to applications such as Slack. It would be very nice to see similar features in Kinsta. But it's more a feature thing.
Great support
When I executed this Kinsta review, I was impressed by the quality of the support. They know what they are talking about and they react very fast (within a couple of seconds, to be exact!).
Support channels: live chat
Kinsta uses a single support channel: live chat. That's right, no telephone, no tickets. But this single support channel is executed perfectly.
I timed the response time for the live chat and it averaged a whopping 3.4 seconds. I am not sure they are aware of the fact that I'm writing a Kinsta review, but this is just insane.
Also compared to other providers, it seemed that I had all attention. At some providers, subsequent chat responses took some time. Kinsta's agent however responded in an instant in all occasions.
Kinsta support is 24/7 available, in multiple languages.
Support knowledge and response
Now reacting fast is one thing, but if you talk garbage, it is still trash. For this Kinsta review, I asked around 10 questions. These questions were about general WordPress topics, hosting related issues and Kinsta specific questions.
All but one of the questions were answered satisfactorily. And this was a question about a good alternative caching plugin. Not such a deal on Kinsta. So what can I say? The support I contacted know what they are talking about!
Knowledge base and blog
Besides good human support, a knowledge base is key. On Kinsta, most of the important topics are covered in their knowledge base. However, some of their knowledge base articles seem to be talking about WordPress in general. For example, an article mentioned how to set-up cronjobs in cPanel, while Kinsta does not use cPanel.
That having said, they also have very good guides on learning WordPress. While writing this Kinsta review, I examined a couple of them. These guides are often quite elaborate containing thousands of words. Subsequently, they regularly write great blog articles. They are playing the content game right.
But Kinsta even provides more resources – there is also a Kinsta Academy and a section called DevKinsta, specifically aimed at devs.
Pricing: A little expensive
As you may have read through the enthusiastic rave in this Kinsta hosting review, I still have to mention a downside. And that is the pricing model of Kinsta.
Now, you may not be aware, but hosting on Google Cloud Engine is actually quite expensive – which also may explain the current price of Kinsta's plans.
For example, asking a $35 dollar monthly fee for 1 WordPress installation, just 20k visits and 10gb of space is a hefty fee. Especially if you're just starting out with WordPress. If you want to save, you can opt for the yearly plans – which offer 2 months for free.
Now performance wise the fee is great, as Kinsta can easily match equally expensive servers. Feature wise, it's a little off in my opinion – although the more recent addition of enterprise Cloudflare is amazing.
Add-ons such as Redis, and hourly back-ups are pretty expensive. You may have to pay up to $100 monthly for each add-on, while competitors such as Cloudways offer them for free.
Kinsta Alternatives
Kinsta is in my opinion leading the pack of Managed WordPress hosting providers, but that doesn't mean they lack competition. Let's list some Kinsta alternatives:
Kinsta beats many in their scores, but other providers such as Cloudways can compete in terms of features and especially pricing. If you don't want to pay too much, consider one of the above alternatives.
Concluding this Review: Kinsta is nailing it!
In this Kinsta review, I have evaluated Kinsta on several aspects. I think Kinsta is on top of the game and is certainly one of the best WordPress hosting companies out there.
They offer exactly the right features needed for running WordPress websites. Subsequently, they have unbelievable fast performance and great usability. At last, their support is one of the best out there.
But this incredible quality comes with a price, and this is the major drawback of Kinsta. Like many other managed WordPress hosting parties, they are quite expensive. Especially their add-ons are too expensive in my opinion.
Like the physical world, quality comes with a price. But the quality you get is insane. So, if you are frugal and don't bother support quality so much, Cloudways is a great alternative. Otherwise, Kinsta it is!